Recommendations are based on personal travel experiences and research. If you book through links on our site, we may earn a commission at no extra cost to you.
—
Vienna is most definitely one of Europe's most beautiful historic cities, a true museum city that shouldn't be missed. On a trip to Vienna, you'll uncover a unique fusion of history and contemporary charm.
The city effortlessly blends its rich past, thriving arts scene and diverse culture, leaving a lasting impression on those who visit.
In this guide, I'll reveal my favourite boutique hotels in Vienna, providing you with the perfect accommodations across the city's interesting districts.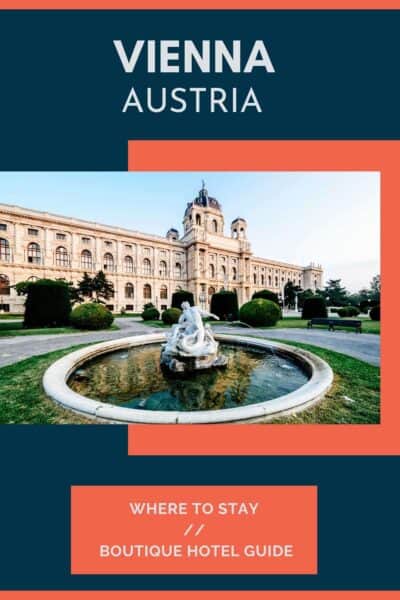 Best Boutique Hotels in Vienna
When searching for a hotel in Vienna, the first step is to consider which area you'd like to stay in.
Start at the famous Innere Stadt, Vienna's historic centre, where you'll find iconic sights, famous coffee houses and endless museums.
Alternatively, the vibrant Neubau (7th District) is known for its arts scene, cool bars, brunch spots and an eclectic mix of independent stores.
Both neighbourhoods have their own unique charm, but if you're looking for the quintessential Viennese experience, I suggest staying in the Innere Stadt, as it puts you at the heart of the city's history and culture.
Top Pick
Hotel Josefine
Address: Esterházygasse 33, Vienna, Austria
Location: Mariahilf, 6th District
At Hotel Josefine, you'll find yourself in 4-star accommodation with a wonderfully quirky atmosphere. Located near the Museum Quarter, just outside of the Innere Stadt, this boutique hotel is within walking distance of the Leopold Museum, Natural History Museum and Kunsthistorisches Museum. Enjoy a delicious continental breakfast each morning and experience exceptional service from the helpful and accommodating staff. The stylish design and thoughtful touches throughout the hotel will make your stay cosy and comfortable.
Features:
Quirky and cool design.
Stylish rooms with loads of natural light.
Huge breakfast selection.
Great location near Esterházypark.
Warm and welcoming service.
Sustainability:
Energy conservation measures in place.
Most food is locally-sourced, reducing food miles and supporting local businesses.
Sustainable food measures in place.
Artists can exhibit their work in the hotel.
Pros: Quirky atmosphere, helpful staff, convenient location near the U-bahn, stylish design, great value for money.
Cons: Slightly outside of old downtown, longer walk to city centre attractions.
Check Availability
While I think the top pick mentioned above is an excellent choice for your stay in Vienna, I also wanted to recommend a couple of other boutique hotels.
These selections stand out for their unique locations, style and eco-friendliness, offering alternative options to suit a variety of preferences and interests.
Next Best
Jaz in the City
Address: Windmühlgasse 28, Vienna, Austria
Location: Mariahilf, 6th District
Jaz in the City is one of the most unusual hotels in Vienna, with its distinctive jazz music influence and character. This hotel is known for its large buffet breakfast and an excellent location near the Museum Quarter. Discover popular nearby attractions like the Natural History Museum, Vienna State Opera and Kunsthistorisches Museum. Unwind at the rooftop bar with its charming atmosphere, beautiful terrace views and vibrant energy. The fantastic staff, delicious breakfast and sauna are available at any hour, contributing to a comfortable stay. The unique ambience, music, decorations, and lighting make this hotel a truly unique experience.
Cool and Unique Hotel
When searching for a cool, unique boutique hotel, pay attention to the distinctive atmosphere and design elements that set it apart from conventional hotels.
These kinds of hotels often have themes, artistic touches and personalised service, ensuring a unique stay.
By choosing such a hotel, you can easily experience the local culture, food and charm, making your trip more enjoyable and engaging.
25hours Hotel beim MuseumsQuartier
Address: Lerchenfelder Straße 1-3, Neubau, Vienna, Austria
Location: Neubau, 7th District
This is one of my favourite hotels in Vienna! At the 25hours Hotel beim MuseumsQuartier, you'll experience a cool and unique stay amidst numerous museums in Vienna's lively 7th district. This fun hotel has uniquely designed rooms with a blend of vintage and modern furniture and circus-inspired elements. Savour contemporary Italian cuisine at the hotel's restaurant and unwind in the provided spa area. The city centre is a mere 10-minute walk away, while the hotel's proximity to trams, buses, and the underground ensures easy access to the rest of Vienna. Walk to popular destinations like the Mariahilfer Straße shopping street and major attractions like the State Opera, St Stephen's Cathedral and the Austrian Parliament. Enjoy a delicious breakfast, complimentary welcome drinks and exceptional service from the friendly and helpful staff throughout your stay.
Luxury Boutique Hotel
When looking to book a luxury boutique hotel, consider the refined atmosphere, personalised service and attention to detail that will elevate your stay above others listed here.
These hotels often feature sophisticated design elements and luxurious amenities.
By choosing a luxury boutique hotel, you'll get to enjoy an intimate and exclusive atmosphere, fully immersing yourself in the destination while being pampered in a setting that combines elegance and comfort.
Rosewood Vienna
Address: Petersplatz 7, Vienna, Austria
Location: Innere Stadt, 1st District, Historic City Centre
At the Rosewood Vienna, you'll discover a luxury boutique hotel with exceptional experience in the city's heart. Just steps away from St Peter's Catholic Church and within walking distance of St Stephen's Cathedral, this hotel is in an unparalleled location near the main shopping district and a variety of museums. Enjoy the Austrian breakfast, described by many as the best hotel breakfast they've ever had. The Rosewood Vienna impresses with its stylish design and an amazing restaurant on the top floor. Furthermore, the nearby champagne bar adds a touch of indulgence to your stay in Vienna.
Boutiquehotel Das Tyrol
Address: Mariahilfer Straße 15, Vienna, Austria
Location: Mariahilf, 6th District
Boutiquehotel Das Tyrol is a luxurious 4-star boutique hotel that masterfully combines exclusive design and modern Viennese art. Situated on the bustling Mariahilfer Straße shopping street, directly opposite the Museum Quarter, this hotel's rooms are adorned with original contemporary artwork and design elements from renowned Viennese designers such as Wittmann, Backhausen and Thonet. Start your day with a Viennese breakfast accompanied by Prosecco, and enjoy the hotel's brilliant location, just a 5-minute walk from the Ringstraße boulevard and the Kunsthistorisches Museum, while also being near the Hofburg. Appreciate the impeccable service provided by the friendly and welcoming staff and the well-appointed rooms that meet the highest standards, ensuring a truly exceptional stay in the 6th District of Vienna.
Eco-Friendly Hotel
Sustainable or eco-friendly hotels prioritise environmentally friendly practices and a commitment to reducing their carbon footprint.
These hotels often use energy-efficient technologies, source local and organic ingredients and participate in food waste reduction initiatives.
By choosing a sustainable hotel in Vienna, you support businesses that care about lowering their impact and contributing to a more responsible and eco-conscious travel experience.
Superbude Wien Prater
Address: 8 Perspektivstraße, Vienna, Austria
Location: Leopoldstadt, 2nd District
I've stayed at Superbude previously and highly recommend it! At the Superbude Wien Prater Hotel, experience an eco-friendly stay in the heart of Vienna. This hotel demonstrates its commitment to sustainability through a variety of measures, such as using energy-efficient lighting and sourcing 100% renewable electricity throughout the property. The hotel's Restaurant Neni serves a breakfast buffet with an emphasis on locally sourced ingredients, further reducing the hotel's impact. The Superbude Wien Prater also offers vegetarian and vegan menu options and actively works to reduce food waste. With its unique interior design and close proximity to the Prater and the Schweizerhaus, this hotel ensures an enjoyable stay while prioritising environmental responsibility.
Hotel Altstadt Vienna
Address: Kirchengasse 41, Vienna
Location: Neubau, 7th District
Experience a lower-impact stay at the Hotel Altstadt Vienna, a minimalist boutique hotel in Neubau, Vienna's hipster neighbourhood. You'll be surrounded by Vienna's hugely popular brunch spots like Ulrich and Erich and the cool Veganista ice cream shop. Located 5 minutes from the Museum Quarter, this hotel showcases the owner's collection of contemporary art while ensuring sustainability. The hotel uses energy-efficient lighting and relies on 100% renewable electricity throughout the property. Indulge in a delicious breakfast buffet featuring locally sourced ingredients and a wide range of healthy options. Enjoy tea and homemade cake in the afternoon in front of the open fireplace and later unwind at the hotel bar. The Hotel Altstadt Vienna is committed to reducing food waste and offers vegetarian and vegan menu options, making it a perfect choice for eco-conscious travellers.
Where to Stay in Vienna
Several neighbourhoods stand out for their unique character and attractions when deciding where to stay in Vienna.
Each provides a distinctive Viennese experience that caters to various interests, ensuring that you find the perfect base for your boutique hotel stay.
Innere Stadt (1st District) is the historic centre of Vienna, where you'll find iconic landmarks and elegant architecture combined with coffee houses, shopping, street performers and much more. Staying here places you at the heart of the city's history and culture, providing an authentic Viennese experience.
Neubau (7th District) is a vibrant hipster district brimming with creativity, known for its thriving arts scene, cool bars and a fascinating mix of independent stores. The area is perfect for those looking for a lively atmosphere and diverse entertainment options.
Mariahilf (6th District) is a lively district known for its shopping streets, like the popular Mariahilfer Straße, and an abundance of cafes, galleries and small theatres. This area is perfect for those who love to shop and explore the local culture.
MuseumsQuartier is an artistic hub in Vienna, home to renowned museums, contemporary art galleries and a variety of cultural institutions. This district is perfect for art enthusiasts and those seeking a culturally rich experience.
Leopoldstadt (2nd District), nestled between the Danube River and the Danube Canal, has a mix of picturesque green spaces and lively entertainment venues. The Prater amusement park and Augarten park are highlights, making this area perfect for families and nature lovers alike.
Landstraße (3rd District) is an upscale residential area that seamlessly blends the charm of historical sites with modern attractions. Here, you'll find the stunning Belvedere Palace and a mix of sophisticated boutiques and eateries, perfect for a refined stay.
Wieden (4th District) is a trendy neighbourhood with a laid-back vibe, popular for its bohemian atmosphere, stylish bars and innovative eateries. In this district, you'll find Naschmarkt, the famous food market in Vienna. This bustling market offers a wide variety of fresh produce, international delicacies and local specialties. The 4th District is ideal for foodies and those looking to immerse themselves in Vienna's hip, contemporary culture.
In planning your visit, remember that the ideal neighbourhood depends on your personal preferences and interests.
However, I'd recommend Innere Stadt as a top choice for its quintessential Viennese experience, as it places you in the centre of the city's history and charm. This is especially the case for first-time visitors or those focused on visiting historic sights.
Discover the best places to visit in Austia with my updated guide.
Consider checking out Discover Vienna for more in-depth information about Vienna, especially regarding things to do, sightseeing and the latest events.
Their detailed guides and tips will help you plan an itinerary to make the most of your time.
Responsible Travel Tips
Many of us are increasingly concerned about climate change and sustainability. Here are a few ideas on how we can travel more responsibly in Vienna.
Use renewable energy: Choose hotels and restaurants that prioritise energy efficiency and use renewable energy sources, such as solar and wind power.
Minimise food waste: Opt for eateries that emphasise minimising food waste and sourcing ingredients locally. Try ordering smaller portions or sharing dishes to reduce leftovers.
Embrace a sustainable diet: Explore Vienna's thriving plant-based food scene, which has numerous vegetarian and vegan options in cafes and restaurants throughout the city.
Sustainable transport: Make use of Vienna's excellent public transportation system, including trams, buses and metro lines. Rent a bike or take a leisurely walk to explore the city's attractions while reducing your carbon footprint.
Avoid excessive flying: Consider alternative travel options like trains or buses for shorter trips within Austria and neighbouring countries to help minimise the environmental impact of your travels.
Support the local community: Shop at local markets, dine in family-owned restaurants and purchase souvenirs from artisans and small businesses, which helps support Vienna's local economy and preserve cultural traditions.
FAQ
What is the best area to stay in Vienna for tourists?
Innere Stadt and Neubau are popular districts for tourists, providing easy access to Vienna's historical sites, museums and vibrant cafe culture.
Are there unique boutique hotels in Vienna?
Yes, Vienna has a variety of unique boutique hotels, ranging from stylish and contemporary to those with historical charm, catering to different tastes and preferences.

How can I make the most of my visit to Vienna?
Plan your stay around the city's attractions, such as museums, historical sites and parks, to make the most of your visit. Make use of Vienna's excellent public transportation system, and don't forget to indulge in the local cuisine at cafes and restaurants.

Final Thoughts
Finding the perfect boutique hotel in Vienna is a fun addition to creating an enjoyable and comfortable stay in this capital city.
With a wide range of options, from luxury to eco-friendly, there is a hotel to suit every traveller's taste and needs.
As you explore the city's rich history, breathtaking architecture and vibrant culture, let your chosen boutique hotel serve as your home away from home, making your Vienna experience truly unique.
If you have questions or want to leave a hotel review, please do so in the comments.
—
Recommendations are independently chosen based on personal travel experiences and extensive research. This post contains affiliate links to hotels in Vienna, Austria. This means I get a small commission from any bookings at no extra cost to you.