Recommendations are based on personal travel experiences and research. If you book through links on our site, we may earn a commission at no extra cost to you.
—
At 90 minutes from Sydney, Wollongong is a popular day trip but there is enough to see and do to keep you busy for a longer visit.
In this guide, I recommend the best luxury accommodation in Wollongong, 5 star hotels and the best areas to stay.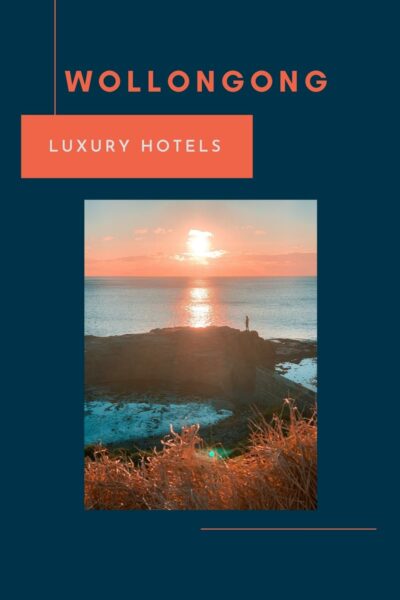 If you have the time, start your trip to Wollongong by taking the scenic route from Sydney.
This route is via the Grand Pacific Drive, a scenic, relaxing drive that's considerably more interesting than the monotonous M1.
The drive from Sydney to Wollongong takes around 90 minutes.
If you're looking for other relaxing ways to get to Wollongong, you could take the train to central Wollongong Station, which also takes 90 minutes.
It's worth considering as Wollongong has easy to get around once you're there, and if you're feeling up to walking or cycling, it's a great way to see the city.
But where to stay in Wollongong?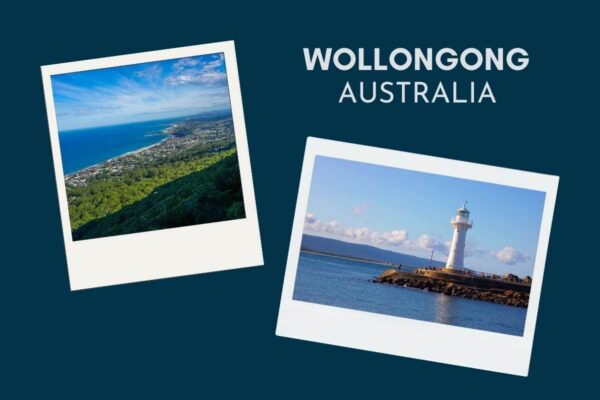 Luxury Accommodation Wollongong
At this stage, there are limited options for luxury accommodation in Wollongong or 5-star hotels.
But the hotels and apartments listed below are the best places to stay, either in the city centre or by the beach. All have great facilities, service and top reviews.
Top Pick
Novotel Wollongong Northbeach
Address: 2-14 Cliff Road, Wollongong, Australia
As a large regional centre, Wollongong has plenty of accommodation options but it's lacking when it comes to boutique hotels. If you're looking for an independent or family-run hotel or apartment, I've listed the best below but when it comes to hotels, the Novotel is the most luxurious you'll find. Obviously, the Novotel is far from being boutique but they have stylish rooms, high quality beds and finishes and excellent customer service. The Novotel Wollongong is in the north of the city, directly opposite the beach. This is the closest you'll come to a 5 star hotel in Wollongong.
Check Availability
5 Star Hotels
If you want a 5 star hotel in Wollongong, I'm afraid you're going to have to stay in Sydney.
But honestly, the 4 star Totto Hotel is a great alternative and I don't think you'll be disappointed if you're looking for a little luxury while you're away.
Hotel TOTTO Wollongong
Address: 60 Market Street, Wollongong, Australia
Totto is a modern, 4 star boutique hotel in Wollongong. Located only 1km from the beach and many of the city's sights, this hotel is a great hotel for staying in the city centre near shops, restaurants and cultural attractions. The rooms have minimalist decor, and bathroom products are by Urban Jungle.
Next Best
Argo Apartments
Address: 65 Church Street, Wollongong, Australia
Although Argo is an apartment hotel rather than a luxury hotel, the accommodation is sleek, modern, new and exceptionally clean. This is a fantastic place to stay if you are arriving by train or simply want to be within walking distance to Wollongong's main sights, activities and beaches.
These are luxury serviced apartments where you'll find excellent service. This is a great option for a longer stay as you get daily housekeeping, but you have privacy and the comfort of your own large space.
The Beach House North Wollongong
Address: 2 Blacket Street, Wollongong, Australia
If waking up from a designer studio apartment and strolling across the road to the beach is your idea of a relaxing treat, then stay at the Beach House in North Wollongong.
These are designated as holiday homes, so it's not the same experience you'll find in a luxury or boutique hotel, but the rooms are cosy, parking is included and there is easy access to the sights in the region or the University of Wollongong.
Headlands Austinmer Beach
Address: 1 Yuruga Street, Austinmer, Australia (near Wollongong)
Twenty-five minutes north of Wollongong, the Headlands Hotel is ideal if your focus is on exploring the region's sights, visiting the national parks, beaches or maybe the Nan Tien Buddhist Temple.
While this might not be the best choice if you want to enjoy the cultural activities within Wollongong, it's an ideal accommodation for a quiet city break. This is a 4 star hotel.
Things to do in Wollongong
As a university city, Wollongong is bustling with bars, cafes and music venues with regular cultural activities on offer.
For a quieter weekend getaway, spend your time relaxing on one of Wollongong's beautiful city beaches.
Alternatively, choose a more active holiday exploring the rainforest trails by bike or foot, do some fishing, scuba diving or surfing.
Here's a quick overview of things to do in Wollongong to get you started on your trip planning.
Visit the Wollongong Head Lighthouse and enjoy the scenic views of the coast.
Explore the Wollongong Botanic Garden, which features various plant collections, gardens, and walking trails. Take advantage of the healing nature if you're getting away from the city.
Visit the Nan Tien Temple, the largest Buddhist temple in the Southern Hemisphere.
Go for a swim at Wollongong City Beach, one of the most popular beaches in the area. But there are many other excellent beaches too.
Visit the Wollongong Science Centre and Planetarium, which features interactive exhibits and educational programs.
Take a hike to the summit of Mount Keira, which offers panoramic views of the city and the coast.
Visit the Wollongong Art Gallery, which features a diverse collection of contemporary art and exhibitions.
Take a stroll along the Wollongong Harbour and enjoy the restaurants, shops, and views of the water.
Visit the Wollongong Lord Mayor's Walk, a scenic coastal walk that provides beautiful views of the sea and the city.
Take a day trip to the nearby Minnamurra Rainforest Centre and explore the lush rainforest and its inhabitants.
For more details, the official website of Visit Wollongong offers a wealth of information and resources to help you plan and make the most of your trip to the city, including information on local events, attractions, and accommodation options.
My guide to the best places to visit in New South Wales is an excellent resource for anyone looking to explore this beautiful state, offering a curated selection of must-see destinations, insider tips, and recommended activities to help you make the most of your trip.
Responsible Travel Tips
Many of us are increasingly concerned about climate change and sustainability.
Here are some ideas for travelling more sustainably in Wollongong.
Use public transportation or rent a bike to get around Wollongong rather than driving a car. Wollongong has a variety of public transport options, including buses and trains, which can reduce emissions and traffic congestion.
Support local, sustainable food options. Wollongong has a variety of local farmers' markets where visitors can buy fresh, seasonal produce and support local farmers. Also, you can choose to dine at restaurants that use locally sourced ingredients and have a sustainable approach to food waste. Keep in mind that locally sourced food doesn't always lower emissions but supports the local economy.
Opt for sustainable accommodation options. Wollongong has a variety of eco-friendly hotels, resorts and B&Bs that prioritise renewable energy and sustainable practices, these options are available for those who want to reduce their environmental impact while travelling.
Wollongong has many local artisans and craftspeople who create unique, high-quality items that make great souvenirs.
Consider adopting a plant-based diet or reducing your meat consumption, as it has a lower environmental impact than a meat-based diet. Wollongong has a good variety of vegan and vegetarian options for those who want more sustainable food choices.
Share your sustainability tips in the comments.
Final Thoughts
Wollongong lacks a true high-end boutique hotel and genuine luxury accommodation, but there are some really nice apartments and beach houses.
You can always choose the Novotel if you are set on staying in a hotel with 24-hour service. It might not be 5 star but it's in a great location, and the service is excellent for this kind of hotel.
If you have questions or want to leave a hotel review, please do so in the comments.
—
Recommendations are independently chosen based on personal travel experiences and extensive research. This post contains affiliate links to hotels in Wollongong, NSW, Australia. This means I get a small commission from any bookings at no extra cost to you.