Recommendations are based on personal travel experiences and research. If you book through links on our site, we may earn a commission at no extra cost to you.
—
Before booking a Fremantle food tour, I suggest having a walk around the city to get a feel for the unique vibe.
Fremantle has an eclectic mix of historic and cultural sights, modern boutique stores, old-school tourist shops, and a pub on every corner.
You can tour the Old Fremantle Prison and the historic West End or catch a ferry to Rottnest.
But what brings everything together is the food.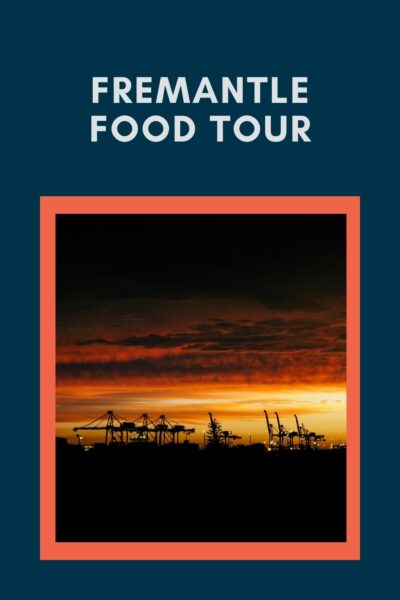 Fremantle Food Tours
Fremantle, a port city in Western Australia, is well-known for its diverse and vibrant food scene.
There are many amazing restaurants, cafes, bars, and food markets to explore, making it a food lover's paradise.
In fact, some of the best food in all of Perth can be found in Fremantle, with a wide range of cuisines to suit all tastes and budgets.
If you are interested in getting an insider's look into Fremantle's food culture, the Fremantle Food Lovers Tour by Two Feet and a Heartbeat is a fantastic option.
As an award-winning local walking tour company, they provide an authentic experience and a deep understanding of the city's history, culture, and gastronomy.
They offer some of the best tours around, including the popular Perth Arcades & Laneways tour.
This tour takes you off the beaten tourist path and into the heart of Fremantle's food scene. You'll discover hidden gems, historic markets, and hole-in-the-wall venues that you may have otherwise missed.
From artisanal delis to trendy cafes and bustling food markets, you'll be able to experience a diverse range of local cuisine.
With knowledgeable local guides leading the way, you can expect to learn about Fremantle's rich cultural history while enjoying some of the best food the city offers.
Overall, the Fremantle Food Lovers Tour is highly recommended if you are a food enthusiast or simply looking for a unique and authentic experience in Fremantle.
Self-Guided Walking Tour of Fremantle
If food tours aren't your thing or are not in your budget, it's not that hard to assemble a self-guided food tour in Fremantle.
You might miss out on the personalised experience and the local knowledge from the guide, but if all you want is the food, follow this mini-tour to get a feel for what Fremantle has to offer.
Best Wishes – The first thing I suggest you do in Fremantle is to grab some coffee. Fremantle has some of the best cafes in all of Perth, and if you care about specialty coffee, you must stop at Best Wishes. They support local and fair trade coffee suppliers and make Freo's most delicious flat white.
Kakulas/Little Sister – Kakulas has been a Fremantle (and Northbridge) staple since the 1920s. This delicatessen is the place to go for all your gourmet picnic needs. The recently opened Little Sister next door has an incredible selection of cheese, charcuterie, olives and made-to-order sandwiches. Pick up some fresh bread delivered every morning from Cottesloe's North Street Store (don't miss their famous cinnamon scroll if you get the chance).
The National Hotel – On the corner of High Street in the heart of the West End is the recently renovated National Hotel. Happy Hour at the rooftop bar means you'll get 35% off drinks while enjoying the view over to the port and Rottnest.
Fremantle Markets – Dating from 1897, Fremantle's historic market is home to some of the best street food in the city, with dishes from around the world. The market is also a great spot to pick up some picnic supplies.
The Old Synagogue – Opposite Fremantle Markets is the newly re-opened Old Synagogue. WA's first Synagogue, which opened in 1902, is now home to four food and drinks venues on the Cappuccino Strip.
Fish & Chips at the Bathers Beach – A great place to finish your tour is with fish and chips at Fremantle's historic Bathers Beach. Sitting on the grassed area with your picnic as the sun sets is a classic Freo experience. Get your takeaway from Kailis Fish Market, which has been around since 1928 or try the more modern Twin Fin just by the beach.
Strange Company – If you're not ready to return to your room, stop for a cocktail at Strange Company on Nairn Street in the West End. Strange Company has a huge drinks menu but is most well-known for their delicious cocktails.
This list should give you a good head start on where to find great food in Fremantle.
But when you consider what you get with a proper food tour, you're not just getting the food but cultural and historic insights and a local connection. That's what makes it worthwhile.
What to Eat in Fremantle
When it comes to exploring the food scene in Fremantle, there is an abundance of amazing foods and cuisines to try. But with so many options, deciding what to eat in Fremantle can be overwhelming.
Here are some of the best foods and cuisines to try in Fremantle:
Fresh seafood: Fremantle is a coastal town renowned for its fresh seafood. From the iconic Fremantle Fishing Boat Harbour to local fish markets, you can find an array of seafood delights such as succulent prawns, oysters, sardines and fish and chips.
Fremantle Doctor gin: If you are a gin lover, be sure to try Fremantle Doctor gin, a local gin that features unique botanicals sourced from Western Australia.
Artisanal bread: Fremantle has a rich history of baking, and you can find some of the best artisanal bread in the city. From sourdough to rye, you can find a variety of bread at local bakeries such as Bread in Common.
Italian cuisine: Fremantle is home to a vibrant Italian community, so you can find some of the best Italian food in the city. From homemade pasta to wood-fired pizza, there are many Italian restaurants to choose from.
Coffee: Fremantle is known for its great coffee culture, and you can find many trendy cafes serving up delicious coffee made from locally roasted beans.
Craft beer: With several local breweries in the area, Fremantle is a great place to try craft beer. From pale ales to stouts, there is something for every beer lover.
Indigenous cuisine: Fremantle has a rich indigenous history, and you can try traditional indigenous foods such as kangaroo, emu, and crocodile at local restaurants.
Wine: Western Australia is known for its great wine, and you can find many local wineries producing delicious wine in the Fremantle area.
These are just a few examples of the many amazing foods and cuisines to try in Fremantle.
Sustainable Food Tourism in Freo
Sustainable tourism is important when taking a food tour or experience-based visit to Fremantle.
Here are some tips to help you enjoy your visit while minimising your impact on the environment:
Choose eco-friendly transportation: Consider walking, cycling or using public transportation to get around the city rather than driving a car. This helps reduce your carbon footprint and allows you to experience the city more slowly.
Support local businesses: When taking a food tour or experience-based visit, choose tour operators and local businesses that prioritize sustainability and ethical practices. Look for businesses that use local and organic ingredients and support fair trade practices.
Reduce food waste: Be mindful of how much food you order and try only to order what you can eat. If you are given the option, take leftovers with you or ask if the food can be composted instead of thrown away.
Use reusable containers: Bring your own reusable water bottle, coffee cup, and food container to reduce the use of single-use plastic. Some cafes and restaurants in Freo offer discounts for customers who bring their own reusable containers.
Choose a local food tour: Opt for a food tour that supports small, locally-owned businesses rather than larger, chain restaurants. This helps to support the local economy and promotes a more sustainable food system.
By following these tips, you can help minimise your environmental impact while enjoying the best of Fremantle's food scene.
FAQ
What are some of the must-try foods in Fremantle?
Fresh seafood, artisanal bread, Italian cuisine, coffee, craft beer, indigenous cuisine, and wine are some of Fremantle's must-try foods and drinks.
What are some popular food tours to take in Fremantle?
The Fremantle Food Lovers Tour by Two Feet and a Heartbeat is a popular food tour that takes you off the beaten tourist path and into the heart of Fremantle's food scene. Other popular food tours include the Fremantle Craft Beer Tour and the Fremantle Street Food Tour.
What is the best way to get around Fremantle?
Walking or cycling is the best way to get around Fremantle, as many of the best food spots are within walking distance of each other. Alternatively, you can use public transportation, such as buses and trains, to get around the city.
Final Thoughts
When planning a visit to Fremantle and looking to explore the city's vibrant food scene, a food tour is a great way to experience the best the city offers.
By joining a food tour, you can discover hidden gems, try new and exciting foods, and learn about the city's rich cultural history.
When choosing a food tour, be sure to do your research and select a tour that aligns with your interests and values.
Look for tour companies prioritising sustainability and ethical practices, and choose tours supporting local, small businesses.
While on your food tour or visit, be sure to be mindful of your impact on the environment and the local community.
Consider walking or cycling to get around the city, bring reusable containers to reduce waste, and be respectful of the local culture and environment.
Overall, visiting Fremantle's food scene is a must-do for any foodie. With its diverse range of cuisines and unique food culture, there is something for everyone to enjoy.
If you have questions or want to leave a food tour review, please do so in the comments.
—
Recommendations are independently chosen by our travel editors. This post contains affiliate links to tours in Fremantle, Australia. This means we get a small commission from any bookings at no extra cost to you.