Recommendations are based on personal travel experiences and research. If you book through links on our site, we may earn a commission at no extra cost to you.
—
Unlike any other Albanian city, Korca is where you'll find a unique fusion of Albanian culture and European elegance.
Art enthusiasts will be thrilled with the numerous galleries and museums, while history buffs can explore the city's fascinating past.
To enhance your Korca experience, I recommend staying at one of the charming boutique hotels this vibrant city has to offer.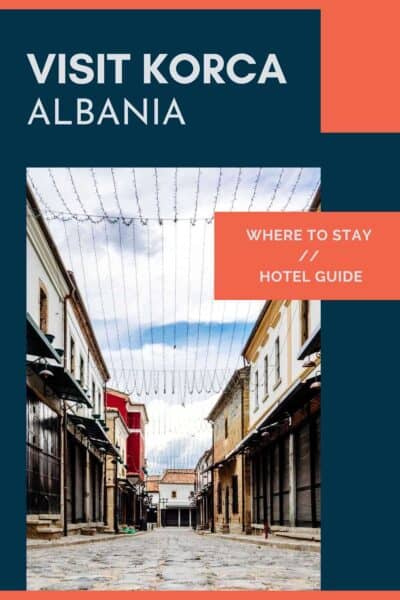 The Best Korca Hotels
When considering where to stay in Korca, there are a couple of neighbourhoods where you might like to be based, as each has a unique appeal.
The Old Bazaar district (Pazari i Korçës) is brimming with history, charming cafes, independent stores and lovely cobblestone streets and squares.
Whereas the City Centre is the area surrounding the Orthodox cathedral (Katedralja Ortodokse Ringjallja e Krishtit). It has a lively atmosphere, with an array of galleries, museums and vibrant nightlife spots.
I personally love the Old Bazaar district, but I've stayed in several different areas of Korca, and the city is small enough that it doesn't matter too much where you stay.
Top Pick
Park Plazza
Address: Bulevardi Republika, Lagjia 12, Korçë, Albania
Location: City Centre
At Park Plazza in Korçë, you'll find 4-star accommodations complete with a restaurant and bar, where you can indulge in a sumptuous Albanian buffet breakfast. With its central location and great style and service, The Plazza is truly the best hotel in Korca, providing an exceptional experience.
Features:
Cool and unique design.
Modern, clean rooms with large beds and sitting areas.
Huge breakfast selection.
Stunning lobby, lounge and bar areas.
Ideal central location.
Sustainability:
100% renewable electricity is used throughout.
Most lighting throughout the property uses energy-efficient LED bulbs.
Food waste is minimised.
Most food provided at the property is locally sourced.
Local artists are offered a platform to display their talents.
Pros: Central location; 4-star accommodations; on-site restaurant and bar; buffet breakfast; proximity to attractions.
Cons: Seasonal pricing fluctuations.
Check Availability
I've listed a selection of other boutique hotels that you might like if my top pick is fully booked.
Next Best
Hani i Pazarit Boutique Hotel
Address: Rruga Kiço Greço, Korçë, Albania
Location: Old Bazaar (Pazari i Korçës)
At Hani Pazarit Boutique Hotel in Korçë, you'll be enchanted by the unique design that transports you back in time. Housed in a beautifully restored old stone building, this hotel seamlessly combines traditional architecture with modern comforts, creating a warm and inviting atmosphere for all its guests. The hotel's exterior is adorned with intricate stone carvings and charming wooden accents, showcasing the region's rich history. The vibrant bazaar, a mere stone's throw away, provides an authentic experience where you can meander through the narrow alleys, peruse local crafts, and savour delightful regional cuisine.
Cool and Unique Hotel
When seeking out a cool and unique boutique hotel, focus on finding establishments that showcase distinctive design elements and personalised services.
Ensure the hotel provides an immersive atmosphere and a sense of place, allowing you to connect with the destination's culture and history. My next hotel pick is a great choice.
Vila Eden Boutique Hotel
Address: Rruga Konferenca e Labinotit nr.2, Korçë, Albania
Location: Parku Rinia
At Vila Eden Boutique Hotel in Korca, you'll find yourself immersed in an inviting atmosphere with a garden, shared lounge, terrace, and bar for your enjoyment. This lovely family-owned hotel is set in a fantastic location, just opposite the serene Parku Rinia park, providing a peaceful retreat from the bustling city life while still being within easy reach of Korca's main attractions.
The high standard of the rooms at Vila Eden Boutique Hotel is sure to impress even the most discerning traveller. Each elegantly designed room features plush bedding, tasteful decor, and state-of-the-art amenities to ensure a comfortable and luxurious stay. The en-suite bathrooms come with high-quality toiletries and stylish fixtures, adding an extra touch of sophistication to your experience.
Relish the excellent breakfast options available each morning, ranging from a standard continental spread to incredible local Albanian specialties served in a warm and welcoming environment.
Luxury Boutique Hotel
As you search for the perfect luxury Korca hotel, keep an eye out for accommodations with highly personalised service and an intimate atmosphere.
Be sure to choose a place that has unique design elements and a commitment to providing exceptional experiences, as you'll find in my next recommendation.
Boulevard Boutique Aparthotel
Address: Bulevardi Fan Noli Nr 50, Korçë, Albania
Location: Pazari i Vjeter
Discover the allure of the Boulevard Boutique Apartment Hotel, a luxurious haven nestled in the heart of Korce. As you step into this elegant retreat, you'll immediately notice its exceptional location, just a stone's throw from the bustling city centre and the stunning Old Bazaar, providing you with the perfect base to explore the enchanting sights and sounds of Korce.
Each spacious apartment is tastefully designed with a blend of modern sophistication and a touch of traditional charm. Unwind in the plush living area with local amenities, or prepare a delicious meal in the fully equipped kitchen with high-quality appliances and utensils. Just outside of your room, you can bask in the serenity of the beautifully landscaped garden, share a toast with friends at the sophisticated on-site bar, or simply unwind on the sun-drenched terrace as you soak up the enchanting atmosphere of Korce.
Eco-Friendly Hotel
When searching for a sustainable or eco-friendly hotel, prioritize establishments that demonstrate a strong commitment to environmental responsibility and conservation.
Opt for accommodations that incorporate sustainable practices, such as energy efficiency and waste reduction, to ensure your stay aligns with your values and has a minimal impact on the environment.
Tree Hotel
Address: Rruga Ajet Xhindolli Pazari i Vjeter, Korçë, Albania
Location: Pazari i Vjeter
Experience the harmonious blend of sustainability and comfort at the Tree Hotel, where the majority of food served is locally sourced, reducing their carbon footprint and supporting local farmers. Immerse yourself in an eco-conscious environment, as the property uses energy-efficient LED lighting and relies on 100% renewable electricity. Not only do they take strides to minimise food waste, but they also support the local community by showcasing the talents of local artists. This is a lovely, highly-rated hotel in a great area of Korca.
Where to Stay in Korca
As you plan your trip to Korca, finding the right neighbourhood to stay in can make all the difference. Here's a list of the best areas to stay in Korca, each with its own unique charm and appeal, ensuring you have an unforgettable experience:
City Centre: Ideal for first-time visitors, the City Centre is where to stay in Korca if you want to be close to the main attractions, vibrant cafes, and eclectic shops. This lively area is bustling with activity and provides easy access to popular sights, including the stunning Orthodox Cathedral, the National Museum of Medieval Art, and the beautiful Parku Rinia.
Old Bazaar District: Steeped in history and tradition, the Old Bazaar District is a haven for art and culture enthusiasts. Home to numerous independent stores, galleries, and artisan workshops, this area gives an authentic glimpse into Korca's past. Recently restored, the Old Bazaar District has become one of the highlights of a visit to Korca, with its cobbled streets, beautiful architecture, and inviting atmosphere.
Pedestrian Boulevard Area: If you're looking for a more relaxed, laid-back vibe, consider staying in the vicinity of the pedestrian boulevard. This tree-lined street is perfect for leisurely strolls, and it's where you'll find a wide array of cafes, restaurants, and bars where you can sample local cuisine or simply unwind with a drink. The boulevard is also home to a variety of events and festivals throughout the year, providing ample opportunities for entertainment and cultural immersion.
Lake Ohrid Area: For those who prefer a more tranquil setting, consider staying near Lake Ohrid, just a short drive from Korca. This picturesque area is home to breathtaking landscapes, pristine waters, and numerous outdoor activities like hiking, cycling, and boating. The serene atmosphere makes it an ideal spot for nature lovers and those seeking a peaceful retreat away from the city's hustle and bustle.
Each of these unique areas in Korca gives a different experience, so carefully consider what you're looking for in your stay before making a decision.
By exploring these neighbourhoods, you'll find a range of boutique hotels to suit your preferences, making your stay in Korca truly special.
Embark on an incredible journey through Albania with our comprehensive guide, which meticulously curates the country's top destinations and hidden gems, providing you with an enriching travel experience.
For invaluable information and assistance during your stay in Korca, the tourist office serves as a reliable resource, ensuring you make the most of your time in this captivating city.
Responsible Travel Tips
Many of us are increasingly concerned about climate change and sustainability. Here are a few ideas on how we can travel more responsibly in Korca.
Choose accommodations powered by renewable energy, such as hotels that utilize solar panels or have energy-efficient systems in place.
Minimize food waste by opting for smaller portions at restaurants or sharing meals with your travel companions.
Embrace a sustainable diet by indulging in local, seasonal produce and dishes that are native to Korca, such as tavë kosi or petulla.
Utilize sustainable transport options by exploring the city on foot or renting a bicycle, which allows you to take in the sights and sounds of Korca in an eco-friendly manner.
Consider travelling to Korca via train or bus, as these transportation methods have a smaller carbon footprint than flying.
Support the local community by shopping at independent stores, dining at local eateries, and participating in community events like the Korca Beer Festival or the Carnival of Korca.
FAQ
What should I consider when looking for the best boutique hotel in Korca?
Prioritise hotels that provide personalised service, unique design elements, and a commitment to exceptional experiences, ensuring your stay is both enjoyable and distinctive. We recommend several that are unique and highly reviewed.
Where are the best areas to stay in Korca?
Some top neighbourhoods include the City Centre for its proximity to attractions and cafes and the Old Bazaar District for its independent stores and galleries.
What are some must-see attractions in Korca?
Be sure to visit the National Museum of Medieval Art, the Old Bazaar, and the Resurrection of Christ Orthodox Cathedral, as well as take time to explore the city's charming streets and local cafes.
In conclusion, selecting the ideal boutique hotel and exploring the enchanting city of Korca can be a truly remarkable experience.
Keep in mind the importance of choosing a hotel that caters to your individual needs and preferences, and consider the various neighbourhoods, each with its unique charm.
As you immerse yourself in Korca's rich history, vibrant culture, and thriving cafe scene, you're bound to discover the many hidden treasures this captivating destination has plenty of opportunities for incredible experiences.
If you have questions or want to leave a hotel review, please do so in the comments.
—
Recommendations are independently chosen based on personal travel experiences and extensive research. This post contains affiliate links to hotels in Korca, Albania. This means I get a small commission from any bookings at no extra cost to you.