Recommendations are based on personal travel experiences and research. If you book through links on our site, we may earn a commission at no extra cost to you.
—
Step into the enchanting world of Berat, a highlight of Albania that will impress you with its history and unique architecture.
Stroll through the charming cobblestone streets of this UNESCO World Heritage site, marvelling at the distinctive Ottoman-style houses stacked upon each other like steps on a hill.
To fully immerse yourself in the local experience, I recommend staying in one of the many historic boutique hotels in Berat in the Old Town.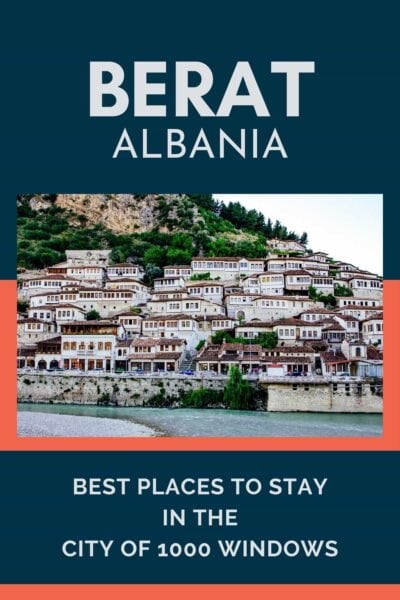 Best Berat Hotels
When considering where to stay in Berat, it's worth giving some thought to the area that best suits your interests and preferences.
Two particularly appealing neighbourhoods are Mangalem and Gorica, both known for their vibrant atmospheres and distinctive attractions.
In Mangalem, you'll be surrounded by quaint cafes, artisan shops, and galleries. This is the historic area below Berat Castle. While Gorica is located on the opposite side of the rivers and has a more laid-back vibe with green spaces, cool bars, and a touch of nightlife.
For visitors seeking an engaging and lively experience, I recommend staying in the Mangalem district to fully appreciate Berat's captivating charm, but both areas and beautiful.
Top Pick
Hotel Rezidenca Desaret
Address: Address: Rruga Dr. Lluka, Berat, Albania
Location: City Centre
During your stay at Hotel Rezidenca Desaret, you'll find yourself immersed in a harmonious blend of traditional and modern elements. The hotel, lovingly restored in 2016, is ideally situated just a stone's throw from the city centre, providing you with stunning views and easy access to Berat's attractions. As you unwind on the terrace or savour the delicious mix of traditional and contemporary dishes, you'll appreciate the renowned hospitality that Berat is known for.
Features:
Unique design.
Modern, clean rooms with large beds and sitting areas.
Rooms with city views.
Huge breakfast selection.
Warm and welcoming service.
Pros: Prime location near the city centre, stunning views, a blend of tradition and modernity, renowned hospitality and delicious food.
Cons: A small number of rooms are available.
Check Availability
While I firmly believe that my top pick is the ideal place to stay in Berat, I understand that everyone's tastes and preferences vary.
With that in mind, I've also handpicked a few other historic hotels that might be of interest and cater to your individual needs, ensuring a lovely stay in this enchanting city.
Traditional Hotel in Berat
Hotel Vila Aleksander
Address: Lagja Mangalem, Rruga Kol Myzeqari, Berat, Albania
Location: Mangalem District
At Hotel Vila Aleksander, you'll be amazed by the breathtaking views and charming courtyards that create a truly picturesque setting. Just a short stroll from the city centre and the Ethnographic Museum, this cosy retreat provides a comfortable bed and an inviting on-site bar for unwinding after exploring Berat's enchanting streets.
Unique Hotel in Berat
As you search for a unique boutique hotel, keep an eye out for places that showcase their individual character and charm, many of which are in Berat.
Look for places that provide a personalised touch, handcrafted design elements, and a warm atmosphere, ensuring a one-of-a-kind stay that reflects the essence of your destination.
Tradita e Beratit
Address: Rruga Stiliano Bandilli, Berat, Albania
Location: Gorica District
At Tradita e Beratit, you'll be immersed in a dreamy blend of traditional styles in the heart of the Gorica neighbourhood. This boutique hotel offers an intimate, four-room sanctuary close to the Gorica Bridge and stunning views of Mangalem from the bedroom windows. You'll also appreciate the charming outdoor restaurant, where you can unwind and savour the delightful traditional cuisine of Berat in a serene, peaceful setting.
Luxury Hotel in Berat
When seeking a luxury hotel in Berat, focus on finding accommodations that exude sophistication and offer exceptional service.
Prioritise hotels that provide an elevated experience, seamlessly blending comfort, elegance, and local amenities, ensuring your stay in this enchanting city is truly remarkable and indulgent.
Hotel Onufri
Address: Rruga Mihal Komneno, Berat, Albania
Location: Mangalem District
At the Hotel Onufri, you'll revel in one of the most popular hotels in Berat. Situated just a brief walk from the Osum River and the historic Berat Citadel. Indulge in a delicious Albanian breakfast each morning, and treat yourself to exquisite Mediterranean cuisine at the on-site restaurant, which specialises in mouthwatering traditional dishes that during your stay in this enchanting city.
Eco-Friendly Hotel
For those who value sustainability and eco-friendliness, seek out Berat hotels committed to minimising their environmental impact.
Pay attention to accommodations that implement green practices, use eco-conscious materials, and actively contribute to local conservation efforts, ensuring that your stay supports a more sustainable travel experience in harmony with the destination's natural and cultural environment.
Hotel Vila Twix
Address: Rruga At Theodhori, 1234 Berat, Albania
Location: City Centre
At this sustainable hotel in Berat, you'll find a commitment to eco-friendly practices that make this hotel a great choice. You can feel good about your stay's minimal environmental impact with locally sourced and organic food offerings, energy-efficient LED lighting, and 100% renewable electricity. Additionally, the hotel promotes local guides and businesses for tours and activities and boasts lush green spaces, such as gardens and rooftop gardens, to enhance your eco-conscious experience.
Budget Hotel in Berat
When choosing a budget hotel, expect comfortable accommodations that cater to the value-conscious traveller without compromising on cleanliness or essential amenities.
You might appreciate my next recommendation, as it provides a wallet-friendly option that allows you to fully explore the enchanting city of Berat while still enjoying a pleasant and relaxing stay.
Master Hotel
Address: Rruga Mihal Komnena, Berat, Albania
Location: Mangalem District
The Master Hotel is an excellent budget-friendly choice, where you can start each day with a delicious Albania breakfast featuring local specialties, fresh pastries, and pancakes. Alongside the stunning mountain and city views, you'll find spacious family rooms in this historic building that ensure a comfortable and cosy stay while maintaining an affordable rate for your Berat adventure.
Apartment Stay in Berat
Opting for an apartment hotel, you can anticipate the added benefits of increased space and the convenience of self-catering facilities.
You might enjoy my next recommendation, as it combines the comforts of home with the amenities of a hotel, providing you with an ideal base to explore the captivating city of Berat while feeling right at home during your stay.
Apartment Geart
Address: Rruga Petrit Lulo, Berat, Albania
Location: City Centre
At Apartment Geart in Berat, you'll be charmed by the picturesque terrace and captivating city views, all within the comfort of a spacious two-bedroom apartment complete with a welcoming living room. To kick off your day, indulge in a scrumptious Albanian, continental, or vegan breakfast available at the property, ensuring a lovely, convenient apartment experience while you discover the wonders of Berat.
Where to Stay in Berat
When planning your visit to Berat, Albania, consider staying in one of the following neighbourhoods known for their distinct atmospheres, attractions, and convenient access to the city centre:
Mangalem: Historic Ottoman-Era Old Town
Mangalem is a lively neighbourhood renowned for its quaint cafes, artisan shops, and art galleries. This area is perfect for visitors who appreciate a vibrant cultural scene and wish to immerse themselves in the local atmosphere.
Mangalem is home to the UNESCO-listed historic centre, where you can explore Berat's rich history, including the iconic Berat Castle, the Onufri Museum, and several well-preserved churches and mosques.
Gorica: The Best Views of Mangalem
Gorica offers a more laid-back experience for visitors seeking a slower pace. This neighbourhood has green spaces and family-owned restaurants, making it ideal for unwinding after a day of sightseeing.
Its proximity to the iconic Gorica Bridge allows easy access to the city's most picturesque spots, such as the Osum River and the stunning view of Mangalem's traditional houses from across the water.
City Centre: Convenient & Accessible
If you prefer to stay in the heart of the action, consider booking accommodation in Berat's city centre. Here, you'll find a mix of hotels, guesthouses, and rental apartments offering modern amenities and easy access to public transportation.
The city centre also provides an excellent base for exploring the nearby attractions, including the Ethnographic Museum and the Promenade, as well as an array of dining and shopping options.
This central area might be more suitable if you struggle walking on cobblestones and the narrow, hilly old town streets.
No matter which neighbourhood you choose, you'll be amazed by Berat's unique charm and the warm hospitality of its people.
Experience the enchanting blend of history, culture, and natural beauty, making this Albanian city a must-visit destination.
Discover the hidden gems of Albania with my comprehensive guide, providing you with insider tips and expert recommendations for exploring the country's most captivating destinations.
You can read more about Berat's history and its UNESCO listing here, which it shares with the Albanian city of Gjirokastra.
Responsible Travel Tips
Many of us are increasingly concerned about climate change and sustainability. Here are a few ideas on how we can travel more responsibly in Berat.
Choose hotels that use renewable energy, such as hotels powered by solar panels or those that use energy-efficient lighting.
Minimise food waste by ordering only what you can finish at local restaurants, and consider taking leftovers for a snack later.
Embrace a sustainable diet by trying Berat's locally sourced, plant-based dishes and visiting farmers' markets to support the local food economy.
Use sustainable transport options, like walking or cycling, to explore the city's historic neighbourhoods and attractions, or opt for public transportation when needed.
Instead of flying to nearby destinations, consider taking buses or trains, reducing your carbon footprint while enjoying the scenic landscapes of Albania.
Support the local community by shopping at independent stores, engaging with local artisans, and participating in cultural activities to better understand Berat's unique heritage.
By implementing these responsible travel practices, you'll contribute to a more sustainable tourism experience in Berat, benefiting both the environment and the local community.
FAQ
What is the best area to stay in Berat for a rich cultural experience?
Mangalem is an excellent choice for a culturally immersive stay, with its quaint cafes, artisan shops, galleries, and proximity to the UNESCO-listed historic centre.
How can I find a unique or boutique hotel in Berat?
Focus on the neighbourhoods mentioned earlier, such as Mangalem and Gorica, and look for hotels that showcase the city's rich history, distinctive architecture, or local artistry.
What attractions should I not miss while visiting Berat?
Some must-see attractions include the Berat Castle, the National Ethnographic Museum, the Mangalem and Gorica neighbourhoods, and the iconic Gorica Bridge that connects the city's two sides.
Final Thoughts
Focusing on boutique hotels that embody Berat's distinct charm, history, and architectural beauty will enhance your visit.
As you discover the city's interesting heritage, be sure to explore its landmarks, connect with the locals, and indulge in traditional dishes.
This approach will ensure a rewarding and unforgettable journey through the mesmerising city of Berat.
If you have questions or want to leave a hotel review, please do so in the comments.
—
Recommendations are independently chosen based on personal travel experiences and extensive research. This post contains affiliate links to hotels in Berat, Albania. This means I get a small commission from any bookings at no extra cost to you.