Recommendations are based on personal travel experiences and research. If you book through links on our site, we may earn a commission at no extra cost to you.
—
Berlin enthrals with a dynamic blend of history and innovation. The city pulses with an energy that is all its own, constantly reinventing itself yet never losing sight of its rich history.
In this guide, I'll reveal the best cool boutique hotels in Berlin to ensure your stay matches this extraordinary city's unique character and charm.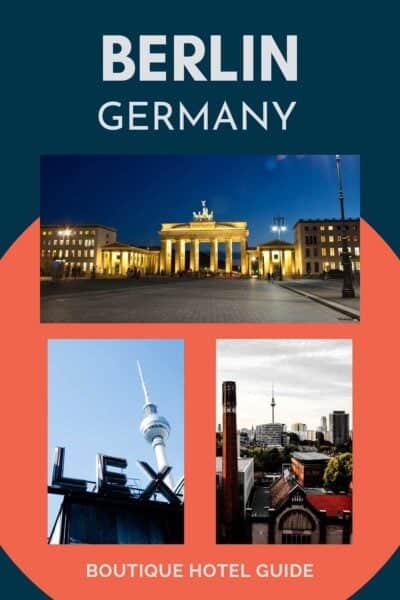 Cool Boutique Hotels in Berlin
When you're hunting for a hotel, your first move is to decide on the perfect area to base yourself in.
In Berlin, the Mitte district serves as the city's historical heart, filled with iconic landmarks such as the Brandenburg Gate and Museum Island, and it's well-served by public transport, making it an ideal location for first-time visitors.
On the other hand, you've got Kreuzberg, a vibrant neighbourhood known for its eclectic mix of indie shops, contemporary art spaces, lush parks and buzzing nightlife, offering a taste of Berlin's bohemian spirit.
For most visitors, Mitte is the ideal place to stay. My top hotel pick is located near Mitte, in adjacent Tiergarten.
Top Pick
SO/Berlin Das Stue
Address: Drakestrasse 1, Berlin
Location: Tiergarten
At the SO/Berlin Das Stue, you'll find yourself enveloped in elegance from the moment you step into your beautifully decorated room. Nestled in the tranquil Tiergarten district, the hotel is just a stone's throw away from the vibrant Kurfürstendamm shopping street and not far from Berlin Central Train Station. The hotel itself, bathed in calming hues, offers an ambience that is as sophisticated as it is comforting. You can unwind in the stylish bar area after a day of sightseeing or shopping in West Berlin. The staff are exceptionally friendly, always ready to enhance your stay with their warm hospitality.
Features:
Cool and unique design.
Stylish rooms with loads of natural light.
Huge breakfast selection.
Stunning lobby, lounge and bar areas.
Walking distance to many attractions in Mitte and Kurfurstendamm.
Sustainability:
Energy-efficient lighting.
Food waste reduction measures are in place.
Vegetarian and vegan menu options are offered.
Most food is locally-sourced.
Local artists are promoted in the hotel.
Pros: Elegant decor. Prime Tiergarten location. Near Kurfürstendamm shopping. Close to the central train station.
Cons: Slightly remote from East Berlin attractions.
Check Availability
I'll also be suggesting a couple of other boutique hotels worth considering for your stay in Berlin. Whether it's their prime locations, distinctiveness, stylish designs, or commitment to eco-friendliness, these accommodations have something unique to offer.
Next Best Hotels in Berlin City Centre
Linnen
Address: Eberswalder Straße 35, Berlin, Germany
Location: Prenzlauer Berg
Nestled in Prenzlauer Berg, the Linnen Hotel places you in the middle of Berlin's trendy district. You're just a short five-minute stroll away from Eberswalder Straße Underground Station and Mauerpark, known for its popular Sunday flea market. Beyond this, stylish shops and galleries are readily accessible in the neighbouring Mitte district. The hotel ensures your day starts right with a healthy, innovative breakfast on the ground floor. Plus, with excellent tram and rail connections nearby, all of Berlin's key monuments, museums, and points of interest are within easy reach.
Casa Camper Berlin
Address: Weinmeisterstr.1, Berlin, Germany
Location: Mitte
Casa Camper is tucked away in the bustling Hackescher Markt area and is a haven for design enthusiasts. Its minimalist design, clean-cut and simple, brings a sense of tranquillity amidst the city's buzz without compromising on comfort. A mere 10-minute walk gets you to Alexanderplatz or Museum Island, putting Berlin's rich history at your fingertips. The hotel also sits conveniently close to the historic Unter den Linden Boulevard and numerous bars, restaurants and art galleries. The cherry on top is the Tentempie Lounge, situated on the top floor, where you can soak in panoramic city views while enjoying complimentary drinks, yoghurts, fruit and snacks. When you're ready to retreat, you'll find functional and well-planned rooms with large, comfy beds waiting for you.
Hotel Amo Friedrichstraße
Address: Friedrichstraße 113, 10117 Berlin, Germany
Location: Mitte
Hotel Amo stands out as a stylish gem in a quieter part of Berlin City Centre, yet still within easy reach of the city's vibrant centre. You're perfectly positioned near popular attractions like the Natural History Museum, Memorial of the Berlin Wall and Pergamon Museum. The hotel brings a fresh, quirky vibe, enhanced by friendly and welcoming staff, and is surrounded by a rich selection of restaurants and activities. The breakfast experience at Hotel Amo is nothing short of delicious, offering a range of buffet, vegetarian, or vegan options presented with care. Plus, the hotel's efforts to reduce food wastage align with conscious travel choices.
Hotel Romy
Address: Invalidenstrasse 53 A, Berlin, Germany
Location: Mitte
Hotel Romy brings you close to Berlin's heart, with its excellent location a mere stone's throw from key attractions. You'll find yourself just a short distance from the Berliner Philharmonie, the poignant Holocaust Memorial and the historic Reichstag. The hotel is also conveniently situated near Berlin Central Station, making city exploration a breeze. The hotel's fabulous decor adds a touch of elegance to your stay, and meticulous upkeep ensures a clean, comfortable environment.
Cool Boutique Hotel
When selecting a cool boutique hotel, you're opting for a travel experience that marries comfort with character.
These places are often a reflection of the cities they inhabit, bringing together local culture, art and architecture in a way that's distinctly their own.
The allure of a unique, cool, or unusual hotel lies in its ability to transform your stay into a story filled with unexpected details, offbeat design and an atmosphere that can't be replicated.
25hours Hotel Bikini Berlin
Address: Budapester Str. 40 Berlin, Germany
Location: Charlottenburg-Wilmersdorf
25hours Hotel Bikini Berlin, perched by the Zoologischer Garten Station, serves up a stylish stay right in the pulse of the city. The hotel's location gives you stunning views of the bustling Kufürstendamm shopping area, with Berlin's iconic Memorial Church and the Zoo a mere two-minute stroll away. Within the hotel's chic walls, you'll discover the excellent Neni Restaurant, where Middle Eastern cuisine takes centre stage. For a nightcap or a lively evening, the Monkey Bar provides a variety of drinks accompanied by music. The rooftop terrace on the 10th floor is the perfect spot to unwind, taking in the cityscape from an impressive vantage point. The hotel's decor and style are indeed striking, and its commitment to cleanliness and fantastic service further enhance your stay. Plus, with vegetarian menu options and a plethora of eateries nearby, this cool hotel truly provides a stellar Berlin experience.
The Mandala Suites
Address: Friedrichstr. 185-190, Berlin, Germany
Location: Mitte
Immerse yourself in the elegance of Mandala Suites, a unique boutique hotel in Berlin that effortlessly merges high-class sophistication with cosy comfort. The hotel's central location on Friedrichstrasse Shopping Street puts you in the heart of the city, making all major sightseeing spots easily accessible. Take a leisurely stroll and find yourself at the beautiful Gendarmenmarkt Square, just three minutes away. Or, venture a ten-minute walk to experience the historical resonance of Checkpoint Charlie and the famed Unter den Linden Boulevard. Revel in the unrivalled views of Berlin's rooftops while enjoying a long breakfast every morning in the 8th-floor lounge. After a day of urban exploration, retreat to the hotel's luxury spa facilities for some well-deserved pampering.
Amano East Side
Address: Stralauer Platz 30-31, Berlin
Location: Friedrichshain-Kreuzberg
Dive into the vibrant atmosphere of Berlin with a stay at the Amano East Side, a unique boutique hotel that combines modern charm with comfort. Adorn with a high-quality interior and modern decor, your room provides a clean and stylish space to relax after a day of exploration. The hotel's prime location places you just 1 km from the iconic East Side Gallery and a short distance from the city's bustling heart at Alexanderplatz, reachable by a brief trip via the nearby public transport. Awaken each morning to a delightful buffet breakfast that primes you for the day ahead. Unwind in the evening with a bespoke cocktail at the hotel bar, a cosy and inviting space that exudes sophistication.
Luxury Boutique Hotel
Step into the realm of luxury boutique hotels for an unforgettable travel experience, with their unique character, intimate vibe and uncompromising focus on personalised service.
Choosing a luxury boutique hotel means stepping off the beaten path and embracing an exclusive and bespoke travel narrative that seamlessly weaves luxury, comfort and individuality into your trip.
Hotel Adlon Kempinski Berlin
Address: Unter den Linden 77, Berlin, Germany
Location: Mitte
Step into a world of luxurious elegance at the Hotel Adlon Kempinski in Berlin, the most famous hotel in Berlin. This legendary 5-star hotel, located next to the iconic Brandenburg Gate, exudes the quintessence of luxury hotels. Within your room, antique furnishings with extravagant twists and marble bathrooms create an atmosphere of unrivalled allure. Embark on a culinary journey at the double Michelin-star restaurant or indulge in German specialties and private dining options for an exquisite dining experience. Embrace wellness with a dip in the neoclassical indoor pool, or invigorate your senses with Ayurveda treatments in the spa. An expansive 800m² gym is at your disposal, blending sport and relaxation seamlessly. Venture beyond the hotel and find yourself within a 10-minute walk to some of Berlin's main landmarks, including the Holocaust Memorial, Checkpoint Charlie, and Pariser Platz. The staff at the Hotel Adlon Kempinski goes above and beyond to cater to your needs, offering vegetarian and vegan menu options and ensuring an amazing stay. With its state-of-the-art facilities, central location, and exceptional service, this hotel serves as your perfect base for exploring the vibrant city of Berlin.
Boutique Hotel Château Royal
Address: Neustädtische Kirchstraße 3, Berlin
Location: Mitte
Discover the blend of luxury and charm at the Boutique Hotel Château Royal in Berlin. Just a 7-minute stroll from the iconic Brandenburg Gate, less than a kilometre from the picturesque Gendarmenmarkt, and a quick jaunt to the Neues Museum, you'll find yourself immersed in the city's cultural treasures. Begin each day with a buffet breakfast that has garnered excellent reviews for its quality and variety. Within your room, a mini fridge stocked with drinks provides a refreshing touch. The hotel's commitment to sustainability is evident in its use of 100% renewable electricity and concerted efforts to minimise food wastage. The Château Royal is also in proximity to other popular attractions like the Reichstag, Pergamon Museum and Holocaust Memorial. You'll find a selection of vegetarian and vegan menu options at the in-house restaurant and bar.
Eco-Friendly Hotel
Consider the allure of a sustainable or eco-friendly hotel for your next Berlin trip. These forward-thinking hotels go beyond the standard hospitality experience, marrying comfort and luxury with a growing commitment to environmental stewardship.
In this category, look for a sustainable hotel that actively minimizes its carbon footprint through renewable energy, waste reduction initiatives and locally sourced food options.
For more eco-friendly hotels, this list of sustainable hotels in Berlin has some great options.
Steigenberger Hotel Am Kanzleramt
Address: Ella-Trebe-Straße 5, Berlin
Location: Mitte
Experience the harmony of sustainability and comfort at the Steigenberger Hotel Am Kanzleramt, an eco-friendly hotel in the vibrant heart of Berlin. Situated a mere 800 meters from the iconic Brandenburg Gate and adjacent to the German Parliament buildings, you are perfectly positioned to explore key attractions like Alexanderplatz, Kurfürstendamm and Potsdamer Platz. The hotel's rooms are not only pleasingly priced and impeccably clean, but they also offer a serene retreat after a day of sightseeing. Complementing your stay is the Sky Spa, promising a unique wellness experience amidst the city's hustle and bustle. Savour an awesome breakfast each morning, with a diverse range of vegetarian and vegan options available. Steigenberger's commitment to sustainability shines through in its use of 100% renewable electricity and robust measures to reduce food wastage. Even your electric car can recharge at the hotel's dedicated charging station.
Hotel Luc
Address: Charlottenstrasse 50, Berlin, Germany
Location: Mitte, Berlin City Centre
Enjoy a luxurious and sustainable stay in the heart of Berlin at the Hotel Luc. Perfectly positioned on the Gendarmenmarkt Square, this eco-friendly hotel is a mere 100 meters from both the Französische Straße Underground Station and the bustling Friedrichstraße shopping street. The rooms blend style and comfort creating a serene retreat amidst the city's vibrancy. Savour gourmet cuisine at the Heritage Restaurant, where contemporary dishes meet selected wines, and high-quality drinks grace the menu at the Heritage Bar. The convenience of your stay is enhanced by a delicious breakfast, and despite the hotel's popularity, the staff at Hotel Luc go above and beyond to ensure your comfort. The hotel's commitment to sustainability is reflected in its use of 100% renewable electricity and diligent efforts to reduce food wastage. Furthermore, you'll have the opportunity to explore Berlin through tours and activities organized by local guides and businesses. With the Brandenburger Tor and other historical destinations within walking distance, the Hotel Luc provides an eco-friendly base to explore Berlin, marrying sustainability with luxury in a way that is nothing short of amazing.
Where to Stay in Berlin
Deciding where to stay in Berlin can shape your experience in this multifaceted city, so I've curated a list of the best areas that reflect local culture and comfort.
Mitte, the heart of Berlin, is a cultural hub home to an impressive selection of galleries and museums. Here, you'll find yourself steeped in history during the day and enthralled by the city lights at night while enjoying a stay in some of the city's top boutique hotels.
Kreuzberg brims with an eclectic mix of coffee houses, vintage stores and after-dark hotspots. It's a vibrant district that hums with the energy of the city, where you'll stumble upon hidden gems around every corner.
Prenzlauer Berg, once a bustling bohemian borough, has transformed into a family-friendly area with a strong cafe culture and an array of independent shops. Its tree-lined streets and well-kept parks make it an inviting neighbourhood for a quieter, more relaxed Berlin experience.
Friedrichshain is the place to be for an interesting nightlife scene. It's also home to a number of indie boutiques and unique eateries, making it a perfect district for those looking for a livelier, more energetic Berlin experience.
Within my guide, I'll unveil an insider's selection of the top destinations to explore in Germany, showcasing the absolute best places to visit in the country, each brimming with unique experiences and cultural treasures.
The wealth of resources available at the tourist office is an invaluable tool for a deeper exploration of Berlin, offering comprehensive insights into engaging activities, compelling sightseeing opportunities and upcoming events.
Responsible Travel Tips
Many of us are increasingly concerned about climate change and sustainability. Here are a few ideas on how we can travel more responsibly in Berlin.
Renewable Energy: Berlin is a city that champions sustainability. Look for accommodation options that use renewable energy sources. Many hotels and hostels in the city are powered by solar energy or wind power, contributing to a greener stay.
Minimise Food Waste: Embrace the 'zero waste' concept while dining out. Many Berlin eateries focus on sustainable practices, using every part of the ingredients they cook with to minimise waste.
Adopt a Sustainable Diet: Berlin's culinary scene is a haven for plant-based diets. There's a wealth of vegetarian and vegan restaurants throughout the city, making it easy to enjoy delicious meals that are kind to the planet.
Opt for Sustainable Transport: Berlin's public transportation network is efficient and extensive. Use the city's trams, buses and trains or rent a bike to explore the city more sustainably.
Avoid Flying When Possible: Consider taking a train to Berlin instead of flying, especially if you're travelling within Europe. The city's well-connected rail network makes it a viable and more eco-friendly option.
Support Local Communities: Engage with the local community by shopping at Berlin's numerous farmer's markets and boutique stores. They're great places to find locally-made products and organic produce while supporting small businesses and artisans.
Respect the City: Keep Berlin beautiful by respecting its public spaces. Dispose of your trash responsibly, avoid graffiti and respect noise guidelines to ensure everyone can enjoy the city.
FAQ
What is the best area to stay in Berlin for tourists?
Mitte is often recommended as the best area for tourists to stay in Berlin. It's central and home to many of the city's major attractions, including the Brandenburg Gate, Museum Island and Alexanderplatz.
Are there luxury boutique hotels in Berlin?
Absolutely, Berlin boasts a wide range of luxury boutique hotels that have a unique, high-end experience. These hotels often feature stylish rooms, gourmet dining and exclusive spa facilities in addition to their central locations.
How easy is it to get around Berlin?
Berlin's public transportation network is extensive and efficient, making it easy to navigate the city. The U-Bahn (underground), S-Bahn (suburban trains), trams and buses all provide reliable service. In addition, Berlin is a bike-friendly city with numerous bike rental services available.
Are there good dining options in Berlin?
Berlin's diverse and vibrant food scene offers everything from traditional German fare to international cuisine. You can find excellent dining options throughout the city, ranging from street food vendors to fine dining establishments.
Final Thoughts
Navigating the diverse landscape of cool boutique hotels in Berlin indeed paints a vivid picture of the city's rich history, contemporary culture and forward-thinking ethos.
Each boutique hotel is a unique gem, carefully crafted to provide an intimate and personalised experience, reflecting the spirit and charm of the city's distinct neighbourhoods.
From the iconic Brandenburg Gate to the bustling Gendarmenmarkt Square, from the edgy art scene to the immersive culinary landscape, Berlin is a city that seamlessly weaves the old and new together, leaving you with a rich tapestry of experiences.
If you have questions or want to leave a hotel review, please do so in the comments.
—
Recommendations are independently chosen based on personal travel experiences and extensive research. This post contains affiliate links to hotels in Berlin, Germany. This means I get a small commission from any bookings at no extra cost to you.