Recommendations are based on personal travel experiences and research. If you book through links on our site, we may earn a commission at no extra cost to you.
—
As you walk around Hamburg, the vibrant pulse of Germany's second-largest city will envelop you. It's a dynamic mix of striking architecture, bustling markets, world-class museums and a diverse culinary scene that sets it apart.
In this guide, I'll introduce you to the best boutique hotels in Hamburg, each offering a unique perspective on this lively port city.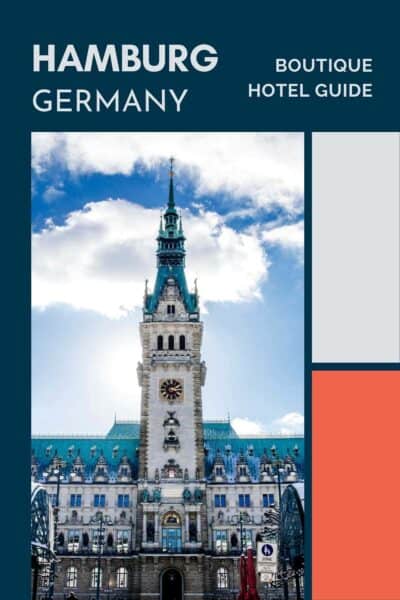 Best Boutique Hotels in Hamburg
When searching for the perfect hotel, your first step is to consider which area of Hamburg you'd like to call home during your visit.
HafenCity is the modern portside district teeming with galleries and innovative architecture. It has a dynamic energy that you won't find elsewhere.
On the other hand, the Sternschanze district, with its bustling cafe culture, independent shops and vibrant nightlife, may draw you in with its bohemian spirit.
Although both neighbourhoods have their unique appeal, I would recommend Neustadt as the top area to stay in as this is Hamburg's city centre, where you'll find a blend of culture and modernity.
Top Pick
SIDE Design Hotel Hamburg
Address: Drehbahn 49, Hamburg, Germany
Location: Neustadt
Discover the elegance of SIDE Design Hotel Hamburg, a haven of modern luxury nestled within Hamburg's vibrant Neustadt district. You'll find spacious rooms plus a tranquil pool and spa. Head up to the rooftop terrace for a bird's eye view of the city or enjoy the quality meals and creative cocktails in the chic [m]eatery bar + restaurant. With the Hamburg State Opera and Gänsemarkt Underground Station just a short walk away, exploring the city couldn't be more convenient. For breakfast enthusiasts and foodies alike, SIDE offers a delicious international breakfast buffet and accommodates various dietary needs, including vegetarian and vegan options.
Features:
Quirky and cool design.
Stylish rooms with loads of natural light.
Huge breakfast selection.
Stunning lobby, lounge and bar areas.
Great location near the Alster.
Sustainability:
Energy-efficient lighting.
Food waste reduction measures are in place.
Vegetarian and vegan menu options are offered.
Tours and activities organised by local guides are available.
Pros: Spacious rooms, relaxing spa with pool, stunning rooftop terrace views, proximity to public transport and versatile dining options.
Cons: Location might not suit everyone.
Check Availability
While my top pick undeniably holds a special charm, Hamburg is a city of diverse experiences, and the same applies to its range of boutique hotels.
A couple of other gems might appeal to different tastes or needs due to their location, unique style, or commitment to sustainability.
Next Best
east Hotel Hamburg
Address: Simon-von-Utrecht-Str. 31, Hamburg, Germany
Location: St. Pauli
Step into the heart of the St. Pauli district, where the east Hotel seamlessly blends striking design with soothing colours on the historic grounds of a former iron foundry. Wake up in rooms that are the epitome of modern comfort and style, laid out and furnished to perfection. As day transitions into the evening, the hotel's restaurant becomes your culinary playground. Whether it's dining against the backdrop of a large glass façade or under the atmospheric candlelight in the vaulted basement of the old foundry, you'll relish in a variety of international meals and Asian specialities. The location is more than ideal – not only are you a stone's throw away from the world-famous Reeperbahn, but also within walking distance of other vibrant districts such as Altstadt, St. George and Hafencity. After a day of exploring, unwind with a drink in one of the hotel's two lounges or Yakshi's bar, savouring the unique spirit of east Hotel Hamburg.
Gastwerk Hotel Hamburg
Address: Beim Alten Gaswerk 3, Hamburg, Germany
Location: Altona
Nestled in the Altona / Bahrenfeld district, just a swift 10-minute train ride from the Reeperbahn, Gastwerk Hotel Hamburg stands as a testament to stylish factory-style architecture. The hotel's heart beats in the Mangold restaurant, where international dishes are served both indoors and on the sun-dappled terrace. Here, you'll be able to relish first-class drinks and a vibrant selection of German beers and fine wines in the bright atrium bar. Not only does the hotel stand out for its exceptional service and high-quality offerings, but it also makes a commendable effort to reduce food waste, making it a great choice for the eco-conscious traveller. Catering to diverse dietary preferences, vegetarian and vegan options are thoughtfully included in their menu, ensuring a delicious experience for every guest.
Cool and Unique Hotel
Choosing a cool, unique boutique hotel can truly elevate your travel experience.
Often housed in distinctive or historic buildings, these establishments exude individuality and charm that sets them apart.
By seamlessly blending luxury with quirks and unexpected touches, they create an environment that both surprises and comforts.
This sense of discovery and the attention to the smallest details make a stay at a boutique hotel an adventure in its own right – a delightful deviation from the conventional and a chance to immerse yourself in a space as intriguing as the city beyond its doors.
Pierdrei Hotel HafenCity Hamburg
Address: Am Sandtorkai 46, Hamburg
Location: HafenCity
Nestled in the prime location of Hamburg's HafenCity district, the Pierdrei Hotel is just a short stroll from popular attractions like the Elbphilharmonie Hamburg, Mönckebergstrasse Shopping Street and Miniatur Wunderland. The hotel is more than just a place to rest your head; it's a canvas for local artists to display their talents, adding to the fascinating design and decor. The rooms, comfortable yet teeming with quirky touches, reflect the hotel's commitment to offering a unique stay. Savour the daily breakfast, choosing from an array of options, including a buffet, continental and even vegan choices. Discover the unique charm of the lounge and restaurant, venture to the roof terrace for an elevated view, or join in on tours and activities organised by local guides.
25hours Hotel Altes Hafenamt
Address: Osakaallee 12, Hamburg
Location: HafenCity
Experience the quirkiness of the 25hours Hotel in Altes Hafenamt, a cool and unique hotel in Hamburg's HafenCity district. Just a five-minute walk from the river Elbe and the famed Speicherstadt, the hotel's location is as enticing as its individually-decorated, stylish rooms. Beyond the confines of your room, the vibrant neighbourhood invites you to explore on two wheels, with cycling being a popular way to take in the sights. When evening falls, the hotel's famous cocktail bar becomes the hub of activity, a perfect spot to unwind after your day's adventures. With a location that's quite central, a great breakfast spread and thoughtful vegetarian menu options, the 25hours Hotel is a true embodiment of Hamburg's unique charm.
25hours Hotel Hamburg HafenCity
Address: Überseeallee 5, Hamburg, Germany.
Location: HafenCity
The 25hours Hotel HafenCity is located next door to their sister 25hours Hotel, making it a good option if that hotel is unavailable. Located near the Hamburg Maritime Museum, the hotel places the city's seafaring history at your doorstep. Savour a breakfast buffet each morning, and later in the day, explore the variety of the Heimat Kitchen's menu, which features newly interpreted seasonal dishes from various German-speaking regions. The Elbe Philharmonic Hall, known for its stellar concerts, is just a five-minute walk away, and a leisurely 15-minute stroll will take you to the historic Old Town district. With its prime location, attentive staff, and delicious organic breakfast, the 25hours Hotel adds a special touch to your Hamburg visit.
Luxury Boutique Hotel
Opting for a luxury boutique hotel can truly elevate your travel experience, adding a dash of opulence to your trip.
These hotels pride themselves on delivering a personalised service that can transform your stay into an indulgent retreat.
You'll often find luxury hotels are meticulously designed, each room curated with an eye for detail.
What sets luxury boutique hotels apart is their ability to blend comfort, exclusivity and a unique aesthetic under one roof, creating an experience that indulges your senses while also offering an intimate glimpse into the local culture.
Fraser Suites Hamburg
Address: 2 Rödingsmarkt, Hamburg, Germany
Location: Altstadt
Step into a world of refined elegance at Fraser Suites Hamburg, a luxury boutique hotel nestled in the vibrant heart of Hamburg. Housed in an authentic historical building, the hotel effortlessly weaves together past and present. Providing breathtaking interiors that remain true to their times, while maintaining a high standard of service. Enjoy a variety of breakfast options each morning, including à la carte, continental, or vegetarian choices, and savour British, French, and Mediterranean cuisine at the hotel's restaurant. Need a gluten-free or dairy-free option? They've got you covered. For those keen on exploring, the hotel's central location makes it easy to reach key points of interest like St Michael's Church, Hamburg Town Hall and Elbphilharmonie Hamburg on foot. After a day of sightseeing or cycling – a popular activity in the area – retreat to the comfort of your suite, where energy-efficient lights cast a warm glow over your surroundings. At this luxury hotel in Hamburg, every detail is thoughtfully considered, from locally sourced food to the helpful concierge at the entrance, ensuring your stay is as delightful as it is memorable.
Sir Nikolai Hotel
Address: Katharinenstrasse 29, Hamburg, Germany
Location: Altstadt
Find your slice of opulence in the heart of Hamburg at the Sir Nikolai Hotel. Tucked away in the serene Hamburg Altstadt district, a mere 500 meters from HafenCity, this luxury hotel is as much about location as it is about lavish comfort. With Speicherstadt just 600 meters away and Mönckebergstraße within an 800-metre walk, you'll find the city's popular sites within easy reach. Indulge in the exquisite breakfast each morning to kick-start your day. And when you're ready to explore, the Alster Haus is just a 15-minute walk away. Amidst the hustle of the city, the Sir Nikolai Hotel stands as a cosy, elegant and refined sanctuary, offering a lavish retreat in a popular neighbourhood.
Landhaus Flottbek Boutique Hotel
Address: Baron-Voght-Str. 179, Hamburg
Location: Gross-Flottbek
Enveloped in the charm of the 19th century, the renovated Landhaus Flottbek Boutique Hotel stands as a testament to refined luxury. Nestled in the outer Hamburg suburb of Gross-Flottbek, you're just a leisurely ten-minute walk away from the serene tranquillity of Hamburg's Botanical Gardens. The hotel's Hygge Brasserie & Bar promises to tempt your palate with seasonal dishes every afternoon and evening while the hotel bar invites you to unwind with a well-crafted drink. A 30-minute train ride takes you to the heart of Hamburg's harbour and the historical beauty of the Old Town. At the end of the day, retreat to your wonderfully designed room with a comfortable separate living area and access to a private garden table. The Landhaus Flottbek ensures a luxurious stay while keeping sustainability in focus with energy-efficient lighting and efforts to reduce food wastage.
Tortue Hamburg
Address: Stadthausbrücke 10, Hamburg
Location: Neustadt
Uncover the essence of luxury in the heart of Hamburg at the unique Tortue Hotel Hamburg. Located just a minute's walk from the Neuer Wall shopping street and a quick five-minute walk from the Jungfernsteig, the hotel's location is nothing short of exceptional. Designed by the renowned Stephen Williams and Kate Hume, the hotel presents individually styled rooms and suites that overlook various charming courtyards. Take delight in the two bars and two restaurants within the hotel, each offering high-quality dishes and drinks imbued with a French theme. And when you're ready to explore, you'll find major landmarks such as the Gänsemarkt, St Michaelis Church and the Inner Alster Lake, all within a ten-minute walk. Start each day with a rich breakfast and enjoy the comfort of your exquisite room after a day of city exploration.
Eco-Friendly Hotel
Choosing an eco-friendly hotel is a significant step towards mindful travel.
In such places, you'll find practices like waste reduction, energy-efficient lighting and sourcing of locally produced food, all of which reduce the carbon footprint of your stay.
Furthermore, these hotels often support local communities, contributing to a sustainable local economy.
By choosing to stay in these environmentally conscious hotels, you are treating yourself to a wonderful experience with a lower impact.
Hotel Hafen Hamburg
Address: Seewartenstr. 9, Hamburg
Location: St. Pauli
At Hotel Hafen Hamburg, sustainable comfort is intertwined with maritime charm. You'll find yourself nestled between tradition and modernity as the rooms, split between two buildings, offer a unique blend of maritime antiques and bright, contemporary style. The commitment to sustainability is evident in the use of 100% renewable electricity throughout the property, showcasing their commitment to reducing carbon emissions. Food wastage is also a primary concern, with efforts being made to minimise any unnecessary waste. You'll be able to start your day with a great breakfast, and if you're following a special diet, vegetarian and vegan options are readily available. Not only will you be in the heart of Hamburg, close to the River Elbe and Reeperbahn, but you'll also be supporting a hotel that truly values environmental responsibility.
Henri Hotel Hamburg Downtown
Address: Bugenhagenstr. 21, Hamburg
Location: Altstadt
Experiencing the best of Hamburg's city life can be exciting and environmentally responsible when staying at Henri Hotel in Hamburg's downtown area, the Altstadt. You'll find yourself in a generously sized suite or studio, complete with hand-crafted furniture and solid wooden flooring, embodying a blend of comfort and sustainability. The hotel's dedication to reducing food wastage and offering vegetarian and vegan menu options emphasises its commitment to sustainable practices. Besides the eco-features, you can enjoy a rich buffet breakfast and drinks in the lounge or relax in the sauna after a day of exploring the vibrant HafenCity district just a short distance away. Friendly staff are always on hand to assist, ensuring your stay is both enjoyable and mindful of the environment. With excellent connections to the rest of the city, courtesy of the nearby Mönckebergstraße Underground Station, your sustainable adventure in Hamburg starts at the Henri Hotel.
Where to Stay in Hamburg
Deciding where to stay in Hamburg can feel like a beautiful challenge, given the city's array of vibrant and diverse neighbourhoods.
Each area presents its own unique allure, capturing the heart of any traveller, but let's help you navigate through some of the top choices.
For a taste of Hamburg's rich history, choose Hamburg Altstadt. Here, you will find an array of museums, galleries, and iconic landmarks, such as St Michael's Church and the Town Hall. The area's boutique hotels also mirror this historical charm, providing a luxuriously quaint stay.
Next, consider the cosmopolitan charm of HafenCity. As Europe's largest urban redevelopment project, it's a testament to modern architecture and sustainability. Here, you'll find the mesmerising Elbphilharmonie concert hall and numerous trendy restaurants that satisfy any foodie's palate. Its proximity to the harbour provides picturesque waterside views, making it an excellent choice for those who appreciate both style and scenic beauty.
Dive into the vibrant pulse of Neustadt, one of the oldest parts of Hamburg. Neustadt is a treasure trove of diverse architecture, from the imposing St Nicholas Church to the quaint, narrow Deichstraße. Its proximity to the city centre makes it a prime location for those who love to be in the heart of the action.
Then there's Altona, an eclectic blend of old and new, where the hip vibe of stylish boutiques and cafes coexists with the timeless charm of historical buildings. Just a stone's throw away, you'll find the famous Reeperbahn, a hub for nightlife and entertainment, and the unique fish market, a sensory delight.
Just south of Altona lies the Fischmarkt area, a historic and bustling marketplace along the Elbe River. It's the perfect location for those who love to immerse themselves in local culture, with the famous Sunday fish market being one of the most popular weekend destinations in Hamburg.
Venture into the vibrant and creative neighbourhood of Karolinenviertel, an artistic enclave bursting with character. This hipster district is known for its bohemian atmosphere, street art and independent shops. Explore the charming side streets lined with cosy cafes and unique boutiques, offering a fun mix of vintage treasures and contemporary designs.
For a more laid-back vibe, the leafy area of Gross-Flottbek might be the right destination for you. It's just a short walk away from Hamburg's Botanical Gardens, offering a peaceful retreat from the bustling city.
Lastly, don't overlook St. Pauli, the heart of Hamburg's nightlife. Its streets are lined with cool bars and clubs, making it a popular choice for those seeking a lively nocturnal experience. By day, you can explore its independent stores or relax in one of its many cafes.
So, whether you're a culture enthusiast, a history buff, a night owl, or a lover of nature and tranquillity, Hamburg has a neighbourhood waiting to welcome you. Each area provides a unique backdrop to your journey, crafting a travel experience as unique as you are.
Discover the enchanting castles of Bavaria to the vibrant streets of Berlin, in this comprehensive guide to the best places to visit in Germany.
For more insights into Hamburg, the tourist office publishes a wealth of information, especially about activities, sightseeing opportunities and upcoming events.
Responsible Travel Tips
Many of us are increasingly concerned about climate change and sustainability. Here are a few ideas on how we can travel more responsibly in Hamburg.
Renewable Energy: Embrace the city's commitment to clean power by opting for accommodations that run on renewable energy sources. Hamburg is known for its investment in wind power, so finding an eco-friendly hotel shouldn't be too difficult. I recommend a sustainable hotel in Hamburg in the list above.
Minimising Food Waste: Be conscious of your food consumption. Hamburg has a thriving farm-to-table scene; indulge in it and only order what you can finish. Also, consider carrying a reusable container for potential leftovers.
Sustainable Diets: Enjoy Hamburg's rich array of vegetarian and vegan restaurants. The city's dining scene is increasingly promoting plant-based options that are both delicious and sustainable.
Sustainable Transport: Make use of Hamburg's excellent public transportation system, which includes buses, trams and ferries. Better yet, explore the city's vast network of cycling paths – a fun and eco-friendly way to get around.
Avoiding Flying: If you're travelling from within Europe, consider alternative means to reach Hamburg. The city is well-connected by rail with direct train services from several European cities, which is a more sustainable choice than flying.
Supporting Local Community: Shop at local markets, dine at locally-owned restaurants and buy from Hamburg-based artists and artisans. Your support helps to keep local businesses thriving, contributing to the city's vibrant culture and economy.
FAQ
What should I look for in a boutique hotel in Hamburg?
Consider the location, the style of the hotel, the amenities offered and the unique features that set it apart. Each boutique hotel in Hamburg has its distinctive character, so look for one that matches your style and travel needs.
What are the best areas to stay in Hamburg?
Hamburg has several vibrant neighbourhoods, each with its own unique charm. HafenCity is known for its modern architecture and the Elbphilharmonie, while St Pauli is famous for its nightlife. The Gross-Flottbek district is a great choice for those looking for a quieter area with lots of green spaces, and Karolinenviertel is ideal for lovers of indie shops and boutiques.
What's the best way to get around Hamburg?
Hamburg has an excellent public transportation system, including buses, trams and ferries. It's also a bike-friendly city, so consider renting a bicycle as a fun and sustainable way to explore.
What are some unique things to do in Hamburg?
From exploring the historic Speicherstadt and the modern HafenCity to attending a concert at the Elbphilharmonie or strolling along the Elbe River, there's plenty to keep you busy in Hamburg. Don't miss the bustling local markets, the diverse food scene and the city's many museums and galleries.
Final Thoughts
With its diverse mix of neighbourhoods, each with its own unique charm and character, Hamburg presents a treasure trove of experiences.
Finding the perfect boutique hotel for your stay in Hamburg is like unlocking the door to an adventure that mirrors your personal style and preferences.
From the modern design of HafenCity to the bohemian flair of Karolinenviertel, there's a place to call home for every type of traveller.
As you make your way through the city, savour the distinct flavours of local cuisine, take in the rhythm of the bustling markets, and let the rich tapestry of art and culture leave a lasting impression.
If you have questions or want to leave a hotel review, please do so in the comments.
—
Recommendations are independently chosen based on personal travel experiences and extensive research. This post contains affiliate links to hotels in Hamburg, Germany. This means I get a small commission from any bookings at no extra cost to you.