Recommendations are based on personal travel experiences and research. If you book through links on our site, we may earn a commission at no extra cost to you.
—
When you visit Sonoma, you can expect to indulge in some of the best wine and cuisine the region has to offer.
Explore the vineyards and wineries in the area and learn about the wine-making process. Of course, you can also check out the charming Sonoma Plaza and its many shops and restaurants.
I recommend checking one of my recommendations below for a boutique hotel in Sonoma for a unique and stylish stay.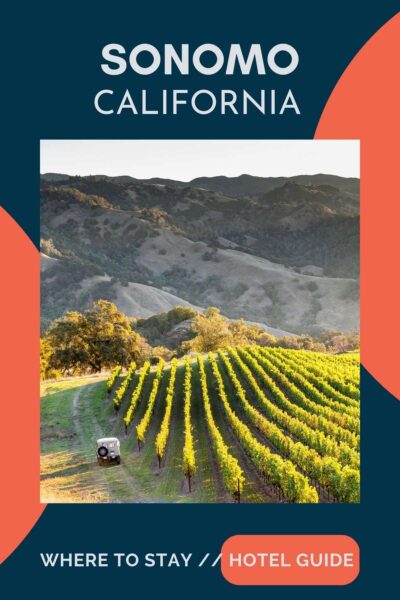 Boutique Hotels in Sonoma
When you're in Sonoma, make sure to explore the various neighbourhoods within the city limits. You could check out the historic Sonoma Plaza, with its charming shops and restaurants, or the peaceful and scenic area near Sonoma State Historic Park.
Other interesting areas to stay in Sonoma include Boyes Hot Springs, home to natural hot springs and a thriving arts scene, and Agua Caliente, known for its tranquil natural surroundings and abundance of outdoor activities.
My top pick is near Sonoma Plaza.
Top Pick
The Lodge at Sonoma Resort
Address: 1325 Broadway, Sonoma, CA
The Lodge at Sonoma is a luxurious and rejuvenating retreat in the heart of Sonoma. Its newly updated cottages feature spacious sitting areas with private fireplaces for a cozy stay. Enjoy amenities such as yoga classes, a modern gym, and a heated outdoor pool. Indulge in the hotel's award-winning dining and wine-tasting options for the ultimate Sonoma experience.
Features:
Stylish and unique room designs.
Modern spa, wellness, gym and outdoor pool facilities.
Exceptional, diverse and delicious breakfast selection.
Within walking distance to Sonoma Plaza.
Sustainability:
The Lodge uses 100% renewable electricity.
Most lighting throughout the property uses energy-efficient LED bulbs.
The property makes efforts to reduce its food wastage.
Single-use plastic is avoided.
Local artists are offered a platform to display their talents.
Pros: A luxurious and tranquil retreat in the heart of Sonoma's scenic wine country.
Cons: Cabanas are more expensive on the weekends.
Check Availability
Although I believe this is the top hotel in Sonoma, I understand you might prefer an alternative. In that case, I have a few more recommendations that may be more unique, offer different features, or be situated in a distinct location.
Luxury Boutique Hotel
When you choose to stay in a luxury boutique hotel, you can expect a personalized and unique experience that caters to your individual preferences.
You might enjoy my next recommendation because it offers a one-of-a-kind stay with a focus on attention to detail and exceptional service.
MacArthur Place Inn & Spa
Address: 29 East MacArthur Street, Sonoma, CA
The exceptional MacArthur Place is a magical and enchanting hotel near the State Historic Park in Sonoma. Explore its sprawling gardens, historic buildings, and charming design details. Enjoy incredible dining experiences, beautifully designed rooms, and exciting activities like wine tastings, spa treatments, and stargazing. The hotel's generous, personalized service ensures that you can unwind and escape everyday stresses.
Unique Hotel & Bungalow
Cool and unique hotels often have distinct features, such as stylish decor, gourmet dining, and local art and culture, that set them apart from more generic accommodations.
Sonoma Bungalows
Address: 158 West Napa Street, Sonoma, CA
Sonoma Bungalows offers a luxurious and intimate stay with 8 beautifully designed bungalows and suites featuring gourmet kitchens, large living spaces, and grand master bedrooms. The prime location just off Sonoma Plaza offers easy access to the town's best restaurants, tasting rooms, shops, and historical landmarks. Experience the quintessential feel of Sonoma with exceptional amenities at this unique hotel.
Where to Stay in Sonoma
When deciding where to stay in Sonoma, there are several great neighbourhoods to choose from, each with its unique charm and character. Here are some of the best areas to stay for visitors who are looking to book a boutique hotel in the area:
Sonoma Plaza: This is the historic heart of Sonoma and is a great area to stay if you want to be in the centre of the action. You'll find plenty of cafes, restaurants, independent shops, and cultural attractions like the Sonoma State Historic Park.
East Side: This is a great neighbourhood for those who want to experience Sonoma's more upscale side. You'll find boutique hotels, wine-tasting rooms, and some of the best restaurants in the area. It's also close to Sonoma Valley Regional Park, a beautiful green space perfect for outdoor activities.
Glen Ellen: This charming small town is located just a few miles from Sonoma and is surrounded by beautiful countryside. It's a great area to stay if you want to experience the more relaxed side of Sonoma, with plenty of galleries, museums, and independent stores to explore.
Carneros: This is a picturesque area known for its vineyards and beautiful scenery. It's a great place to stay if you're interested in wine tasting and want to be close to some of the best wineries in the area.
Boyes Hot Springs: This neighbourhood is located just a few miles north of Sonoma and is known for its natural hot springs and thriving arts scene. It's a great area to stay in if you're interested in wellness and want to experience the more bohemian side of Sonoma.
Agua Caliente: This is a tranquil area known for its natural beauty and abundance of outdoor activities. It's a great place to stay if you want to relax and unwind in a peaceful setting, with plenty of opportunities for hiking, biking, and exploring the great outdoors.
Sonoma State Historic Park: The area surrounding Sonoma State Historic Park is a great place to stay if you want to be close to the city's historic sites and museums. It's also close to many of the area's best restaurants, cafes, and beautiful green spaces like the nearby Sonoma Overlook Trail.
Consider exploring the state's stunning national parks for a unique and unforgettable adventure in California. From Yosemite's iconic granite cliffs to Joshua Tree's surreal desert landscapes, California's national parks offer diverse natural wonders to explore. You can hike through ancient forests, swim in crystal clear lakes, or stargaze under some of the darkest skies in the country. Whether you're a nature lover or an adventure seeker, California's national parks are a must-see destination for any trip to the Golden State.
The official website for Sonoma is a valuable resource for planning your trip. Discover attractions, events, accommodations, and insider tips on where to go and what to see.
Explore interactive maps and learn about the area's history and culture. Plus, find sustainable and responsible travel resources to ensure an enjoyable and environmentally friendly trip.
Responsible Travel Tips
Many of us are increasingly concerned about climate change and sustainability. Here are a few ideas on how we can travel more responsibly in Sonoma.
If you're looking to travel more responsibly in Sonoma, there are many ways to minimize your environmental impact and support the local community.
To begin with, you could stay at hotels that are committed to eco-friendly practices, such as using renewable energy sources, implementing waste reduction measures, or obtaining certification from organizations like The Lodge, my top pick as recommended above.
When it comes to dining, you could seek out restaurants that prioritize farm-to-table and sustainable food practices, such as sourcing ingredients from local farms or using organic produce. For instance, the girl & the fig is a Sonoma restaurant that serves seasonal, locally sourced cuisine and emphasizes sustainability in its operations.
To support the local community, consider shopping at local markets and stores to find artisanal products and unique souvenirs while contributing to the local economy.
You could also visit small businesses like boutique wineries or independent shops to discover the local culture and experience Sonoma's unique charm.
If you want to minimize your carbon footprint, consider renting a bike or walking around town, which allows you to enjoy the beautiful scenery while reducing your environmental impact. Several bike rental shops in Sonoma, such as Sonoma Valley Bike Tours, offer bike tours and rental services.
Finally, if you're coming from a nearby location, consider taking advantage of public transport options or choosing to drive a hybrid or electric vehicle to reduce your emissions.
In Summary
As you plan your trip to Sonoma, keep in mind that choosing a boutique hotel can be a great way to experience the city's unique charm and character.
With a focus on personalized service and attention to detail, boutique hotels offer a stay experience that's unlike anything you'll find at a larger chain hotel.
No matter which area you choose to stay in, you'll be sure to find plenty of local attractions, restaurants, and shops to explore. This might include wine tasting, outdoor activities, or simply soaking up the local culture; Sonoma has something to offer everyone.
So why not book one of the best hotels in Sonoma for your next trip, starting with my recommendations or click through to read dedicated reviews?
If you have questions or want to leave your own hotel review after your stay, please do so in the comments.
—
Recommendations are independently chosen based on personal travel experiences and extensive research. This post contains affiliate links to hotels in Sonoma, California. This means I get a small commission from any bookings at no extra cost to you.