Recommendations are based on personal travel experiences and research. If you book through links on our site, we may earn a commission at no extra cost to you.
—
Malibu is a beautiful and relaxing place, with stunning beaches and many great hiking trails and outdoor activities to enjoy. Watching the sunset over the Pacific Ocean is a breathtaking experience that's popular with so many visitors.
When planning your trip, I highly recommend staying in a cool or unique boutique hotel in Malibu.
Not only do these kinds of hotels have a lot of character and charm, but they also tend to be more eco-friendly and supportive of the local community. Read on for my guide to the best places to stay.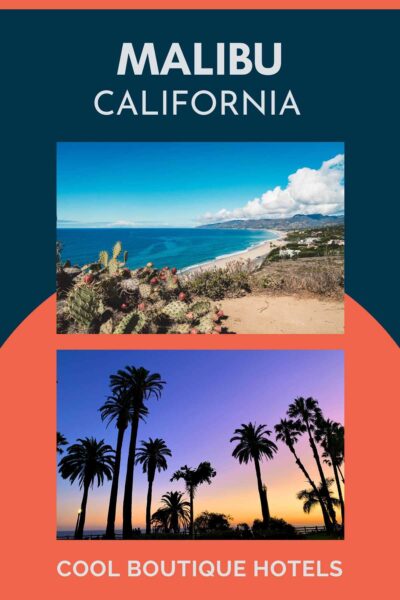 Luxury Boutique Hotels in Malibu
Malibu has several cool areas and beaches worth staying at, such as Malibu Bluff, Zuma Beach and the main Malibu Beach area, including Malibu Lagoon Beach, Malibu Pier and Carbon Beach in Eastern Malibu.
If you're visiting Malibu, I recommend staying near Malibu Pier or Eastern Malibu for its convenient location near the area's sights, attractions and best beaches.
Plus, the area has plenty of great restaurants and shops, so you'll have plenty to do and see during your stay.
Top Pick
Malibu Beach Inn
22878 Pacific Coast Highway, Malibu, CA
Located approximately 2 minutes away from the historic Malibu Pier, the Malibu Beach Inn is a luxurious hotel situated directly on the beach with stunning ocean views. In addition to the scenic views, the hotel offers various amenities, such as a heated outdoor pool, gym, spa, and an on-site restaurant.
Features:
Cool and unique design with lots of timber and light.
Ocean views from most rooms.
Excellent quality bed linens and towels.
High end bathroom amenities.
Delicious Californian cuisine or walk over to Nobu.
Modern gym for a quick workout.
Sustainability:
Electric vehicle charging station.
Pros: Luxury accommodations with stunning ocean views, a fine-dining restaurant with fresh Californian cuisine. Make a dinner reservation for 30 minutes before sunset for the best experience.
Cons: Limited sustainability inititiatives in place.
Check Availability
If you are searching for the best boutique hotel in Malibu, I believe the Malibu Beach Inn is it. However, if you want something more unique or located elsewhere, my next recommendation would be worth considering.
Eco-Friendly Hotel
Staying at an eco-friendly or sustainable hotel may be appealing to someone who values environmental conservation and wishes to minimize their impact on the planet.
These types of hotels often use sustainable practices and materials, such as energy-efficient lighting and recycled materials, and may offer amenities like organic bath products.
In addition, supporting eco-friendly and sustainable hotels can also be a way to promote and encourage the use of environmentally-conscious business practices.
The Surfrider Malibu
Address: 23033 Pacific Coast Highway, Malibu, CA
The Surfrider Malibu is a hotel located directly across from Malibu Pier. It's situated on the beach, offering easy access to the sand and water. The Surfrider Malibu is known for its eco-friendly and sustainable business practices, such as using organic bath and food products and limiting plastic and an EV charger. The hotel design is stunning with its muted colour palette and thoughtful use of timber and other natural products.
Luxury Boutique Ranch Stay
You might enjoy my next recommendation for boutique accommodation in the Santa Monica Mountains if you appreciate a charming and exclusive atmosphere, along with exceptional service and accommodations.
Staying at this luxury ranch hotel will provide you with a more intimate and personalized experience and unique decor that complements the rustic surroundings.
Calamigos Guest Ranch and Beach Club
Address: 327 Latigo Canyon Road, Malibu, CA
The Calamigos Ranch is a luxury boutique hotel and ranch located in the stunning Santa Monica Mountains. The accommodations consist of private cottages, bungalows, and estate rooms, and guests can enjoy onsite dining at the Malibu Cafe, the Ranch Club, and the Pool Studio. The property offers three distinct pools and a large heated spa pool, and the guest services team can aid in organizing various activities, such as beach days, horseback riding and private wine tasting. The locally sourced organic food is delicious, and the staff pays attention to every detail to make your stay unforgettable, including beautiful room keys, rosemary in napkins, and complementary gifts. The beautifully kept grounds, gorgeous pools, and setting add to the luxurious experience.
Boutique Holiday Home
Staying in a luxury holiday home by the sea can provide you with a more private and personalized experience, with your own space to relax and enjoy the beachfront view.
You might like my next recommendation if you value privacy, exclusive access to the beach, and the comfort of a fully equipped and stylishly furnished home away from home.
Malibu By the Sea
Address: 21349 Rambla Vista, Malibu, California
Located in Las Flores, halfway between Eastern Malibu and Big Rock Beach, Malibu By the Sea is a recently renovated luxury holiday home. You'll find breathtaking ocean and garden views from its terrace. The three-bedroom home is furnished with designer furniture and a high-end gas-free kitchen and is fully stocked to prepare meals. Guests can also relax in the garden or spa and wellness centre on-site. The unbeatable ocean view is extra special at sunset. The home is quiet with lots of windows, great comfortable beds and bedding, a cosy fireplace, and plenty of rooms to relax in, making it an outstanding and well-appointed property.
If you're planning a trip to California and want to make the most of your time there, be sure to check out my guide to the best places to visit in the state – it's packed with great recommendations for everything from iconic landmarks to hidden gems!
Where to Stay in Malibu
Malibu offers a variety of options for visitors looking to book a boutique hotel, ranch, or luxury holiday home. Whether you prefer to stay on the beach or in a secluded location surrounded by nature, there is something for everyone in this beautiful coastal city.
If you are looking for where to stay in Malibu, here are some of the best areas to consider:
Malibu Pier – Staying centrally near Malibu Pier is a great option for those who want to be in the heart of the action. This area offers plenty of boutique hotels, restaurants, and shops, all within walking distance of the iconic Malibu Pier. You can also enjoy stunning ocean views and beach access from the nearby Surfrider Beach. One hotel to consider in this area is the Malibu Beachcomber, which is located just steps from the beach and offers stylishly furnished rooms with ocean views.
Malibu Beach – This area is perfect for beach lovers as it is located directly on the beach, offering stunning ocean views. You can find luxury hotels and holiday homes in this area, such as the Malibu Beach Inn, which is known for its exceptional service and on-site amenities.
Las Flores – This area is situated halfway between Eastern Malibu and Big Rock, offering a convenient location for those who want to explore different parts of Malibu. You can find luxury holiday homes in this area, such as Malibu By the Sea, which is known for its designer furniture, fully stocked kitchen, and unbeatable ocean views.
Malibu Colony – This area is known for its exclusive atmosphere and luxurious accommodations. You can find beachfront holiday homes and boutique hotels in this area, which have private beach access and stylishly furnished rooms.
Point Dume – This area is located on a scenic peninsula, offering stunning views of the ocean and the surrounding hills.
Zuma Beach – This area is perfect for those who want to enjoy the beach and the great outdoors. You can find luxury ranches and hotels not far from here, such as the Calamigos Guest Ranch, which offers horseback riding, hiking trails, and on-site dining options.
Big Rock – This area is perfect for those who want to stay in a quiet and secluded location while still being close to the beach. Big Rock offers a range of holiday homes and vacation rentals, some of which offer stunning ocean views and private access to the beach. You can also enjoy the nearby Big Rock Beach, which is known for its scenic beauty and peaceful atmosphere.
The Malibu City tourist office has a website that provides helpful information for visitors to the city and nearby locations in California. It's particularly useful for finding the best beach and outdoor activities.
Responsible Travel Tips
Many of us are increasingly concerned about climate change and sustainability.
Here are some ideas for how people can travel more responsibly when staying in Malibu:
When looking for hotels in Malibu, consider choosing those that use renewable energy sources, such as solar panels or wind power. This can help reduce your carbon footprint and contribute to a more sustainable future for the planet.
Another way to stay sustainably is by choosing energy-efficient hotels or vacation rentals that have been designed with sustainability in mind. Look for eco-friendly certifications or sustainable building practices when researching your options.
Reduce food waste during your stay by planning meals carefully and only buying what you need. Consider cooking meals in your accommodation to avoid excess packaging waste and support local farmers by purchasing fresh produce from nearby farmers' markets. Staying in a boutique holiday home can make this easy.
Limit consumerism during your stay by bringing reusable bags, water bottles, and other items with you and purchasing locally-made products whenever possible. Supporting local artisans and businesses can also help reduce the environmental impact of shipping and packaging.
Consider adopting a sustainable diet during your stay that is based on plant-based foods and locally-grown produce. Malibu and California offer many options for vegetarian and vegan dining and farm-to-table restaurants that showcase the best of the local food scene.
Use sustainable transport options during your stay, such as public transportation, biking, or carpooling, instead of flying or driving alone. Consider exploring Malibu's many hiking and biking trails or taking a leisurely stroll along the beach.
Finally, support the local community during your stay by patronizing small, locally-owned businesses and participating in community events and activities. Whether it's a visit to a local museum or attending a farmers' market, you can help support the local economy and build connections with the community.
Please share your sustainable hotel tips in the comments.
Summing Up
As you plan your trip to Malibu, keep in mind the many ways you can make your stay more sustainable, comfortable and enjoyable.
From choosing eco-friendly accommodations to supporting local businesses and exploring the area's natural beauty, there are countless opportunities to make a positive impact and create lasting memories.
Whatever your interests and preferences, Malibu offers something for everyone, so be sure to take the time to explore and appreciate all this beautiful coastal city has to offer.
If you have questions or want to leave a hotel review, please do so in the comments.
—
Recommendations are independently chosen based on personal travel experiences and extensive research. This post contains affiliate links to hotels in Malibu, California. This means I get a small commission from any bookings at no extra cost to you.