Recommendations are based on personal travel experiences and research. If you book through links on our site, we may earn a commission at no extra cost to you.
—
If you're looking for stunning natural beauty with crystal-clear blue water and surrounded by towering mountains, Lake Tahoe is the perfect destination for you.
What makes it unique is its incredible clarity, which allows you to see up to 70 feet deep, making it one of the clearest lakes in the world. Besides the breathtaking scenery, you can enjoy various outdoor activities such as hiking, skiing, and swimming.
I recommend staying in one of the following boutique hotels in Lake Tahoe to make the most of your stay.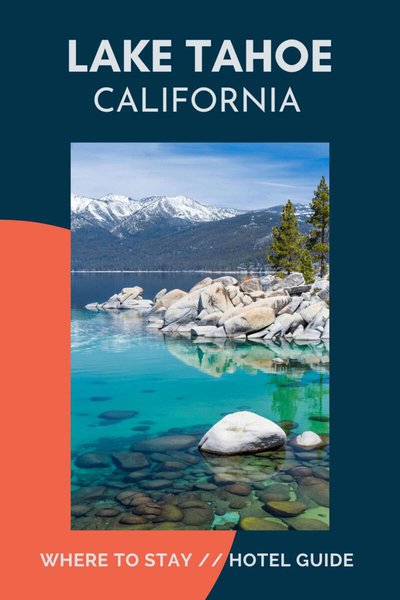 Boutique Hotels in Lake Tahoe
If you're into artsy, eclectic neighbourhoods, you should check out South Lake Tahoe's "The Y," which offers a lively scene with independent stores, coffee shops, and restaurants.
For a more upscale experience, visit Incline Village, located on the Nevada side of Lake Tahoe, where you can find high-end shopping, galleries, and restaurants.
Another must-visit neighbourhood is Truckee, a historic town with a charming downtown filled with unique shops, bars, and restaurants.
For visitors, I recommend staying in the South Lake Tahoe area, which has a great selection of accommodations and easy access to the lake and nearby attractions.
Top Pick
Edgewood Tahoe Resort
Address: Address: 100 Lake Parkway, Stateline, NV CA.
If you're looking for an unforgettable luxury experience with stunning views of Lake Tahoe, the Edgewood Tahoe Resort is a must-visit. The Villa Suites offer all the opulence and comfort you could ask for, with amazing features like locally sourced and expertly crafted seasonal fare at The Bistro. The setting is absolutely breathtaking, with panoramic views of the lake that will take your breath away, making for a truly unforgettable dining experience. The warm and welcoming architecture, paired with impeccable service, creates a relaxing atmosphere that will make your stay at Edgewood Tahoe Resort truly unforgettable.
Features:
Cool and unique design.
Stylish rooms with loads of natural light.
Ocean views rooms within steps of the sandy beach.
Modern gym for a quick workout.
Huge breakfast selection.
Live music performances.
Pros: With its unrivalled location, luxurious accommodations, and world-class dining options, Edgewood Tahoe Resort is the ultimate choice for an unforgettable experience in the stunning natural beauty of Lake Tahoe.
Cons: The only minor negative aspect of Edgewood Tahoe Resort is that due to its popularity and high demand, availability may be limited during peak seasons.
Check Availability
I've also recommended a few other boutique hotels that you might like, as they offer unique features and amenities that cater to different tastes and preferences.
Next Best
Northstar Lodge
Address: 970 Northstar Drive, Truckee, CA
If you're looking for a unique and fun-filled stay in Lake Tahoe, the Northstar Lodge by Vacation Club Rentals is an excellent choice, with features like a 19-seat Owner's Theatre for movie nights and a 25-yard Olympic-style outdoor heated pool for refreshing morning swims.
The Sierra Deck also provides a great community space for cooking up a barbeque or relaxing by the fire pit, while in the summer, the backyard offers outdoor games like horseshoes and cornhole for hours of fun.
Cool and Unique Hotel
If you're someone who loves to stay in a unique and stylish boutique hotel, you'll absolutely love the tranquil mountain retreat and modern decor of this next recommendation.
The serene and picturesque setting, along with the wide range of outdoor activities and nearby attractions, make this an ideal choice for any kind of vacation, from a romantic honeymoon to an adventurous ski trip with friends.
Hotel Azure
Address: 3300 Lake Tahoe Boulevard, South Lake Tahoe, CA
Hotel Azure is an excellent choice with its modern decor, tranquil mountain retreat setting, and a wide range of accessible amenities, including both accessible and ADA-compliant guest rooms, as well as accessible common areas and parking, ensuring that all guests have the opportunity to experience the beauty of Lake Tahoe.
Eco-Friendly Hotel
If you're someone who cares about sustainability and eco-friendliness, you'll love the idea of staying in a Desolation Hotel in Lake Tahoe.
These hotels typically offer a range of sustainable features, from renewable energy sources to eco-friendly cleaning products, and are designed to have a minimal environmental impact, making them a great choice for anyone who wants to reduce their carbon footprint while enjoying a luxurious and comfortable stay.
Desolation Hotel
Address: 933 Poplar Street, South Lake Tahoe, CA
The Desolation Hotel is an eco-friendly hotel that offers sustainable features such as solar panels that power the building, a green roof to reduce energy consumption, and a water filtration system to reduce plastic waste.
In addition, they use eco-friendly cleaning products, provide recycling facilities, and promote a sustainable lifestyle to guests through their education and awareness programs.
You'll find that your trip to California will be greatly enhanced by referring to the informative guide you've created, which offers a comprehensive and detailed overview of the state's top destinations, highlighting the unique features and experiences that make each location worth visiting.
If you are planning a visit to Lake Tahoe, you will find that the website is an excellent resource that can provide you with valuable information and assistance to help make your trip more enjoyable and memorable.
Responsible Travel Tips
Many of us are increasingly concerned about climate change and sustainability. Here are a few ideas on how we can travel more responsibly in Lake Tahoe.
As a responsible traveller visiting Lake Tahoe, there are several things you can do to reduce your impact on the environment and support the local community:
Use sustainable transport options: Choose to bike, walk, or take public transport, which can help reduce carbon emissions and traffic congestion in the area.
Use renewable energy: Choose eco-friendly accommodations that use renewable energy sources like solar power and help reduce your carbon footprint.
Minimize food waste: When dining out, opt for restaurants that use locally sourced ingredients, and try to order only what you can eat to avoid food waste.
Embrace sustainable diets: Look for plant-based meal options that support sustainable farming practices and reduce the environmental impact of animal agriculture.
Support local businesses: Shop at locally-owned stores, eat at locally-owned restaurants and choose locally-made souvenirs to support the local economy.
Avoid flying: Consider alternative transportation options like train or bus travel, which can help reduce your carbon footprint and minimize your impact on the environment.
By taking these responsible travel actions, you can help preserve the natural beauty of Lake Tahoe and support the local community.
If you have questions or want to leave a hotel review, please do so in the comments.
—
Recommendations are independently chosen based on personal travel experiences and extensive research. This post contains affiliate links to hotels in Lake Tahoe, California. This means I get a small commission from any bookings at no extra cost to you.