Recommendations are based on personal travel experiences and research. If you book through links on our site, we may earn a commission at no extra cost to you.
—
Discover Hawaii's verdant landscapes and pristine beaches, where a unique blend of Polynesian heritage and modern amenities awaits you.
Enjoy the diverse, island-inspired cuisine while you experience the warm Hawaiian hospitality.
In this article, I list several cool and unique boutique hotels in Hawaii for a stylish and personalised island getaway.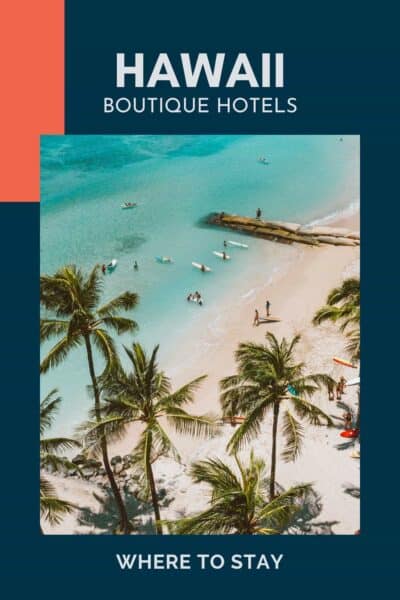 Boutique Hotels in Hawaii
When choosing where to stay in Hawaii, it's worth thinking about which area aligns with your interests and preferences.
On the island of Oahu, Kaimuki is a vibrant neighbourhood with a laid-back vibe, brimming with quirky cafes, eclectic boutiques, and an array of art galleries to satisfy your cultural interests.
In contrast, the historic district of Lahaina on Maui is known for its lively atmosphere, featuring numerous bars, restaurants, a thriving art scene, and plenty of green spaces for leisurely strolls.
For visitors seeking a dynamic experience, I highly recommend staying in Lahaina, as it provides an excellent mix of entertainment, culture, and natural beauty.
Top Pick
Turtle Bay Resort.
Address: 57-091 Kamehameha Highway, Kahuku, Hawaii
Location: Oahu's North Shore
At Turtle Bay Resort, you'll be instantly impressed by the gorgeous property, which has a genuine Hawaiian welcome and a serene ambience. With its prime location on the North Shore, you can explore nearby attractions such as Haleiwa town and the Polynesian Culture Center. You'll also be near famed surf breaks like Banzai/Pipeline and Waimea Bay while also enjoying the stunning surf and beach views that surround the resort.
Features:
Cool and unique design.
Stylish rooms with loads of natural light.
Ocean views rooms within steps of the beach.
Beachfront restaurant, known for its seafood dishes.
Stunning lobby, lounge and bar areas.
Sustainability:
Turtle Bay Resort uses 100% renewable electricity.
Energy-efficient heating and cooling system.
Food waste reduction measures are in place.
The restaurant offers sustainable and locally-sourced food, beer and wine.
Pros: Prime North Shore location near historic landmarks, renowned surf breaks, relaxing Hawaiian atmosphere, family-friendly, multiple dining options.
Cons: Slightly higher prices, peak season crowds.
Check Availability
While I believe my top hotel pick is the ideal place to stay in Hawaii, I've also recommended a few other boutique hotels that cater to different preferences, ensuring you find the perfect fit.
These options showcase a variety of attributes, such as popular locations, distinctive styles, or a commitment to eco-friendliness, providing you with an array of choices to suit your unique travel needs.
Next Best
Halepuna Waikiki
Address: 2233 Helumoa Road, Waikiki, Honolulu, HI
Location: Waikiki
At Halepuna Waikiki, you'll discover an excellent location in the heart of Waikiki, just a short 2-minute walk from the iconic Waikiki Beach. This modern and classy hotel has beautifully designed rooms and an attentive and friendly staff to ensure your stay is exceptional. Immerse yourself in the vibrant atmosphere of Waikiki while enjoying the luxurious comforts and amenities provided by this boutique hotel.
Cool and Unique Hotel
In your quest for the perfect boutique hotel, consider the distinctive qualities that set it apart from conventional accommodations.
A cool and unique hotel often showcases innovative design elements, seamlessly blending aesthetics with comfort.
By choosing this type of boutique hotel, you'll immerse yourself in a more personalised and intimate atmosphere, enhancing your travel experience with a touch of whimsy and charm.
The Surfjack Hotel & Swim Club
Address: 412 Lewers Street, Waikiki, Honolulu, United States
Location: Waikiki
The Surfjack Hotel offers a cool and quirky boutique hotel experience that will leave you feeling refreshed and inspired. With every room featuring unique hand-crafted furniture and eclectic artwork, you'll feel like you're staying in your own personal art gallery. Be sure to make a reservation at Mahina & Sun's restaurant, where you'll enjoy meals made with organic ingredients sourced directly from local farmers. Don't miss out on their specially blended and roasted coffee that is exclusive to Surfjack. Whether you're here for a romantic getaway or a business trip, The Surfjack Hotel is the perfect retreat for those looking for something out of the ordinary.
The Laylow
Address: 2299 Kuhio Avenue, Waikiki, Honolulu, USA
Location: Waikiki
Experience the ultimate mid-century modern getaway at The Laylow, located just a short 5-minute walk from the iconic Waikiki Beach and Royal Hawaiian Center. With its sleek design and stylish decor, you'll feel like you've stepped into a different era. Take a short drive to Diamond Head Crater Hike, where you'll experience breathtaking views of the island. The location and staff at The Laylow are exceptional, ensuring that you have a stress-free and relaxing stay. Whether you're lounging by the pool or enjoying a delicious meal at the hotel's restaurant, the local ambience will leave you feeling rejuvenated and refreshed. Click through to see why The Laylow is the perfect destination for your next island adventure.
Luxury Boutique Hotel
When searching for a luxury boutique hotel, focus on the elements that elevate it above the standard hotel experience.
These hotels often provide a unique blend of high-end amenities and personalised services, all within a thoughtfully curated environment.
By opting for a luxury boutique stay, you'll be able to indulge in a lavish retreat while enjoying the exclusivity and charm that make these hotels truly special and unique.
The following hotel is a great option if you're looking for a place that goes above and beyond when it comes to luxury and style.
The Kahala Hotel and Resort
Address: 5000 Kahala Avenue, Honolulu, HI, United States
Location: Honolulu
The Kahala Hotel is the epitome of luxury and sophistication in Honolulu. This beautiful luxury boutique hotel is situated on a pristine beach, offering stunning views of the sparkling coastline that will take your breath away. Wake up every morning to the sound of the ocean and indulge in a delicious breakfast that caters to every mood and taste. From Hawaiian delicacies to continental classics, the cuisine at The Kahala will leave you feeling satisfied and energised. Whether you're soaking up the sun by the pool or exploring the local area, this resort offers unparalleled comfort and indulgence. Experience exceptional service, exquisite amenities, and a prime location that will make your stay truly unforgettable. The Kahala Hotel and Resort is the ultimate luxury destination for those seeking a true paradise.
Eco-Friendly Hotel
For those drawn to sustainable or eco-friendly hotels, pay attention to the measures taken by the accommodation to minimise its environmental footprint.
These hotels typically incorporate eco-conscious practices, such as energy efficiency, water conservation and waste reduction.
Choosing such a hotel enhances your travel experience and allows you to contribute positively to the environment and support the local community's sustainable efforts while still enjoying your vacation.
The Kulani Maui
Address: 441 Ilikahi Street, Lahaina, Hawaii
Location: Lahaina
The Kulani Maui is a unique and eco-friendly hotel that prioritises sustainability in every aspect of its operation. Located in the heart of Lahaina, this sustainable boutique hotel provides a responsible tourism experience that allows you to enjoy your stay while reducing your environmental impact. One of the hotel's eco-friendly features is sourcing most of its food locally, reducing transportation's carbon footprint and supporting local food security. The hotel also uses energy-efficient LED bulbs for lighting to minimise energy waste. Most importantly, The Kulani Maui uses 100% renewable electricity, further reducing its emissions. By staying at this eco-friendly hotel, you contribute to a sustainable future while enjoying the best that Lahaina has to offer.
Where to Stay in Hawaii
When deciding where to stay in Hawaii, consider these top areas to help you find the perfect boutique hotel for an enriching and comfortable experience:
Kaimuki (Oahu): Located on the island of Oahu, Kaimuki is a vibrant area that exudes a laid-back atmosphere. Known for its quirky cafes and eclectic boutiques, it's the perfect place to leisurely explore, sip locally brewed coffee, and discover unique finds. A diverse array of art galleries are scattered throughout the area, satisfying the cultural cravings of visitors. With a warm and welcoming community, Kaimuki is ideal for a relaxing, immersive Hawaiian experience.
Lahaina (Maui): Set on the picturesque island of Maui, Lahaina is a lively district steeped in rich history. Many bars, restaurants, and a bustling art scene showcase local talent. The area also has an abundance of green spaces, perfect for leisurely walks and picnics. Combining its energetic atmosphere with its historical charm, Lahaina is an excellent choice for a dynamic and engaging stay in Hawaii. There are several highly-rated boutique hotels in Maui.
Waikiki (Oahu): As one of the world's most famous tourist destinations, Waikiki enthrals visitors with its intoxicating blend of nightlife, upscale shopping, and pristine white-sand beaches. Situated on the island of Oahu, Waikiki's picturesque shoreline provides a stunning backdrop for sunbathing, surfing, and swimming. The area's vibrant energy and diverse offerings make it the perfect spot for those seeking a quintessential Hawaiian experience. This is my favourite area of Hawaii, and you'll find many boutique hotels in Waikiki.
Kailua-Kona (Big Island): Located on the Big Island, Kailua-Kona offers an enchanting mix of leisure and adventure. Its streets are lined with historical sites, unique shops, and a thriving coffee culture, thanks to the region's famous Kona coffee. The area also boasts a variety of outdoor activities, such as snorkelling, hiking, and deep-sea fishing, making it the ideal destination for travellers who crave excitement and relaxation in equal measure.
Paia (Maui): This charming bohemian town, nestled on the island of Maui, provides visitors with a delightful haven to explore. Paia's local art scene, organic eateries, and boutique shops create a vibrant atmosphere that showcases the town's artistic and sustainable spirit. The area's stunning ocean views and laid-back vibe make it a perfect retreat for those seeking a more tranquil, off-the-beaten-path Hawaiian experience.
Hanalei (Kauai): Tucked away on the scenic north shore of Kauai, Hanalei is a tranquil oasis that invites visitors to embrace the laid-back island lifestyle. Surrounded by lush greenery, cascading waterfalls, and majestic mountains, Hanalei offers a serene ambience for relaxation and rejuvenation. The area's pristine beaches and charming local establishments make it an idyllic destination for those looking to unwind and connect with nature in a breathtaking Hawaiian setting.
By carefully considering these areas of Hawaii, you'll be well-equipped to choose the ideal boutique hotel that complements your preferences and enhances your Hawaiian adventure.
Dive into my comprehensive guide to the best places to visit in the USA and uncover hidden gems, iconic landmarks, and stunning destinations across the country. By exploring this meticulously curated selection, you'll find inspiration for your next adventure and gain insights into the diverse experiences awaiting you in the United States.
For further information about visiting Hawaii, the tourist office is an excellent resource, providing you with valuable insights into things to do, sightseeing opportunities, and upcoming events.
By consulting their guides, you'll be well-equipped to craft a fulfilling and exciting Hawaiian itinerary tailored to your interests.
Responsible Travel Tips
Many of us are increasingly concerned about climate change and sustainability, particularly in vulnerable destinations like Hawaii. Here are a few ideas on how we can travel more responsibly in Hawaii.
Renewable energy: Opt for accommodations that prioritise renewable energy sources, such as solar or wind power, to reduce your carbon footprint during your stay. I've listed an excellent choice above.
Minimising food waste: Take advantage of local farmers' markets and buy only what you need for meals, or dine at restaurants that source ingredients locally and practice waste reduction. Reducing food waste reduces wasted resources and methane emissions.
Sustainable diets: Embrace the islands' culinary traditions by enjoying plant-based Hawaiian dishes, which can have a lower environmental impact compared to meat-heavy meals.
Sustainable transport: Explore the islands on foot, by bike, or using public transportation, as these eco-friendly options help reduce carbon emissions and traffic congestion.
Avoid flying: When travelling between islands, consider taking ferries or other sea-based transportation to minimise your carbon footprint.
Supporting the local community: Engage with and support local businesses, artisans, and cultural experiences, as this not only fosters a deeper connection to the destination but also contributes to the local economy and preserves Hawaii's unique heritage.
FAQ
What should I consider when choosing the best boutique hotel in Hawaii?
Pay attention to the hotel's location, unique features, and overall atmosphere to ensure your stay aligns with your travel preferences.
Which neighbourhoods are the best to stay in for a cultural experience in Hawaii?
Kaimuki on Oahu and Lahaina on Maui are excellent options for a culturally enriching experience with their vibrant art scenes, historic landmarks, and unique local shops.

What are some key highlights of visiting Hawaii?
Some highlights of visiting Hawaii include exploring pristine beaches, experiencing rich Polynesian culture, indulging in diverse island-inspired cuisine, and discovering the islands' breathtaking natural beauty.
Final Thoughts
When it comes to finding a unique and personalised travel experience, there's nothing quite like staying at a boutique hotel.
Not only do they offer unparalleled service and attention to detail, but they also provide a unique atmosphere that sets them apart from more traditional accommodations.
If you're planning a trip, you'll find a wealth of boutique hotels to choose from, each with its own distinct personality and charm.
Whether you're looking for eco-friendly options or luxurious amenities, a boutique hotel will suit your needs perfectly.
So why not step off the beaten path and try something new on your next trip? A boutique hotel stay could be just the thing you need to make your vacation unforgettable.
If you have questions or want to leave a hotel review, please do so in the comments.
—
Recommendations are independently chosen based on personal travel experiences and extensive research. This post contains affiliate links to hotels in Hawaii, USA. This means I get a small commission from any bookings at no extra cost to you.