Recommendations are based on personal travel experiences and research. If you book through links on our site, we may earn a commission at no extra cost to you.
—
Indianapolis is a lively metropolis with a rich cultural legacy and a flourishing arts scene, where you'll find a distinctive mix of historical charm and contemporary flair.
As you traverse the city, you'll uncover its remarkable fusion of past and present, from the awe-inspiring White River State Park to the spectacular Monument Circle.
For your upcoming visit, I recommend staying at one of the following charming boutique hotels in Indianapolis to truly experience the heart of this delightful city.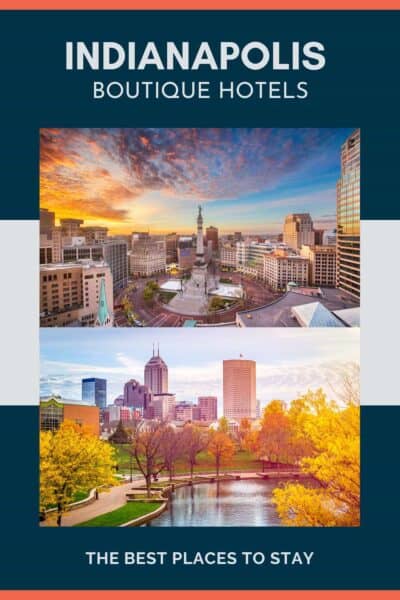 Boutique Hotels in Indianapolis
When deciding where to stay in Indianapolis, it's essential to consider which area best aligns with your interests and preferences.
North Side is an engaging, artistic neighbourhood known for its diverse blend of galleries, boutiques, and live music venues.
In contrast, Broad Ripple is a dynamic district with a lively nightlife scene, independent stores, and a picturesque stretch along the Monon Trail.
I would recommend the North Side as the perfect area for visitors who want to fully immerse themselves in Indianapolis's creative and cultural aspects.
Top Pick
Ironworks Hotel Indy
Address: 2721 East 86th Street, Indianapolis, IN
Location: North Side
At the Ironworks Hotel Indy, situated in Indianapolis' north side neighbourhood and just a short stroll from The Fashion Mall at Keystone, you'll be enchanted by its well-designed and slightly quirky charm. Every room combines rustic decor with contemporary amenities, creating a beautiful atmosphere that will elevate your entire stay. The hotel's captivating vibe is sure to make your visit to Indianapolis truly special.
Features:
Quirky and cool design.
Modern, clean rooms with large beds and sitting areas.
Huge breakfast selection.
Stunning lobby, lounge and bar areas.
Striking locally-sourced artwork.
Pros: Charming rustic decor, modern amenities, prime location near The Fashion Mall, captivating atmosphere and unique design elements.
Cons: Slightly higher price point, limited on-site parking.
Check Availability
While I think the above hotel pick provides an exceptional stay in Indianapolis, I understand that everyone's tastes and preferences vary.
That's why I've also recommended a few other boutique hotels, each with its own distinct appeal based on location, uniqueness, style, or eco-friendliness.
These alternatives provide diverse options to ensure you find the perfect fit for your visit to this captivating city.
Next Best
Hotel Indy
Address: 141 Washington Street, Indianapolis, IN, USA
Location: Market East District
The Hotel Indy, set in a prime location at the heart of Indianapolis, places you within easy reach of popular points of interest, such as Lucas Oil Stadium, Hilbert Circle Theatre and the Indiana State Museum. This beautiful hotel, which has clearly undergone recent renovations, is an ideal base for easily exploring the city. With its excellent location and elegant ambience, you'll find Hotel Indy to be a delightful choice for your stay, allowing you to stroll around the city and attend events effortlessly.
Cool and Unique Hotel
When searching for a cool, unique boutique hotel for your stay, consider the distinctive qualities that set it apart from mainstream accommodations.
These hotels often showcase an intriguing design, an engaging theme, or a fascinating history that enhances your overall travel experience.
Staying in such a hotel allows you to connect more intimately with the city's culture and offers a unique lodging option, adding a layer of excitement to your journey.
Embrace the chance to make your trip even more enjoyable by selecting a hotel with character and charm, like that mentioned next.
Bottleworks Hotel
Address: 850 Massachusetts Avenue, Indianapolis, IN
Location: Chatham-Arch
At the Bottleworks Hotel in Indianapolis, you might be interested in its unique architecture and design, which truly sets it apart from other accommodations. The beautiful decor within the hotel creates an inviting atmosphere, while its prime location places you within walking distance of the fantastic restaurants on Mass Ave. This enchanting boutique hotel offers an exceptional experience, making your stay in Indianapolis even more enjoyable.
Luxury Boutique Hotel
Opting for a luxury boutique hotel during your travels allows you to immerse yourself in an environment where elevated experiences and exceptional service are the norms.
These hotels are known for their exquisite design, refined ambience, and personalised attention that caters to your every need.
As you indulge in the intimate, upscale atmosphere, you'll appreciate the finer things in life and the added touch of elegance and sophistication that these hotels bring to your journey, making your stay truly remarkable and luxurious.
The Alexander
Address: 333 South Delaware Street, Indianapolis, Indiana
Location: Downtown Indianapolis
The Alexander is a remarkable luxury boutique hotel situated in the heart of the Indianapolis city centre. With its impressive windows and architecture, the hotel exudes an air of elegance and sophistication. Its prime location places you downtown, within easy reach of several sights and attractions. During your stay at The Alexander, you'll enjoy a luxurious experience surrounded by beautiful design elements and the convenience of being close to the city's highlights.
Eco-Friendly Hotel
For those seeking a sustainable or eco-friendly hotel, it's important to consider the establishment's dedication to reducing its environmental footprint and engaging with local communities.
Many eco-conscious hotels adopt practices such as energy-efficient lighting, water conservation measures, and the use of locally sourced, organic ingredients for their dining options.
Making the choice to stay at a hotel with a strong sustainability focus allows you to enjoy your trip while actively contributing to preserving the environment and fostering responsible tourism.
This way, your stay not only offers comfort but also has a positive impact on the world around you. If this interests you, this next hotel is a great option.
Conrad Indianapolis
Address: 50 West Washington Street, Indianapolis, Indiana
Location: Mile Square
Conrad Indianapolis is an example of an eco-friendly, sustainable hotel. Nestled in the heart of downtown Indianapolis, the hotel is not only conveniently connected via sky bridge to the Circle Center Mall and Indiana Convention Center, but it's also situated on the Indianapolis Cultural Trail, just a block from Monument Circle. The property is committed to minimising its environmental impact through efforts such as reducing food wastage and promoting local guides and businesses for tours and activities. In addition, Conrad Indianapolis provides guests with valuable information about local ecosystems, heritage, culture, and visitor etiquette. Enjoy the hotel's great rooms, wonderful restaurant, and quality and beauty throughout while knowing that you're making a lower-impact choice for the environment.
Where to Stay in Indianapolis
When deciding where to stay in Indianapolis, consider these vibrant and distinctive neighbourhoods, each offering a unique experience for visitors:
Fountain Square: This animated, artistic district boasts a wide array of galleries, boutiques, and live music venues, making it the perfect destination for culture and art enthusiasts. Additionally, it hosts various festivals and events throughout the year, providing visitors with an immersive experience of the local creative scene.
Broad Ripple: Known for its spirited nightlife, this dynamic district offers a variety of independent stores and the picturesque Monon Trail, making it the ultimate choice for those seeking both entertainment and outdoor activities. Moreover, it is home to several parks and recreational spaces, offering visitors a well-rounded experience.
North Side: An inviting area that seamlessly blends culture and nature, North Side features an assortment of art spaces, lush parks, and family-friendly attractions. The neighbourhood's unique combination of urban and natural landscapes offers visitors a refreshing getaway from the city's hustle and bustle.
Downtown Indianapolis: The heart of the city, Downtown Indianapolis is home to iconic attractions such as Hilbert Circle Theatre and the Indiana State Museum. This area is a fantastic choice for travellers interested in major events, cultural institutions and vibrant city life.
Mass Ave: A lively street brimming with trendy cafes, restaurants, and bars, Mass Ave is the ultimate destination for foodies and social butterflies. This district also hosts a thriving art scene, with several galleries and theatres that showcase local talent.
Wholesale District: Steeped in history, this district features a plethora of cultural landmarks, shopping venues, and dining options. Ideal for urban explorers and history buffs, the Wholesale District provides a fascinating glimpse into the city's past while offering modern amenities for a memorable visit.
By considering these neighbourhoods, you'll be able to find the perfect boutique hotel that aligns with your interests and preferences, ensuring a great stay in Indianapolis.
Discover the best places to visit across the United States with my comprehensive guide, designed to inspire your next adventure.
You'll find valuable resources and insights at the tourist office for further information about visiting Indianapolis, particularly regarding things to do, sightseeing, and events. This reliable source will help you plan an engaging and fulfilling trip to this fun city.
Responsible Travel Tips
Many of us are increasingly concerned about climate change and sustainability. Here are a few ideas on how we can travel more responsibly in Indianapolis.
Use renewable energy: Choose accommodations that use renewable energy sources, such as solar or wind power, to minimise your carbon footprint.
Minimise food waste: Visit local farmers' markets and opt for smaller portions at restaurants to reduce food waste while enjoying fresh, local produce.
Sustainable diets: Embrace plant-based or locally-sourced meal options at restaurants and cafes to support sustainable food practices.
Sustainable transport: Use the city's extensive bike-sharing program, Pacers Bikeshare, or take advantage of the Indianapolis Cultural Trail to explore the city on foot.
Avoid flying: When possible, consider alternative methods of transportation like trains or buses to reach nearby destinations and reduce your environmental impact.
Support the local community: Engage with local artisans, attend cultural events, and shop at independent stores to contribute to the local economy and gain a deeper understanding of Indianapolis' culture.
By incorporating these ideas into your travel plans, you can enjoy a fulfilling trip to Indianapolis while minimising your environmental impact and supporting the local community.
FAQ
What is the best area to stay in Indianapolis for tourists?
Downtown Indianapolis is a popular choice for tourists, as it is home to major attractions, events, and a vibrant dining scene. Other notable areas include Fountain Square, North Side and Mass Ave.

What types of boutique hotels can I find in Indianapolis?
Indianapolis offers a variety of boutique hotels, from luxury and eco-friendly options to those with unique architecture and designs, ensuring you'll find a hotel that suits your preferences and interests.
How can I make the most of my visit to Indianapolis?
To make the most of your visit, explore the city's diverse neighbourhoods, such as Fountain Square and Broad Ripple, visit cultural landmarks like the Indiana State Museum, and take advantage of the Indianapolis Cultural Trail for walking or biking.
Conclusions
In conclusion, finding the perfect boutique hotel in Indianapolis is key to enhancing your travel experience in this dynamic city.
You'll create a truly enjoyable and authentic visit by exploring the diverse neighbourhoods, considering your personal preferences, and immersing yourself in the local culture.
Indianapolis is a destination that caters to various interests, from art and history to food and nightlife.
So, take the time to discover the city's unique charm and curate an itinerary that reflects your passions for a tailor-made adventure.
If you have questions or want to leave a hotel review, please do so in the comments.
—
Recommendations are independently chosen based on personal travel experiences and extensive research. This post contains affiliate links to hotels in Indianapolis*, USA. This means I get a small commission from any bookings at no extra cost to you.*