Recommendations are based on personal travel experiences and research. If you book through links on our site, we may earn a commission at no extra cost to you.
—
Discover the unique charm of Detroit, a city that combines its rich history with a vibrant arts and culture scene. Exploring this urban landscape will surprise your imagination and leave you wanting more.
To make the most of your visit, I recommend staying in one of the many boutique hotels in Detroit, which will be the perfect starting point for your travel adventure. Read on to discover the best places to stay.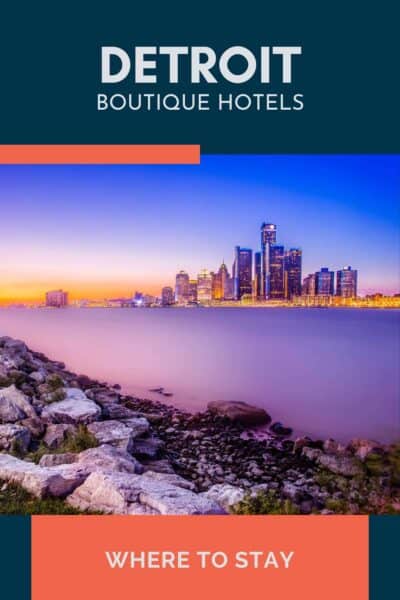 Best Boutique Hotels in Detroit
When planning your trip to Detroit, it's worth considering which area you'd like to stay in, as each neighbourhood has its own unique charm.
Downtown's bustling arts scene, unconventional boutiques, and varied culinary choices make it an ideal destination for visitors craving culture and entertainment.
On the other hand, Corktown is celebrated for its historical architecture, fashionable bars, and energetic ambience.
I'd suggest Downtown is the top choice for travellers looking for a genuine Detroit experience.
Top Pick
Shinola Hotel
Address: 1400 Woodward Avenue, Detroit, MI
Location: Downtown Detroit
Immerse yourself in the elegance of the boutique Shinola Hotel, where every detail reflects the thoughtful vision of its talented architectural and interior design team. Located in the heart of Detroit's historic downtown, you'll appreciate the hotel's close proximity to popular attractions like the TCF Centre, Music Hall Centre and Gem Theatre. You can also enjoy the exceptional design and luxurious finishes that surpass expectations for the price.
Features:
Unique decor and design.
Modern, clean rooms with large beds and sitting areas.
Huge breakfast selection.
Stunning lobby, lounge and bar areas.
Striking locally-sourced artwork.
Pros: Prime location, beautifully restored architecture, luxurious finishes, talented design team, close to attractions, exceptional value.
Cons: Downtown might not be for everyone.
Check Availability
While I believe my top hotel pick provides an exceptional experience, I've also recommended a few other boutique hotels that cater to various preferences.
These alternatives stand out for their prime locations, distinct styles, or commitment to eco-friendliness, ensuring that every traveller can find a suitable option for their Detroit stay.
Next Best
Detroit Foundation Hotel
Address: 250 West Larned Street, Detroit, USA
Location: Downtown Detroit
Discover the charm of the Detroit Foundation Hotel, attractively located in the heart of the city. Begin your day with a delicious breakfast, offering various options from continental to American and vegetarian. With popular attractions like the TCF Centre, GM World, and Saint Andrews Hall just a stone's throw away, you'll find yourself perfectly situated to explore all that Detroit has to offer.
The Townsend Hotel
Address: 100 Townsend Street, Birmingham, MI
Location: Birmingham, Michigan
Experience the elegance of The Townsend Hotel, a sophisticated European-style retreat nestled in the heart of trendy Birmingham, Michigan. Delight in its luxurious accommodations and tranquil suburban setting while relishing the convenience of being just a short drive from Detroit's city centre.
Surrounded by high-end shops, gourmet restaurants, and art galleries, and in close proximity to major attractions like the Cranbrook Museum and various sporting and entertainment venues. The Townsend Hotel offers a perfect blend of comfort and style, complemented by friendly, professional staff.
Cool and Unique Hotel
As a traveller seeking a cool, unique boutique hotel experience, you'll want to search for properties that showcase their distinct personality, often expressed through creative design, local art, or innovative themes.
These hotels tend to offer a more intimate atmosphere, allowing you to feel connected to the destination in a truly authentic way.
Embrace the opportunity to immerse yourself in the local culture and discover hidden gems, as these cool boutique hotels often provide memorable experiences that elevate your trip to new heights.
The Siren Hotel
Address: 1509 Broadway Street, Detroit, MI
Location: Downtown Detroit
Step into the enchanting world of The Siren Hotel, a cool and unique boutique hotel nestled in the heart of Detroit. With popular points of interest nearby, such as The Fillmore Detroit, Saint Andrews Hall, and the Cobo Convention Centre, you'll be ideally positioned to explore the city.
Revel in the beautiful rooms and charming decor, showcasing a rich history and meticulous attention to detail. Delight in the exceptional service and fantastic location, ensuring a memorable stay for every guest.
Luxury Boutique Hotel
When searching for a luxury boutique hotel, watch for special touches that elevate your stay to a truly indulgent experience.
These hotels often have personalised service, exquisite design elements, and a more intimate setting that makes you feel pampered and well-cared for.
Embrace the chance to enjoy a stylish getaway, as luxury boutique hotels provide an immersive experience tailored to your desires. If you're looking for luxury, you might like the following hotel.
Daxton Hotel
Address: 298 South Woodward Avenue, Birmingham, MI
Location: Birmingham, Michigan
Experience the lavish comforts of the Daxton Hotel, a luxury boutique hotel gem situated in Birmingham, near Detroit. Each morning, indulge in a variety of breakfast options, from à la carte to continental or local specialties, catered to your personal preferences. Savour American cuisine at the hotel's restaurant, which thoughtfully offers vegetarian, dairy-free and gluten-free options.
Enjoy the beautifully appointed, comfortable rooms, and delight in the helpful and friendly staff's exceptional service. With thoughtful touches like the pantry on the guest floor, offering snacks, drinks, fruits, and fresh cookies, the Daxton Hotel ensures your stay is truly memorable.
Aloft Detroit at The David Whitney
Address: One Park Avenue, Detroit, USA
Location: Downtown Detroit
Immerse yourself in the luxurious surroundings of the Aloft Detroit, a boutique hotel nestled within the iconic David Whitney building in downtown Detroit. Marvel at the hotel's impressive Art Deco lobby and appreciate the convenience of its prime location, perfect for strolling around downtown or attending events at the Little Caesar's Arena and Fox Theater.
Enjoy a quick bite at re: fuel by Aloft, catering to your cravings at any hour, or unwind with cocktails, wine, and snacks at the hotel's Wxyz bar. The helpful staff ensures your stay is both comfortable and relaxing.
Eco-Friendly Hotel
As an eco-conscious traveller, you'll want to seek out sustainable hotels that prioritise the environment and the well-being of local communities.
Keep an eye out for properties that incorporate green practices, such as energy and water conservation, waste reduction, and sourcing locally grown, organic products.
By staying in a sustainable or eco-friendly hotel, you will enjoy a more mindful and authentic travel experience and contribute to reducing environmental impacts and supporting the destinations you visit.
The Henry
Address: Fairlane Plaza, 300 Town Center Drive, Dearborn, MI
Location: Dearborn
Embrace the eco-friendly ethos of The Henry, situated in Dearborn, Michigan, just a stone's throw away from Fairlane Town Center Mall and the Henry Ford Museum. Relish in the sustainable dining experience at TRIA, an American Brasserie that highlights local and sustainable foods, accompanied by a rotating selection of signature craft cocktails.
Feel good knowing that the hotel uses 100% renewable electricity, has energy-efficient LED lighting, and takes active measures to reduce food wastage. By staying at The Henry, you enjoy a luxurious experience and positively impact the environment.
Where to Stay in Detroit
When deciding where to stay in Detroit, consider these vibrant neighbourhoods known for their unique charm, cultural offerings, and boutique hotel options:
Downtown Detroit: The pulsating heart of the city, Downtown Detroit showcases iconic attractions, historic architecture, and a flourishing arts scene. Visitors can expect a diverse range of dining and entertainment options catering to various tastes and preferences.
Midtown: A haven for art connoisseurs and food enthusiasts, Midtown has an array of museums, galleries, independent shops, and restaurants. The district also features inviting green spaces, making it an ideal destination for urban explorers seeking a vibrant cultural experience.
Corktown: As Detroit's oldest neighbourhood, Corktown exudes historic charm with a contemporary twist. The area is home to an assortment of trendy cafes, bars, and locally-owned shops that blend tradition with modernity.
Eastern Market: This energetic district revolves around its eponymous market, where visitors can find fresh produce, captivating street art, and a variety of unique dining and shopping experiences that cater to both locals and tourists.
New Center: Steeped in history and culture, New Center houses renowned attractions like the Fisher Building and the Motown Museum. The area has a rich and immersive experience for visitors interested in Detroit's storied past and artistic heritage.
West Village: This picturesque, tree-lined neighbourhood is teeming with fashionable boutiques, artisanal coffee shops, and gourmet eateries. West Village provides the perfect setting for a leisurely stroll while soaking in the laid-back atmosphere.
Birmingham: A sophisticated suburb north of Detroit, Birmingham is known for its upscale shopping, fine dining, and elegant residential areas. The walkable downtown area features designer boutiques, art galleries, and beautifully landscaped parks, offering a refined experience for visitors.
Dearborn: As the hometown of Henry Ford and the birthplace of the automotive industry, Dearborn holds significant historical and cultural importance. In addition to exploring the fascinating Henry Ford Museum and Greenfield Village, visitors can experience the area's diverse cuisine, picturesque parks, and vibrant community events.
By choosing one of these areas for your stay, you'll be perfectly positioned to enjoy all that Detroit has to offer, ensuring a delightful travel experience.
Discover the hidden gems and iconic destinations across the United States with our comprehensive guide. Read about the must-see spots, unique local experiences, and vibrant cultures that make each place truly special, creating the perfect roadmap for your next adventure.
The tourist office is a valuable resource for more in-depth information about visiting Detroit, providing insights into things to do, sightseeing opportunities and upcoming events.
You'll find extensive details to help you plan the perfect Detroit experience tailored to your interests.
Responsible Travel Tips
Many of us are increasingly concerned about climate change and sustainability. Here are a few ideas on how we can travel more responsibly in Detroit.
Use renewable energy: Choose accommodations in Detroit that prioritise renewable energy sources, such as solar or wind power, to minimise your carbon emissions.
Minimise food waste: Opt for restaurants that focus on reducing food waste through sustainable practices and consider ordering portion sizes that you can realistically finish.
Sustainable diets: Seek out eateries that emphasise locally sourced, organic, and plant-based menu options to reduce the environmental impact of your food choices.
Sustainable transport: Explore Detroit by walking, biking, or using public transportation like the QLine streetcar and the DDOT buses to minimise your carbon emissions.
Avoid flying: If travelling to or from Detroit, consider alternative modes of transportation like trains or buses to reduce your carbon footprint further.
Support the local community: Patronise locally-owned businesses, artisans and restaurants to contribute to the local economy and promote sustainable tourism in Detroit.
FAQ
What are the best areas to stay in Detroit?
Some of the best areas to stay in Detroit include Downtown Detroit, Midtown, Corktown, Eastern Market, New Center and West Village, each offering a unique vibe, attractions, and boutique hotel options.
How can I find a cool, unique boutique hotel in Detroit?
Look for hotels that showcase a distinct design, character and atmosphere, often featuring locally-inspired decor, personalised service, and a prime location near popular attractions and neighbourhoods.
What are some must-see attractions and activities in Detroit?
Key attractions in Detroit include the Detroit Institute of Arts, the Motown Museum, the Henry Ford Museum, Belle Isle Park, Eastern Market and exploring the city's vibrant neighbourhoods like Midtown and Corktown.
Summary
As you embark on your journey to Detroit, embracing the city's rich history, culture, and burgeoning revitalisation, finding the perfect boutique hotel is essential for a truly immersive experience.
Seek out accommodations that reflect the city's unique character, with exceptional service and prime locations near vibrant neighbourhoods and attractions.
By choosing a boutique hotel tailored to your interests, you'll be well-positioned to uncover the hidden gems and iconic destinations that make Detroit a fascinating place to explore.
If you have questions or want to leave a hotel review, please do so in the comments.
—
Recommendations are independently chosen based on personal travel experiences and extensive research. This post contains affiliate links to hotels in Detroit, USA. This means I get a small commission from any bookings at no extra cost to you.