Recommendations are based on personal travel experiences and research. If you book through links on our site, we may earn a commission at no extra cost to you.
—
Frankfurt is a city where old meets new, a place where finance and culture collide. The landscape is diverse, from the tall skyscrapers to the small timber-framed houses.
As Germany's financial heart, Frankfurt is more than numbers and commerce; it's a city rich in culture, steeped in history and brimming with gastronomic delights.
In this guide, I'll take you through some top boutique hotels in Frankfurt, where you can soak up all the city has to offer in style and comfort.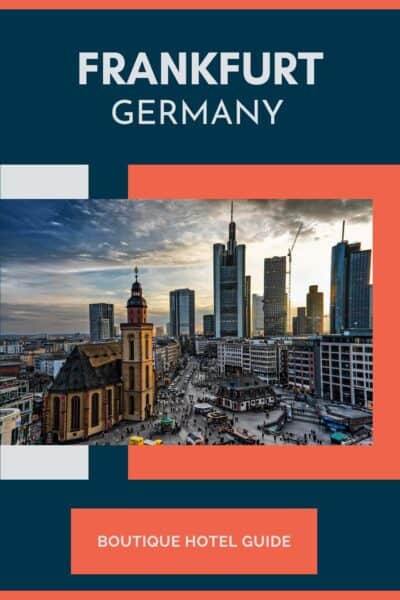 Boutique Hotels in Frankfurt
As you plan your trip to Frankfurt, the first consideration is likely to be where you'd like to set up base. The inner city, commonly known as Innenstadt, is an appealing choice, being the city's commercial and historical hub.
Home to towering skyscrapers, it's not just a business district but also filled with historical landmarks, museums and high-end shopping streets like Zeil.
On the other hand, Sachsenhausen has a unique appeal with its bustling cafe culture, independent shops and trendy bars. Known for its vibrant nightlife and rich history, this district teems with apple wine pubs and fascinating museums, making it an exciting spot for tourists.
Considering the ease of access to attractions and the unique blend of the old and new, I recommend Innenstadt as the top choice for first-time visitors to Frankfurt. However, my top pick is in the lively Bahnhofsviertel, where you'll find cool bars and art galleries.
Top Pick
Roomers Hotel
Address: Gutleutstr. 85, Frankfurt, Germany
Location: Bahnhofsviertel
At Roomers, you'll be welcomed by warm hues and dark wooden furniture, setting a stylish yet cosy tone. Don't miss the buffet breakfast with its specialities from Levante, and be sure to check out the bar – it's buzzing with good music and even better cocktails. You'll appreciate the modern vibe, the spacious rooms and the welcoming staff, making your stay in Frankfurt a pleasant one.
Features:
Unique decor and dark design.
Minimalist, clean rooms with large beds and sitting areas.
Modern gym for a quick workout.
Huge breakfast selection.
Stunning lobby, lounge and bar areas.
Great location near Wiesenhüttenplatz and the River Main.
Sustainability:
Food waste reduction measures are in place.
Vegetarian and vegan menu options are offered.
Green spaces on the property.
No single-use plastic is used.
Pros: Central location. Stylish decor. Helpful staff. Diverse breakfast. Award-winning bar. Eco-conscious initiatives.
Cons: The popular bar can get busy. High demand during summer.
Check Availability
Next up, I'll introduce you to a few more boutique hotels in Frankfurt. Each one stands out for different reasons, be it their location, unique flair, stylish aesthetics or commitment to eco-friendly practices. These diverse options ensure there's something to suit your tastes and travel preferences.
Next Best
Gekko House Frankfurt
Address: Mainzer Landstrasse 167, Frankfurt, Germany
Location: Gallusviertel
Gekko House, situated in the Gallusviertel area of Frankfurt, is a boutique hotel with a certain cool factor. The interior design is a standout, with each room meticulously decorated to create a sense of modern elegance. The range of bathroom products and commitment to cleanliness is commendable. This hotel is in a great location, nestled in a peaceful area yet a mere five to ten-minute walk from a shopping centre and conveniently adjacent to a tram station. The staff are friendly and go above and beyond, providing complimentary water and beer. It's worth noting the restaurant too, it's garnered rave reviews for its superb dinner service and wide-ranging vegan options. For what you receive, the price point is excellent, making Gekko House a great hotel choice when in Frankfurt.
Ruby Louise Hotel Frankfurt
Address: Neue Rothofstraße 3, Frankfurt, Germany
Location: Innenstadt, City Centre (Old Town)
Consider a stay at the Ruby Louise Hotel Frankfurt, where comfort meets style in a location that's hard to beat. You'll find yourself mere steps away from cultural attractions such as the Cathedral of St. Bartholomew, the German Film Museum and the Städel Museum. Kickstart your day with an organic buffet or continental breakfast before heading out to nearby points of interest like Hauptwache, Frankfurt Central Station and Römerberg. Back at the hotel, the amazing terrace beckons for a moment of relaxation, while the vibrant atmosphere is enriched by displays from local artists. With its blend of style, comfort and local culture, Ruby Louise Hotel is a great boutique hotel for your Frankfurt adventure.
Cool and Unique Hotel
In choosing a cool, unique boutique hotel, it's important to appreciate the distinctive style and atmosphere these establishments typically radiate.
What makes this type of hotel interesting is its ability to offer a more personalised experience, often echoing the local culture and history.
Staying at a cool boutique hotel can add an extra layer of enjoyment to your trip, transforming a simple stay into a more engaging, intimate experience.
25hours Hotel The Goldman
Address: Hanauer Landstraße 127, Frankfurt, Germany
Location: Ostend
The 25hours Hotel The Goldman is a boutique gem located in Frankfurt's creative east end. Just a quick tram ride whisks you to Frankfurt's Römer Square and city centre, while the Ostbahnhof Train Station is conveniently close, providing easy access to the Frankfurt Trade Fair. The hotel's Goldman restaurant invites you to relish delicious locally sourced food in a stylish setting. Beyond dining, the hotel lounge serves as a relaxed hub for both work and socialising, becoming a favourite evening spot for local artists. The hotel's cool and funky design extends to its decent-sized rooms, each crafted with a unique flair. With the added touches of green spaces, vegetarian menu options and a platform for local artists, the 25hours Hotel embodies a vibrant, community-oriented spirit wrapped in a stylish package.
nhow Frankfurt
Address: Brüsseler Strasse 1-3, Frankfurt, Germany
Location: Gallusviertel
At nhow Frankfurt you'll find a modern boutique hotel where comfort meets top-tier convenience. Situated just 200 meters from Messe Frankfurt, this hotel puts the city at your fingertips, with Frankfurt Central Station, the Senckenberg Natural History Museum and the English Theatre all within easy reach. Before exploring, wake up to a choice of buffet, vegetarian, or gluten-free breakfast. The hotel's rooms are a testament to modern style and comfort, with their spacious layouts and contemporary furnishings. If you're travelling by electric car, you'll appreciate the charging station on-site.
Luxury Boutique Hotel
When considering a luxury boutique hotel, you'll find an experience that blends the finer aspects of hospitality with a personalised touch. Luxury hotels focus on offering an elevated level of service, often through their staff's attention to detail and the pursuit of perfection in every aspect of your stay.
The allure of luxury boutique hotels lies in their capacity to provide an intimate and indulgent environment, coupled with high-end amenities. Opting for this kind of hotel can elevate your travel experience, creating a sense of exclusivity and refined comfort.
Ameron Frankfurt
Address: Neckarstraße 7-13, Frankfurt, Germany
Location: Bahnhofsviertel
Experience the refined elegance of Ameron Hotel, a luxury sanctuary in Frankfurt's heart. At a stone's throw from the English Theatre and a short walk to the city centre, its location lets you soak in the city's vibrant culture, with the Goethe House, German Film Museum, Eiserner Steg and Städel Museum all within easy reach. Morning brings a choice of buffet or American breakfast to fuel your day of exploration, which may include hiking and cycling nearby. Inside the hotel, indulge in the amenities of a fitness centre, an inviting restaurant, and a bar and shared lounge for your relaxation. Step outside to the terrace for a breath of fresh air or retreat to your stylishly decorated room for a cosy respite.
Eco-Friendly Hotel
When you're after an eco-friendly or sustainable hotel, you're making a choice that goes beyond just a place to rest your head.
These hotels focus on minimising their environmental footprint, often through energy efficiency, waste reduction and responsible sourcing practices. By choosing to stay at an eco-friendly hotel, you're directly contributing to a more sustainable travel industry.
You're not just enjoying your stay, but you're also doing your part to respect and preserve our planet, making your travel experience all the more rewarding.
Lindley Lindenberg
Address: Lindleystraße 17, Frankfurt, Germany
Location: Ostend
You might like the Lindley Lindenberg Hotel, where eco-consciousness meets modern hospitality. Nestled near popular attractions like the Cathedral of St. Bartholomew and Goethe House, this eco-friendly hotel offers a thoughtful approach to sustainability. Start your day with an à la carte or vegan breakfast featuring warm dishes, local specialities and fresh pastries, and enjoy the convenience of an on-site coffee shop and bar. The hotel's commitment to the environment shines through in its use of 100% renewable electricity, efforts to minimise food waste, provision of sustainable food options and implementation of motion-controlled electricity.
Where to Stay in Frankfurt
Innenstadt: It's no surprise this central district tops the list for first-time visitors considering where to stay in Frankfurt. Innenstadt, home to Frankfurt's business district and historic core, is dotted with a range of boutique hotels. You're close to all the action here with the city's most iconic sights like the Römer and the skyline, fondly known as 'Mainhattan', right on your doorstep.
Bahnhofsviertel: Located right next to Frankfurt's main train station, this district is as convenient as it gets. It's an area that never sleeps, packed with international restaurants and bars with a cosmopolitan feel.
Sachsenhausen: Across the Main River, this vibrant district is a haven for night owls, brimming with lively bars and restaurants. Sachsenhausen also hosts a collection of museums on the Museum Embankment. Visitors love the charm of this area's boutique hotels, often nestled within stylishly converted old buildings.
Bornheim: If you're someone who enjoys being close to nature, you'll appreciate the abundant green spaces here, like the beautiful Günthersburgpark. Bornheim's boutique hotels have a distinct, quirky character that matches the area's atmosphere.
Gallusviertel: A stone's throw from the central station and trade fairgrounds, this district has seen a surge in urban development. Today, it's home to a range of trendy boutiques, cafes, and some of the city's most innovative boutique hotels.
Westend: This neighbourhood, while close to the city centre, provides a quieter, more local atmosphere. Westend is a desirable mix of residential and commercial properties.
Nordend: Filled with leafy streets and grand old buildings, Nordend is a popular choice for those seeking a more laid-back stay. With easy access to the city centre, it's a great spot for a quieter, local experience.
Ostend: A bit off the beaten track, Ostend has recently transformed from an industrial area to a trendy neighbourhood. Here, you'll find the European Central Bank headquarters sitting right on the Main River. A burgeoning bar and restaurant scene and a smattering of boutique hotels make Ostend a rising star in Frankfurt's accommodation scene. With its revitalised waterfront and proximity to the city centre, Ostend is a stylish and practical choice for your stay.
Dive into my comprehensive guide that reveals the best places to visit in Germany, curated to provide you with an immersive experience of the rich history, culture and breathtaking landscapes of this enchanting region.
For more comprehensive details on things to do, sightseeing spots, and upcoming events in the city, I suggest you check out Visit Frankfurt. It's a solid resource that could really help you plan your itinerary.
Responsible Travel Tips
Travelling responsibly is more than a trend – it's an ethos that can enhance your trip while contributing to Frankfurt's sustainability efforts. Here are some ways to make your visit to Frankfurt more eco-friendly:
Renewable Energy: Frankfurt is a city leading the charge in sustainable living, with a huge emphasis on renewable energy. When you're choosing your accommodation, make a point to check if they use renewable energy sources and if they have sustainable practices in place.
Minimising Food Waste: In a city like Frankfurt, the options for food are endless. But remember, it's key to only purchase what you can consume to avoid unnecessary food waste. With numerous farmers' markets dotting the city, you can also consider buying fresh produce and cooking your own meals if your hotel has kitchen facilities.
Sustainable Diets: Eating sustainably is becoming increasingly easier in Frankfurt. When dining out, choose restaurants that focus on locally sourced, organic and plant-based meals. This way, you're not only eating healthier but also supporting local farmers and reducing your carbon footprint.
Sustainable Transport: Make use of Frankfurt's excellent public transport system that includes buses, trams and trains. For shorter distances, consider renting a bike or walking – it's not only better for the environment but also a great way to explore the city.
Avoiding Flying: If it's feasible, opt for overland travel to reach Frankfurt. With its efficient rail network, the city is well connected to other German and European cities. This helps to significantly reduce your carbon emissions.
Supporting the Local Community: Shopping at local businesses and purchasing locally made products is a great way to support the Frankfurt community. This helps to keep money within the local economy and encourages sustainable growth.
FAQ
What makes a good boutique hotel in Frankfurt?
A great boutique hotel in Frankfurt merges a blend of personalised service, unique style and ambience, and a prime location close to the city's main attractions, such as the Römer Square or the Sachsenhausen district.
How do I choose the best area to stay in Frankfurt?
The best area to stay in depends on your interests. If you're into bustling nightlife and historic sights, Sachsenhausen is a great choice. For a quieter, creative vibe, Ostend offers a more laid-back atmosphere with its cool bars and independent stores.
What should I know before visiting Frankfurt?
It's important to note that Frankfurt is a cosmopolitan city with an excellent public transport system, making it easy to get around. It also has a vibrant food scene, from traditional German cuisine to international dishes and plenty of cultural and historical sites to explore.

Is it easy to find vegetarian or vegan food in Frankfurt?
Yes, Frankfurt is quite accommodating to different dietary preferences. Many restaurants offer vegetarian and vegan options and there are also a number of dedicated vegetarian and vegan eateries in the city.

In Short
Choosing the right boutique hotel in Frankfurt can set the stage for an exceptional city break. With its vibrant neighbourhoods, each with its unique charm, you're in for a treat no matter where you decide to stay.
Remember to consider the hotel's sustainability efforts, proximity to attractions, and the local vibe to ensure you get the most out of your visit. Just take your time, do a bit of research, and you'll find a place that's just right for you.
Above all, enjoy your time in Frankfurt, it's a city that's brimming with experiences waiting to be discovered.
If you have questions or want to leave a hotel review, please do so in the comments.
—
Recommendations are independently chosen based on personal travel experiences and extensive research. This post contains affiliate links to hotels in Frankfurt, Germany. This means I get a small commission from any bookings at no extra cost to you.