Recommendations are based on personal travel experiences and research. If you book through links on our site, we may earn a commission at no extra cost to you.
—
Brussels is a beautiful city that boasts a unique blend of French and Flemish cultures. The architecture is stunning, especially the Grand Place, which is a UNESCO World Heritage Site.
The city also has delicious cuisine, including Belgian waffles, chocolate, and beer. When visiting Brussels, you'll also want to check out the iconic Atomium and the beautiful Royal Palace.
I highly recommend staying in one of the following boutique hotels in Brussels to make the most of your trip.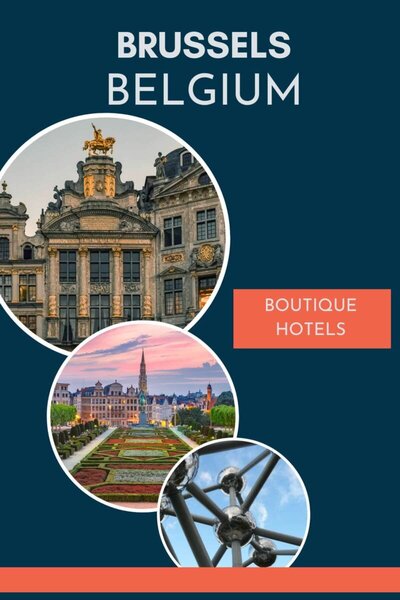 Boutique Hotels in Brussels
When visiting Brussels, you'll want to check out the trendy neighbourhoods of Saint-Gilles and Ixelles. Saint-Gilles is known for its independent stores, cafes, and galleries, while Ixelles is home to beautiful parks and green spaces.
If you're looking for a lively nightlife scene, head to the area around Place Saint-Géry in the city centre. For the best overall experience,
I recommend staying in the neighbourhood of Ixelles, which offers a great mix of culture, nightlife, and natural beauty.
Top Pick
Hotel nhow Brussels Bloom
Address: Rue Royale 250, Sint-Joost-ten-Node, 1210 Brussels.
If you're looking for a stylish and contemporary hotel in Brussels, you'll love the nhow, Brussels Bloom. The hotel is packed with high-end furnishings and services and features a fantastic eighth-floor gym with stunning views of the Brussels skyline. Additionally, the hotel is located in the vibrant Botanique area, surrounded by parks, concert venues, and art galleries, making it the perfect choice for any culture enthusiast. Plus, most rooms offer a breathtaking city view. With an Instagram-friendly Waffle Bar and art installations that bring the building to life, the nhow Brussels Bloom is the perfect base for exploring the Grand Place and the Rue Neuve shopping district.
Features:
Unique decor and design.
Stylish rooms with loads of natural light.
Modern gym for a quick workout.
Temporary art galleries
Walking distance to many attractions, including Botanical Garden Brussels, Parc Reine-Verte – Koningin-Groenpark, and Toy Museum.
Sustainability:
Electric vehicle charging station
Pros: For a contemporary and stylish stay in Brussels, with high-end facilities, stunning city views, and a prime location in the lively Botanique area, the nhow Brussels Bloom is the best choice for any art and culture enthusiast.
Cons: While the nhow Brussels Bloom is a fantastic hotel overall, some guests may find the rooms to be slightly small.
Check Availability
I've also recommended a couple of other excellent hotels that might suit your preferences and budget.
Next Best
Pentahotel Brussels City Centre
Address: Chaussee de Charleroi 38, Saint-Gilles, Brussels
If you're looking for a hotel with a great location and plenty of amenities, the Pentahotel Brussels City Centre is an excellent choice. Just a 5-minute walk from the fashionable Avenue Louise and 20 minutes away from Grand Place by public transportation, this hotel also features a fitness centre and a bar serving delicious Belgian beers and cocktails. The Pentalounge offers a wide selection of international food and drinks, including a tasty breakfast selection.
Rocco Forte Hotel Amigo
Address: Rue de l'Amigo 1-3, Brussels
Hotel Amigo is a fantastic option for Brussels visitors looking for a luxurious and comfortable stay. With its elegant design, contemporary amenities, and fine art, the hotel offers a unique and memorable experience. The Ristorante Bocconi, with its commitment to using the best ingredients and creating artistic dishes, is sure to impress even the most discerning foodies. The dining room, designed by Olga Polizzi and adorned with prints and plates by Piero Fornasetti, adds a playful and artistic touch to the experience. Overall, Hotel Amigo seems like a great choice for those who want to experience the best of Brussels in style and comfort.
Cool and Unique Hotel
If you're the type of traveller who prefers to stay in a cool and unique boutique hotel, you can expect a personalized and intimate experience that's different from larger chain hotels.
For your next stay in Brussels, I recommend one such hotel that offers a charming and distinct atmosphere, unique features and amenities.
The Scott Hotel Brussels
Address: 1 Place Loix, Sint-Gillis / Saint-Gilles, Brussels
The Scott Hotel is perfect for a unique and elegant experience in Brussels. Inspired by the Roaring Twenties and located in the vibrant Saint-Gilles neighbourhood, this boutique hotel boasts an interior design that will transport you to a bygone era. With small, independent shops and exquisite restaurants within walking distance, as well as beautiful Art Deco and Art Nouveau facades and parks, The Scott Hotel guarantees a memorable and cosmopolitan Brussels experience.
Stanhope Hotel by Thon Hotels
Address: Rue du Commerce 9, Brussels
The Stanhope Hotel by Thon Hotels Brussels is a magnificent 5-star hotel that boasts a rich history of providing excellent service and elegant accommodations. It was the first hotel of its kind in Belgium, and it has maintained its reputation as a premier destination for visitors to Brussels. The bedrooms have recently been refurbished to provide maximum comfort and style, making them the perfect retreat after a long day of sightseeing or business meetings. The Brighton Restaurant is decorated in traditional British style with Oriental influences, providing guests with a sophisticated dining experience. The Library Bar is ideal for post-dinner drinks, where guests can relax and unwind in a comfortable and refined atmosphere. Overall, The Stanhope Hotel by Thon Hotels Brussels is an outstanding choice for those seeking a luxurious and refined stay in the heart of Brussels.
Eco-Friendly Hotel
If you're someone who prefers to stay in a sustainable or eco-friendly hotel, you can expect a unique and responsible travel experience that prioritizes the environment and local communities.
For your next stay in Brussels, I recommend one such hotel that offers sustainable practices and focuses on eco-friendly amenities without compromising comfort or luxury.
B&B HOTEL Brussels Centre Louise
Address: Rue Paul Spaak 15,, Elsene / Ixelles, Brussels.
The B&B HOTEL Brussels Centre Louise is a great choice for an eco-friendly stay in Brussels. This hotel features a range of eco-friendly amenities, such as energy-efficient lighting and water-saving devices, to minimize its environmental impact. Plus, the hotel's central location near Avenue Louise and the historic centre of Brussels offers a unique and sustainable city trip experience.
Where to Stay in Brussels
When considering where to stay in Brussels, several areas offer visitors a unique experience. Here are some of the best neighbourhoods to book a boutique hotel in:
The Grand Place: The heart of Brussels, the Grand Place, is a UNESCO World Heritage Site and is home to some of the most beautiful architecture in the city. It is a bustling square with plenty of cafes, restaurants, and shops. Staying in this area will give you easy access to the city's most famous attractions, including the Manneken Pis statue and the Royal Palace.
Sablon: Known for its antique shops, art galleries, and chocolate boutiques, Sablon is a charming neighbourhood that is perfect for those who want to experience a more relaxed side of Brussels. The area has plenty of cafes and restaurants and is home to several museums and parks.
Marolles: If you are looking for a trendy and bohemian neighbourhood, Marolles is the place to be. This area is home to vintage stores, art galleries, and hip cafes. There is also a popular flea market that takes place on weekends, which is a great place to find unique souvenirs.
Saint-Gilles: This neighbourhood is known for its Art Nouveau architecture, as well as its diverse range of cafes, restaurants, and bars. The area also has several parks, including the beautiful Parc de Forest, which is perfect for a picnic or a leisurely stroll.
Ixelles: One of the most popular neighbourhoods in Brussels, Ixelles is home to several prestigious universities and a large ex-pat community. It is a lively area with plenty of cafes, bars, and restaurants. The area also has several museums and art galleries, including the famous Musée d'Ixelles.
No matter where you decide to stay in Brussels, you are sure to find plenty of things to see and do. Each neighbourhood offers a unique experience, so choose the one that best fits your interests and preferences.
Whether you're a history buff, a foodie, or a nature lover, my guide to Belgium's best places to visit has got you covered with its comprehensive list of top attractions, hidden gems, and insider tips for an unforgettable journey through this fascinating country.
You'll find all the information you need for your trip to Brussels on a helpful website, which offers a range of resources and tools to help you plan your itinerary, book tours and activities, and discover the best places to eat, drink, and stay.
Responsible Travel Tips
Many of us are increasingly concerned about climate change and sustainability. Here are a few ideas on how we can travel more responsibly in Brussels.
To travel more responsibly in Brussels, you can start by supporting renewable energy and staying at eco-friendly hotels that prioritize sustainable practices.
You can also minimize food waste by eating at local restaurants that use fresh, seasonal ingredients and choosing sustainable vegetarian and vegan diets.
When it comes to transportation, opt for sustainable options such as cycling, walking or using public transport instead of driving. If you have to fly, choose airlines that offset carbon emissions.
To support the local community, shop at independent stores and markets, eat at local eateries, and participate in cultural events and experiences that showcase the city's unique heritage and traditions.
FAQ
Here are some frequently asked questions about finding the best hotel, where to stay, or generally visiting Brussels, along with brief answers:
What is the best time of year to visit Brussels?
The best time to visit Brussels is spring or summer, from March to September. The weather is milder, and plenty of outdoor festivals and events exist.
Is it better to stay in the city centre or outside of it?
It depends on your preferences. If you want to be close to the city's main attractions and nightlife, then staying in the city centre is a good option. However, if you prefer a quieter and more residential area, then staying outside the city centre might be a better choice.
What are some must-see attractions in Brussels?
Some must-see attractions in Brussels include the Grand Place, Manneken Pis, Atomium, and the Royal Palace. Several museums and galleries are worth visiting, such as the Magritte Museum and the Museum of Fine Arts.
What is the best way to get around Brussels?
The best way to get around Brussels is on foot or by public transportation. The city has an extensive network of buses, trams, and metros, which are all easy to use and affordable.
What are some good neighbourhoods for foodies?
Some good communities for foodies include Saint-Gilles, Ixelles, and the Marolles. These neighbourhoods have a wide range of restaurants and cafes offering traditional Belgian cuisine and international dishes.
What is the nightlife like in Brussels?
Brussels has a vibrant nightlife scene, with plenty of bars, clubs, and music venues. The city is especially known for its jazz clubs and live music scene.
Is it safe to visit Brussels?
Yes, Brussels is generally a safe city to visit. However, taking normal precautions and being aware of your surroundings is always important, especially in tourist areas.
Final Thoughts
Brussels is a beautiful and vibrant city with plenty to offer visitors. Whether you are interested in history, culture, food, or nightlife, there is something for everyone.
When planning your trip, take some time to research the different neighbourhoods and find the one that best fits your interests and preferences.
Consider booking a boutique hotel to get a more unique and personalized experience.
Remember to explore beyond the main tourist areas to discover hidden gems and local favourites.
And most importantly, enjoy your time in Brussels and make some unforgettable memories!
If you have questions or want to leave a hotel review, please do so in the comments.
—
Recommendations are independently chosen based on personal travel experiences and extensive research. This post contains affiliate links to hotels in Brussels, Belgium. This means I get a small commission from any bookings at no extra cost to you.