Recommendations are based on personal travel experiences and research. If you book through links on our site, we may earn a commission at no extra cost to you.
—
Nestled along the stunning Albanian Riviera, Himara is a charming coastal town known for its pristine beaches, crystal-clear waters and rich cultural heritage.
As you walk along the beachfront and wander the narrow cobblestone streets of the old town, you'll come across a distinctive blend of ancient and modern architecture that sets Himara apart.
In this blog post, I list the best hotels in Himara, which I've personally handpicked after several visits to the region.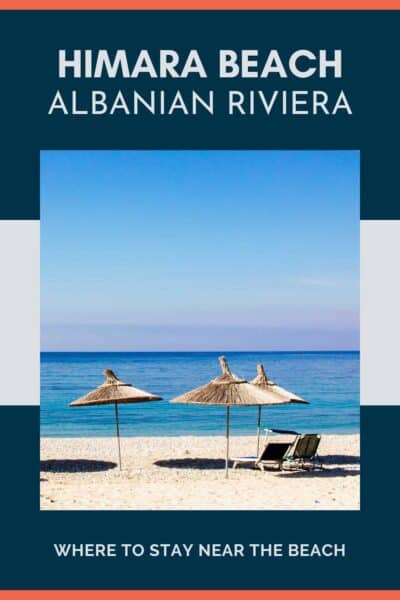 Best Himara Hotels
When looking for where to stay in Himara, it's worth thinking about which area you would like to stay in to be near the beach or maybe near cafes and restaurants.
Himara Beach is the city's main beach and is a fantastic choice if you want to stay right in the city centre near all the great cafes and attractions.
If you venture to the western side of Himara near the boat dock, you'll find Spile Beach, a more serene environment that's perfect for a relaxing swim or soaking up the sun.
Further along the highway is Prinos Beach, a beautiful sandy beach that is away from the main thoroughfare.
The best hotel in Himara is located opposite Himara Beach in the city centre, and I think it's a great place to stay if you want to be within walking distance of everything.
Top Pick
Arxontiko
Address: SH8 6, Himare, Albania
Location: Himara Beach, City Centre
At Hotel Arxontiko, you'll love the stunning sea view from your room, just steps away from the beach. The welcoming host, friendly staff and huge Albanian breakfast (with amazing homemade jam) will make your stay truly unforgettable. The prime location provides an unmatched experience as you'll see by the reviews.
Features:
Cool and unique design.
Stylish rooms with loads of natural light.
Sea views from the large windows and balcanies.
Huge breakfast selection including Albanian specialties.
Modern, clean and stylish bathrooms.
Pros: Stunning sea views, welcoming host, delicious breakfast, excellent on-site restaurant, prime location.
Cons: Seasonal crowds on the beach in summer.
Check Availability
While I think this is the best place to stay, below I suggest a couple of other unique places to stay and boutique hotels that you might find interesting.
Each one has its own unique charm and vibe, giving you a range of options to consider for your perfect beach trip on the Riviera.
Next Best
Rea Boutique Hotel
Address: Himara's Port, Albania
Location: Spile Beach, City Centre (near the boat dock)
At the Rea Boutique Hotel, you'll experience a little bit of Albanian luxury in a property right in front of the beautiful beach in Himare. Wake up to a delicious Albanian breakfast each morning, and relish the diverse dining options at the hotel's restaurant, serving Greek, Italian, and Mediterranean cuisine. Plenty of vegetarian and vegan options are readily available to cater to your preferences or enjoy the local fish specialties. The views from the rooms and balconies are quite special.
Cool and Unique Hotel
As you search for the perfect boutique hotel, keep an eye out for those with distinct personalities and charm, setting them apart from the rest.
If uniqueness is important to you, prioritise hotels that emphasise personalised service, attention to detail, and exclusive experiences. This is relatively easy to do in Himara, where most hotels are independently owned by locals.
Sofia's Cozy Rooms
Address: Rruga Vangel Zoto, Himare, Albania
Location: Maraçit Beach, City Centre
At Hotel Sofia's Cozy Rooms, you'll find a comfortable and pristine hotel with all the essentials for a relaxing stay. The brilliant location places you right in the heart of Himarë, merely steps away from Marachi Beach, Spile Beach, and Prinos Beach, making it an ideal choice for enjoying a few days by the beach in this lovely coastal town. The rooms are stunning and spotlessly clean, and the local owners will go out of their way to help you during your stay.
Luxury Boutique Hotel
If a luxury boutique hotel is more your style, focus on finding a hotel that radiates elegance and sophistication while maintaining a distinctive character.
Opt for hotels that provide exemplary service, lavish amenities, and curated experiences.
The Artis Blue is a great option if you're looking for a luxury stay.
Artis Blue Relax
Address: Doku Himarës, Himara, Albania
Location: Spile Beach, City Centre (next to Rea Boutique Hotel)
At the Artis Blue, you'll be immersed in luxury, with Spile Beach just meters away and several other sandy beaches within walking distance. The outstanding service and wonderful host will make your stay at this boutique beachfront hotel truly special and enjoyable. The rooms are exceptionally well maintained, and the linens and amenities are of high quality. Click through to see the incredible views from the rooms.
Eco-Friendly Hotel
As you look for somewhere to stay in Himara, you might prefer to prioritise an eco-friendly hotel. In this case, keep an eye out for hotels that genuinely embody environmental stewardship and social consciousness.
Find a hotel that supports green initiatives and social sustainability initiatives, like the following hotel.
Aphrodite Garden Rooms & Apartment
Address: Himare – Livadh Road, Himare, Albania
Location: Himara e Vjeter (Himara Old Town)
Nestled in the heart of Himara's historic old town, high above the beaches, Hotel Aphrodite Garden Rooms & Apartment is a lovely eco-conscious oasis, working diligently towards a sustainable future. Not only does this charming small hotel source most of its ingredients from local suppliers, but it also employs energy-saving measures and waste-reduction measures. And when it comes to the cuisine, especially their mouthwatering breakfasts, the hotel even provides vegetarian options to cater to all tastes. With Livadhi Beach just a stone's throw away, this incredible sanctuary perfectly balances luxury, eco-friendliness and cultural immersion.
Where to Stay in Himara
As you plan your visit to the Albanian Riviera, here are some top areas to consider when choosing where to stay in Himara, especially if you're looking for a boutique hotel experience or a charming stay with local hosts:
Himara City Centre – Dive into the dynamic cafe culture, where you can enjoy engaging conversations over a strong coffee. Explore the quaint boutique stores filled with treasures and indulge in delicious dishes at the charming eateries that line the bustling streets of the city centre.
Old Town Himara – Nestled high above the city centre, this historical area has breathtaking sea views, setting the stage for awe-inspiring sunsets. Wander through the labyrinth of cobblestone alleys and stone ruins, absorbing the rich heritage, picturesque streets, and local art galleries while savouring the town's unique atmosphere.
Maraçit Beach – Bask in the spirited beach ambience, complete with sun-kissed sands, crystal-clear waters, and a variety of water sports for the adventurous at heart. Nearby, an array of independent shops awaits, giving a unique shopping experience where you can discover local artisanal crafts and souvenirs. Don't forget to have a look at the old concrete bunker while you're exploring this beach.
Spille Beach – Immerse yourself in the laid-back vibes with cool bars that serve refreshing cocktails and beachside cafes that let you sink your toes into the sand as you dine. The pulsating nightlife here is a magnet for visitors seeking lively entertainment and memorable evenings under the stars. This is one of the most popular places to stay in Himara.
Prinos Beach – Retreat to the tranquil surroundings of this idyllic beach, where you can reconnect with nature amidst lush green spaces and the soothing sounds of gentle waves caressing the shoreline. Perfect for relaxation, this peaceful beach has opportunities for meditation, yoga, or simply unwinding with a good book. This is my favourite beach in Himara.
Each of these enticing neighbourhoods presents a distinctive fusion of attractions and ambience, ensuring that you'll uncover the picture-perfect location for your boutique hotel stay in Himara.
If none of these hotels in Himara suit your needs, check out this list of Albanian Riviera hotels that has lots of hotel options along the coast.
The tourist office in Albania isn't the most useful of resources, but it can provide some further information and guidance on local attractions and events. Have a look and if you still can't find everything you need, leave a comment and I can answer your questions.
Discover the hidden gems of Albania with my comprehensive guide, which takes you on a captivating journey through the country's most remarkable destinations, tailored to your interests and preferences.
Responsible Travel Tips
Many of us are increasingly concerned about climate change and sustainability. Here are a few ideas on how we can travel more responsibly in Himara.
Opt for accommodations that use renewable energy sources, such as solar power, for a more eco-friendly stay in Himara. There are few sustainable hotel options at the moment, but some places are working towards lower impact stays.
Dine at local restaurants that focus on minimising food waste by implementing waste-reducing practices, such as offering smaller portion sizes or using leftover ingredients creatively. You can ask and see what local businesses are doing. It should be a good conversation starter.
Choose a sustainable diet by selecting dishes featuring locally sourced, seasonal ingredients and supporting establishments offering vegetarian or vegan options.
Explore Himara using sustainable transport methods like walking, cycling, or public transportation to reduce your carbon footprint. Walking is probably the best way to get around, but ask your host about cycling paths and getting around safely.
Instead of flying to nearby destinations, consider travelling by bus or train, which have a lower environmental impact. In Albania, travelling by furgon is a great way to get around as these are like minibuses.
Support the local community by purchasing handmade goods from local artisans, visiting small independent stores, and participating in cultural events to understand Himara's unique traditions and heritage better.
FAQ
What types of hotels are available in Himara?
Himara has a variety of accommodations, ranging from boutique hotels, luxury properties, and eco-friendly options to cosy guesthouses, ensuring that every traveller can find a suitable place to stay. Most of these hotels are small and independently owned.
Which areas in Himara are best for enjoying local attractions and nightlife?
The Marachi Beach area, Spille Beach vicinity and Himara City Centre are popular choices for their vibrant atmosphere, beach access, cool bars and thriving nightlife, offering plenty of entertainment options for visitors.
How can I explore Himara's attractions and support the local community?
You can better understand Himara's unique heritage while supporting local artisans and businesses by visiting local galleries, museums, and cultural events. Additionally, exploring the town on foot or by bicycle can help you discover hidden gems and immerse yourself in the local atmosphere.
Final Thoughts
As you head off on your journey to Himara, take the time to carefully consider your preferred accommodations, keeping in mind the unique character, ambience and amenities that boutique hotels can provide.
This beautiful destination is sure to interest you with its stunning beaches, vibrant local culture and historic old town.
Embrace the opportunity to explore and indulge in all that Himara has to offer, and let your chosen hotel serve as the perfect home base for your adventure.
If you have questions or want to leave a hotel review, please do so in the comments.
—
Recommendations are independently chosen based on personal travel experiences and extensive research. This post contains affiliate links to hotels in Himara, Albania. This means I get a small commission from any bookings at no extra cost to you.