Recommendations are based on personal travel experiences and research. If you book through links on our site, we may earn a commission at no extra cost to you.
—
Step into the enchanting world of the Albanian Riviera, where crystal-clear waters meet pristine beaches and vibrant culture.
This stunning coastline is unique as it remains largely untouched by mass tourism, allowing you to experience its authentic charm and natural beauty.
In this guide, I recommend staying at one of the following boutique hotels along the Albanian Riviera to fully immerse yourself in this incredible destination.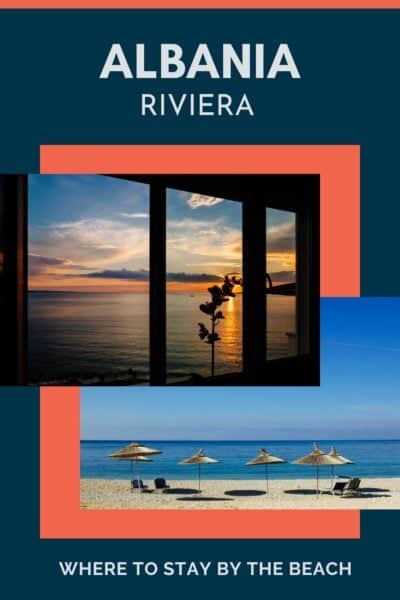 Best Albanian Riviera Hotels
As you explore the Albanian Riviera, you'll discover a variety of stunning beaches, each with its own unique character.
Sink your toes into the soft sands of Dhermi Beach, relish the tranquillity of Himara Beach, or join the lively atmosphere at Ksamil Beach.
I've stayed in each of these areas and can honestly say they are all amazing destinations. I personally love Himara the most, but the Ksamil area also has one of the best beaches, and Saranda is a great choice if you want a city atmosphere.
Top Pick
Rea Boutique Hotel
Address: Himara's Port Himara, Albania
Location: Himara Beach
Imagine waking up to the soothing sound of waves at the 5-star Rea Boutique Hotel, situated right on the beach in Himare. You'll be treated to a delicious homemade breakfast each morning and can savour an array of Greek, Italian, and Mediterranean cuisine at the on-site restaurant, with vegetarian and vegan options available upon request.
Features:
Lights and cool design.
Comfortable rooms, beds and linens.
Sea views rooms within steps of the sandy beach.
Huge breakfast selection.
Incredible beachfront location.
Exceptional value for money.
Sustainability:
Energy-efficient LED lighting.
Most food is locally-sourced and organic.
Sustainable food waste measures in place.
Recycled and eco-friendly paper products are used.
Pros: Beachfront location, delicious breakfast, diverse cuisine options, vegetarian and vegan-friendly.
Cons: Limited parking, seasonal crowds.
Check Availability
While I truly believe my top pick is the ideal place to stay, I've also recommended a couple of other hotels that you might find appealing, each at a different beach along the Riviera.
Each one has its own unique charm and amenities, ensuring a delightful stay on the Albanian Riviera no matter which one you choose.
Best Boutique Hotel on the Albanian Riviera
El Primero Hotel
Address: Rruga Butrinti, 9701 Sarandë, Albania
Location: Saranda Beach
At the El Primero Hotel, you'll be treated to exceptional service and comfortable accommodations. This charming hotel provides a perfect base for exploring the enchanting Albanian Riviera, ensuring an enjoyable stay for every traveller.
Cool and Unique Hotel
For those seeking a cool and unique hotel experience, expect to be delighted by one-of-a-kind design elements and innovative amenities.
You might appreciate my next recommendation, as it caters to travellers looking for a distinctive and unforgettable stay on the Albanian Riviera.
Arxontiko
Address: SH8 6, Himare, Albania
Location: Himara Beach
Discover the charm of Arxontiko Hotel, a 4-star accommodation just steps away from Maracit Beach and a mere 100 meters from Spille Beach. You'll relish the delightful breakfast spread, which includes tasty omelettes, Greek yogurt, and a variety of fresh fruits, setting the perfect tone for your day in Himare.
Luxury Hotel on the Albanian Riviera
For those who prefer the finer things in life, a luxury hotel on the Albanian Riviera promises exceptional service, elegant accommodations, and top-notch amenities.
You might be drawn to my next recommendation, as it caters to discerning travellers seeking an indulgent and opulent experience in this beautiful coastal paradise.
La Brisa Boutique Hotel
Address: Rruga Jaliskari, Dhërmi, Albania
Location: Dhermi Beach
Experience the refinement of La Brisa Boutique Hotel, a 5-star haven in Dhërmi with a beachfront location and an array of luxurious amenities. Indulge in exquisite cuisine at the beautiful restaurant, unwind at the excellent beach bar, or lounge by the seasonal outdoor swimming pool while taking in the breathtaking views from the terrace.
Eco-Friendly Hotel
A sustainable or eco-friendly hotel ensures a guilt-free stay for environmentally-conscious travellers by focusing on practices that minimise environmental impact.
You might appreciate my next recommendation, as it aligns with your values and commitment to preserving our planet while enjoying the beauty of the Albanian Riviera.
Hotel Aloha
Address: Rruga Mitat Hoxha, Sarandë, Albania
Location: Saranda Beach
Embrace the sustainable ethos of Hotel Aloha, an eco-friendly retreat located just steps from Sarande Main Beach. This environmentally conscious hotel proudly sources most of its food locally, uses energy-efficient LED lighting throughout the property, features double-glazed windows and is powered entirely by 100% renewable electricity, ensuring a guilt-free and green stay.
Budget Hotel on the Albanian Riviera
For the budget-savvy traveller, a budget hotel provides comfortable accommodations without breaking the bank, allowing you to allocate more resources to exploring the destination.
My hotel pick might be right for you as it focuses on delivering excellent value for money while ensuring a pleasant stay on the Albanian Riviera.
Hotel Meta Ksamil
Address: Rruga Riviera, Ksamil, Albania
Location: Ksamil Beach
Discover the affordability and comfort of Hotel Meta Ksamil, a budget-friendly gem located just steps from Ksamil Beach 9. Enjoy the spectacular views of the beach from your balcony, and start your day with an excellent breakfast before venturing out to explore the captivating surroundings of Ksamil.
Apartment on the Albanian Coast
For travellers who value autonomy and the comforts of home, an apartment hotel provides spacious accommodations with the convenience of self-catering facilities.
You might be drawn to my next accommodation, as it combines the best of both worlds: the independence of an apartment with the services and amenities of a hotel, ensuring a delightful stay on the Albanian Riviera.
Aphrodite Garden Rooms & Apartment
Address: Livadh Road, Himare, Albania
Location: Himara Beach
Experience the comfort and convenience of Aphrodite apartments, located in Himare, just 2 km from Livadhi Beach. This lovely apartment complex features a lush garden, free private parking, a terrace, and an on-site restaurant and bar, ensuring a hassle-free stay. Enjoy a delicious buffet, à la carte, or continental breakfast each morning, fueling your adventures on the Albanian Riviera.
Where to Stay in Albanian Riviera
As you plan your trip to the Albanian Riviera, consider these top areas when deciding where to stay on Albanian Riviera:
Ksamil: This vibrant area offers a perfect balance of relaxation and excitement. With its stunning beaches, cool bars, and nightlife, Ksamil is an excellent choice for visitors seeking a lively atmosphere.
Himara: Home to several boutique hotels, Himare is an ideal base for exploring the surrounding beaches, such as Dhermi and Jale. The town boasts a rich cultural scene with independent stores, galleries, and cafes.
Saranda: Known for its cafe culture and beautiful coastal views, Sarande is a popular destination for those who enjoy leisurely strolls, dining at local restaurants, and visiting nearby attractions like the ancient city of Butrint.
Dhermi: Surrounded by green spaces and pristine beaches, Dhermi is perfect for travellers seeking a tranquil and picturesque getaway. Its laid-back vibe and natural beauty make it a favourite among those who appreciate a beach stay. This is one of the most popular beaches in Albania.
Vlora: Steeped in history and culture, Vlore offers an array of museums and historical sites to explore. The city also features a bustling promenade lined with cafes, restaurants, and shops, perfect for leisurely afternoons. If you're looking for a beach holiday in Albania, I suggest staying at one of the beaches further south rather than at Vlora, which is more of a city-based stay.
These beaches provide a diverse range of experiences for visitors, ensuring that you find the perfect spot to book a boutique hotel or apartment and fully immerse yourself in the magic of the Albanian Riviera.
Dive into my comprehensive guide to Albania's best places to visit, which reveals hidden gems and must-see attractions, ensuring a truly enriching and enjoyable journey through this captivating country.
For your trip to the Albanian Riviera, the tourist office serves as a valuable resource, providing insightful recommendations, local knowledge, and assistance to ensure a smooth and delightful experience.
Responsible Travel Tips
Many of us are increasingly concerned about climate change and sustainability. Here are a few ideas on how we can travel more responsibly on the Albanian Riviera.
Choose accommodations that prioritize renewable energy, such as hotels or guesthouses that use solar power or other forms of green energy to minimise their environmental impact.
Minimise food waste by ordering only what you can reasonably consume at local restaurants, and consider sharing dishes with your travel companions.
Embrace a sustainable diet by opting for locally sourced, seasonal produce and trying traditional Albanian dishes that rely on ingredients with a lower carbon footprint.
Use sustainable transport options such as walking, cycling, or taking public transportation whenever possible to reduce carbon emissions while exploring the Albanian Riviera.
Consider travelling overland by bus or train instead of flying between destinations in the region, as ground transportation typically has a smaller environmental impact.
Support the local community by purchasing souvenirs, crafts, or goods from small, independent businesses and engaging with local artisans and service providers to help sustain the local economy.
By following these responsible travel practices, you'll contribute to preserving the natural beauty and cultural heritage of the Albanian Riviera for future generations to enjoy.
FAQ
What should I consider when looking for the best hotel on the Albanian Riviera?
Consider factors such as location, budget, style, and amenities to find a hotel that best suits your preferences and needs, ensuring a comfortable and enjoyable stay.
Which areas are the best to stay in when visiting the Albanian Riviera?
Popular areas to stay include Ksamil, Himara, Saranda, Dhermi, and Vlora, each offering unique experiences, such as vibrant nightlife, cultural attractions, and picturesque beaches.
What can I expect from a boutique hotel on the Albanian Riviera?
Boutique hotels typically provide personalised service, unique design elements, and a more intimate atmosphere, ensuring a memorable and distinctive stay on the Albanian Riviera.
Final Thoughts
When searching for the perfect boutique hotel or planning your visit to the Albanian Riviera, remember to consider your personal preferences, desired experiences, and budget.
By researching and selecting accommodations that align with your interests, you'll be well on your way to creating an unforgettable adventure on this enchanting stretch of coastline.
If you have questions or want to leave a hotel review, please do so in the comments.
—
Recommendations are independently chosen based on personal travel experiences and extensive research. This post contains affiliate links to hotels in Albanian Riviera, Albania. This means I get a small commission from any bookings at no extra cost to you.