Recommendations are based on personal travel experiences and research. If you book through links on our site, we may earn a commission at no extra cost to you.
—
Dundee is a vibrant and unique Scottish city known for its thriving arts scene and waterfront redevelopment. It's a city full of fascinating history, cutting-edge design, and friendly locals.
There are some great places to stay, and in this guide, I list some of the fantastic boutique hotels in Dundee that are worth booking.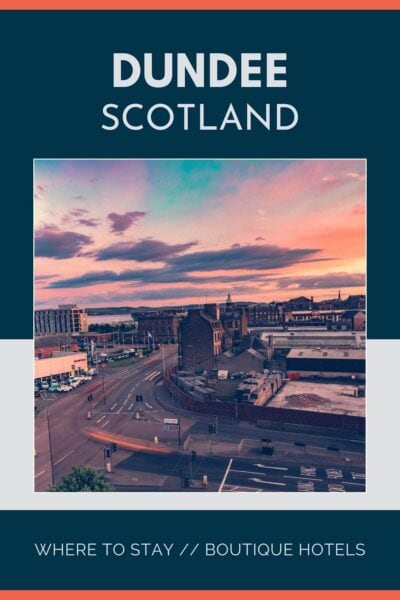 Boutique Hotels in Dundee
Although there are many interesting areas to stay in Dundee, I suggest visitors stay in the city centre to be close to all the sights and attractions, like the V&A Dundee and The McManus.
If this is the area where you'd like to stay, then the Malmaison is the best hotel in this area.
Top Pick
Malmaison Dundee
Address: 28-42 Whitehall Crescent, Dundee
At the Malmaison Dundee, you'll enjoy a prime location just 100 meters from the riverfront and 300 meters from the V&A Dundee, in the heart of the city. Indulge in the hotel's own cosy brasserie and Josper Grill, open for lunch, dinner, and Sunday Brunch, all while staying in a beautifully reconstructed building that once housed the famous Tay Hotel.
Features:
Quirky and cool design.
Award-winning bar and restaurant.
Great location a short walk from the riverfront.
Sustainability:
Independently certified sustainable hotel.
Malmaison Dundee uses 100% renewable electricity.
Organic food is available.
Pros: Enjoy a prime location near the riverfront and V&A Dundee, with on-site brasserie.
Cons: No significant cons of note.
Check Availability
I have a few more recommendations for boutique hotels that you might like to consider, as they offer unique and charming experiences.
Next Best
The Clarendon
Address: 295 Perth Road, Dundee, UK
At The Clarendon Hotel, you'll find exceptional service and creative design elements that make it stand out as a cool and unique boutique hotel.
Nestled in the West End of Dundee, this Victorian townhouse is set within an original Victorian terrace and has convenient kitchenettes and an onsite laundry facility.
Embracing the latest AI technology, the hotel features a virtual reception and virtual concierge, adding an extra touch of modernity and sophistication to your stay, making it a genuinely remarkable experience.
Cool and Unique Hotel
At a boutique hotel, you can anticipate an intimate and personalised experience immersed in tasteful design and a creative atmosphere.
If that's what you're after, you might appreciate my next recommendation for its blend of distinct character and exceptional service, providing a memorable stay that sets it apart from the typical hotel experience.
Staybridge Suites
Address: Lower Dens Mill, Dundee, Scotland
At Staybridge Suites, you'll appreciate this hotel's perfect blend of comfort and convenience. With well-appointed suites, a warm atmosphere, and top-notch amenities, your stay will be both relaxing and enjoyable, allowing you to feel right at home during your travels.
Luxury Boutique Hotel
As a discerning traveller, you can expect a luxury boutique hotel to provide an intimate and personalised experience, with an emphasis on unique design and exceptional service.
If luxury hotels are your preference, my next hotel pick has the perfect blend of comfort, style, and local charm to make your stay in Dundee truly relaxing.
Hotel Indigo
Address: Lower Dens Mill, Dundee, UK.
At the Hotel Indigo, you'll be treated to a lovely stay, complete with a range of luxury features designed to enhance your experience. This upscale boutique hotel offers beautifully appointed rooms, top-notch amenities, and an attentive staff dedicated to ensuring your stay is truly special and calm.
Eco-Friendly Hotel
In a sustainable or eco-friendly hotel, you can expect environmentally-conscious practices and a focus on reducing the property's carbon footprint.
The following hotel has taken steps to limit the environmental impact of the hotel while still providing a comfortable and enjoyable stay, aligning with responsible travel values.
Apex City Quay Hotel
Address: 1 West Victoria Dock Road, Dundee, UK
At the Apex City Quay Hotel, you'll be impressed by their dedication to sustainability, which includes showcasing local artists, using 100% renewable electricity, and implementing measures to reduce food wastage. The hotel is committed to educating guests about local ecosystems, heritage, and culture while promoting responsible visitor etiquette, making it an ideal choice for eco-conscious travellers. As for the rooms, they're large and comfortable, with everything you'd expect to find in a boutique hotel.
Locally Owned
Invercarse Hotel
Address: 371 Perth Road, Dundee, UK
The Invercarse Hotel has a luxurious vibe with high-end features, fittings and amenities, providing an exceptional stay tailored to your every need. Indulge in the comfort of its elegantly designed rooms, enjoy the refined amenities, and feel pampered by the attentive staff, who are committed to making your visit truly relaxing and calm.
Budget Boutique Hotel
Fishermans Tavern
Address: 10-16 Fort Street, Dundee, Scotland
At the Fishermans Tavern Hotel, you'll experience a unique charm and exceptional location, just 600 meters from the picturesque Broughty Ferry Beach. With friendly staff, delicious food and beer, and live music on Thursday nights, your stay above the pub will be nothing short of amazing. Enjoy the great atmosphere, comfortable and spacious rooms, and close proximity to the promenade and town centre, ensuring a truly interesting experience. Additionally, this hotel is excellent value for money, placing it in the budget boutique category.
Where to Stay in Dundee
When deciding where to stay in Dundee, there are several neighbourhoods that offer unique experiences for visitors. Here are some of the best areas to consider when booking a boutique hotel:
City Centre – Dundee's city centre is the hub of the action and offers the perfect base for exploring the city's cultural attractions, such as the V&A Dundee Museum, Dundee Contemporary Arts, and McManus Art Gallery and Museum. You'll also find a fantastic selection of independent shops, cafes, bars, and restaurants to explore.
West End – The West End of Dundee is known for its trendy bars, live music venues, and independent stores. This neighbourhood is perfect for those looking for a lively atmosphere and is home to some of the city's most popular bars and clubs.
Broughty Ferry – Located just a few miles from the city centre, Broughty Ferry is a charming coastal town that offers a more relaxed pace of life. You can enjoy scenic walks along the beach or explore the local boutiques and galleries.
Lochee – For those looking for a more alternative scene, Lochee is a neighbourhood worth exploring. It's home to the Dundee Rep Theatre and the Dundee Contemporary Arts Print Studio, as well as a range of independent stores, cafes, and bars.
Stobswell – Stobswell is a vibrant neighbourhood that has recently undergone significant regeneration. Visitors can explore the area's street art, enjoy a coffee in one of the independent cafes, or sample some craft beer in one of the area's trendy bars.
Ultimately, where to stay in Dundee will depend on your interests and preferences, but these neighbourhoods offer a great starting point for looking to book a boutique hotel in the city.
Discover the best of Scotland with ease by using this comprehensive guide, featuring top-rated attractions, hidden gems, and practical tips to help you plan your ultimate Scottish adventure.
If you need assistance with planning things to do, want recommendations for the best restaurants and attractions, or just general travel advice, Visit Dundee is a valuable resource that can help you make the most of your visit to Dundee.
Responsible Travel Tips
Many of us are increasingly concerned about climate change and sustainability. Here are a few ideas on how we can travel more responsibly in Dundee.
Here are some ideas on how you can travel more responsibly in Dundee:
Support sustainable transport: Instead of renting a car or taking taxis, consider taking advantage of Dundee's excellent public transportation network, which includes buses and trains. You can also rent a bike to explore the city on two wheels, as Dundee has several dedicated bike lanes and cycle paths.
Minimise food waste: Support local farmers and food producers by shopping at Dundee's farmers' markets, which sell locally grown and seasonal produce. You can also dine at restaurants that prioritize reducing food waste and composting food scraps, such as Bird and Bear in the city centre.
Embrace renewable energy: Dundee has been recognised as a leader in renewable energy, with the city aiming to be carbon-neutral by 2045. You can support this goal by staying in hotels that use renewable energy sources, such as Malmaison Dundee, which uses solar panels to generate electricity.
Try sustainable diets: Dundee has several restaurants that cater to plant-based diets and use locally sourced ingredients, such as The Bach and Blend Coffee Lounge. Opting for a plant-based meal can help reduce your carbon footprint and support sustainable agriculture.
Avoid flying: If possible, consider taking a train or bus to Dundee instead of flying. This can significantly reduce your carbon emissions and support sustainable transport options.
Support the local community: Finally, support Dundee's local community by shopping at independent stores, staying in locally-owned hotels and B&Bs, and dining at restaurants that prioritise using locally sourced ingredients. Doing so will support the local economy and the city's move towards sustainability.
FAQ
What are the top attractions in Dundee?
The top attractions in Dundee include the V&A Dundee Museum, Discovery Point, Dundee Contemporary Arts, and the McManus Art Gallery and Museum.
What is the best area to stay in Dundee for nightlife?
The West End of Dundee is known for its trendy bars, live music venues, and nightlife, making it the best area to stay for those looking for a lively atmosphere.
What is the best way to get around Dundee?
The best way to get around Dundee is by public transportation, which includes a network of buses and trains that serve the city and the surrounding area. You can also rent a bike to explore the city on two wheels or walk to many of the city's top attractions.
When it comes to finding a boutique hotel in Dundee or planning your visit to the city, remember to prioritise what matters most to you, whether it's proximity to top attractions, sustainable practices, or a unique experience.
By doing your research, exploring the city's neighbourhoods, and being open to new experiences, you're sure to have a great visit to Dundee.
If you have questions or want to leave a hotel review, please do so in the comments.
—
Recommendations are independently chosen based on personal travel experiences and extensive research. This post contains affiliate links to hotels in Dundee, UK. This means I get a small commission from any bookings at no extra cost to you.