Recommendations are based on personal travel experiences and research. If you book through links on our site, we may earn a commission at no extra cost to you.
—
The Welsh capital is a surprisingly diverse and bustling city with many sights, attractions, shopping arcades and of course the wonderful Cardiff Castle. It's a great weekend or short break destination.
If you're planning where to stay on your visit, this guide to boutique hotels in Cardiff lists our recommendations and the best options.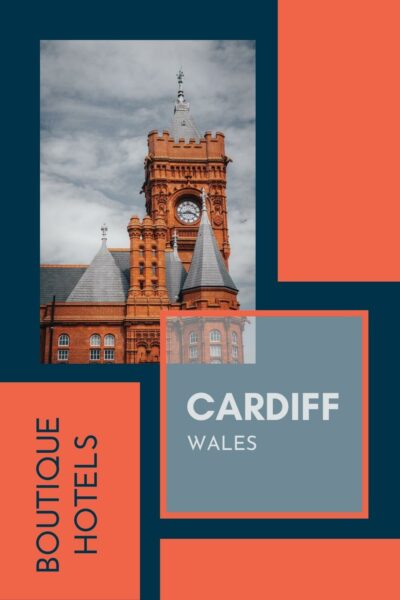 Boutique Hotels in Cardiff
Unfortunately, Cardiff is somewhat lacking in independent boutique hotels, design hotels, or even highly-rated luxury accommodations.
However, I have a couple of recommendations for hotels in the city centre and also a stylish hotel on Cardiff Bay, one of the more vibrant locations in the city.
These are great options if you're looking for a boutique or luxury stay.
Top Pick
Hotel Indigo
Address: Dominions Arcade, Cardiff, United Kingdom
The most highly rated boutique hotel in Cardiff is Hotel Indigo. The great location makes it perfect for a short stay, giving you the opportunity to walk to most of the city's main sights and attractions. The rooms are exceptionally clean, light and bright with hardwood floors and nice design features that include historic city photos as artwork.
Check Availability
Next Best
If you're looking for boutique hotels in Cardiff beyond the one already recommended, consider one option that offers unique design elements, personalized services, and a cosy ambience.
These hotels that are centrally located or in trendy neighbourhoods, with great services and amenities.
Voco St David's Cardiff
Address: Havannah Street, Cardiff Bay, Cardiff, Wales
If you're happy to stay in Cardiff Bay, we recommend Voco St David's on the waterfront, the coolest design hotel in Cardiff. Cardiff Bay has undergone a transformation in recent years and is now known as a popular arts and entertainment district. The hotel rooms are bright, minimalist and overlook the water. Most rooms have private balconies and views from the large windows and are stocked with luxury amenities. The breakfast is a highlight so don't miss it. The on-site restaurant promotes local Welsh cuisine and is popular with locals as well as visitors.
Jurys Inn Cardiff
Address: 1 Park Place, Cardiff
Another well-located boutique hotel is Jurys Inn. Located a few hundred metres from Cardiff Castle and St David's Hall, the hotel is also within walking distance of the iconic Cardiff Market and popular Morgan Quarter. The very clean rooms are spacious and the common areas are comfortable and stylish.
Holm House Hotel
Address: Marine Parade, Cardiff, Wales
Holm House is a great choice if you would prefer a more traditional-style luxury hotel in Cardiff, although the location won't suit everyone. Located in the town of Penarth, 8 kilometres south of the centre of Cardiff, Holm House is a historic Arts and Crafts mansion dating from the 1920s. A mix of high-tech amenities, eclectic decor and Jo Malone products make this one of the most luxurious stays in Cardiff. The hotel avoids single-use plastics, and there is an electric car charging station on-site.
Where to Stay in Cardiff
When it comes to choosing the best areas to stay in Cardiff, you have several options depending on your preferences.
City Centre – The city centre is the beating heart of Cardiff, offering a wide range of shops, restaurants, and entertainment options. It's home to some of the city's most iconic attractions, including Cardiff Castle, St David's Shopping Centre, and the Principality Stadium. The city centre is also a great starting point for exploring the rest of Cardiff, with excellent public transport links and easy access to the train station.
Cardiff Bay – The Bay area is located just a short walk from the city centre and offers a completely different atmosphere. It's a modern, vibrant area that is perfect for an evening out or a day of exploring. The area boasts a wide variety of restaurants, bars, cafes, and cultural venues, such as the Wales Millennium Centre and the Norwegian Church. Cardiff Bay is also home to the Doctor Who Experience, a must-visit for fans of the iconic TV show.
Pontcanna – Pontcanna is a charming residential area that is popular with locals and visitors alike. It's located just a short walk from the city centre and is known for its trendy cafes, independent boutiques, and green spaces. The area is perfect for a relaxing stroll or a picnic in one of its many parks. Pontcanna is also home to some of Cardiff's best restaurants, including the award-winning Bully's Restaurant.
Pontcanna is home to several independent boutiques that offer a unique shopping experience. Here are a few examples:
Annie & Lolo – A family-owned boutique that specializes in women's clothing and accessories. Annie & Lolo offers a carefully curated selection of high-quality pieces from independent designers and brands.
The Bone Yard – A quirky and eclectic boutique that offers a mix of vintage clothing, jewellery, and home decor. The Bone Yard is known for its funky and fun aesthetic and is a must-visit for those looking for unique and one-of-a-kind items.
Fabricators – A contemporary design store that offers a range of furniture, lighting, and home accessories. Fabricators focus on high-quality, innovative designs and feature pieces from established and emerging designers.
Nell's Closet – A boutique that specializes in pre-loved designer clothing and accessories. Nell's Closet offers a sustainable and affordable alternative to fast fashion and is perfect for those looking for high-end pieces at a fraction of the cost.
Wildflower – A lifestyle store that offers a range of products inspired by nature and the outdoors. Wildflower features a mix of home decor, clothing, and accessories that are perfect for those who love the natural world.
Cathays – Cathays is a lively, student-friendly area that is located just north of the city centre. It's home to Cardiff University and is a hub of activity during term time. The area boasts a wide variety of affordable dining options, quirky shops, and lively bars. It's also home to Bute Park, a beautiful green space that is perfect for a picnic or a walk. Cathays is a great choice for those looking for youthful energy and vibrant nightlife.
Cathays is known for its vibrant and youthful energy, and it's home to several quirky and independent shops and boutiques. Here are a few examples:
The Little Man Coffee Company – A quirky coffee shop that also doubles as a live music venue and art gallery. The Little Man Coffee Company serves up delicious coffee and baked goods while providing a unique and creative space for the community.
Cardiff Indoor Market – Located in the heart of Cathays, Cardiff Indoor Market is a bustling hub of activity that offers a range of stalls selling everything from fresh produce to vintage clothing. It's a great place to explore and discover unique finds.
Catapult Records – A record store that specializes in punk, metal, and indie music. Catapult Records offers a range of vinyl, CDs, and merchandise and is known for its knowledgeable and friendly staff.
The Pen and Paper – A stationery shop that offers a range of unique and quirky products, including pens, notebooks, and planners. The Pen and Paper is perfect for those who love writing, drawing, or just appreciating beautiful stationery.
The Blue Honey Night Cafe – A vintage shop that offers a range of clothing, accessories, and homewares. The Blue Honey Night Cafe is known for its retro and bohemian vibe and is a great place to find one-of-a-kind pieces that reflect your personal style.
Out of these areas, you would likely find the best boutique hotels in the city centre and the Bay area.
These areas are popular with tourists and offer a range of options for different budgets and preferences.
In the city centre, you can find chic hotels with elegant decor and excellent amenities, while in the Bay area, you may find more modern, design-focused hotels with stunning views of the waterfront.
Of course, there are also boutique hotels in Pontcanna and Cathays, but they may be fewer in number and more geared towards budget travellers or longer-term stays.
What to Expect
When staying at a boutique hotel in Cardiff, you can expect a unique and personalised experience that sets it apart from larger chain hotels.
Boutique hotels typically have a distinct style and design, with carefully curated decor and furnishings that create a cozy and welcoming atmosphere.
You might also find that the staff at boutique hotels are more attentive and able to offer a higher level of service, with a focus on creating a memorable stay for each guest.
Additionally, many boutique hotels offer on-site amenities such as restaurants, bars, and spas, making it easy to enjoy your stay without having to leave the property.
Overall, staying at a boutique hotel in Cardiff can offer a more intimate and personalised experience that is sure to enhance your visit to this beautiful city.
This guide is part of our series on boutique hotels in Wales.
If you're looking for things to do while in Cardiff, visit the city's official tourism site, Visit Cardiff for information on attractions and activities.
Final Thoughts
When looking for a boutique hotel in Cardiff, it's important to consider your budget, preferred location, and the type of experience you're looking for.
While the city centre and Cardiff Bay area are popular choices for boutique hotels, there are also options in other neighbourhoods such as Pontcanna and Cathays.
It's also a good idea to read reviews from previous guests to get a sense of the hotel's amenities, level of service, and overall vibe.
By taking the time to research your options and choose a hotel that aligns with your preferences, you can ensure a memorable and enjoyable stay in this vibrant and charming city.
—
Recommendations are independently chosen by our travel editors. This post contains affiliate links to hotels in Cardiff, UK. This means we get a small commission from any bookings at no extra cost to you.