Recommendations are based on personal travel experiences and research. If you book through links on our site, we may earn a commission at no extra cost to you.
—
The heart of Cambridge hums with centuries-old academia and the vibrancy of cutting-edge innovation. Amongst the spires, you'll find an intriguing blend of tradition and modernity, a place where history brushes shoulders with the future every day.
In this guide, I'll introduce you to a selection of the best boutique hotels in Cambridge, each with its own unique charm in varied locations.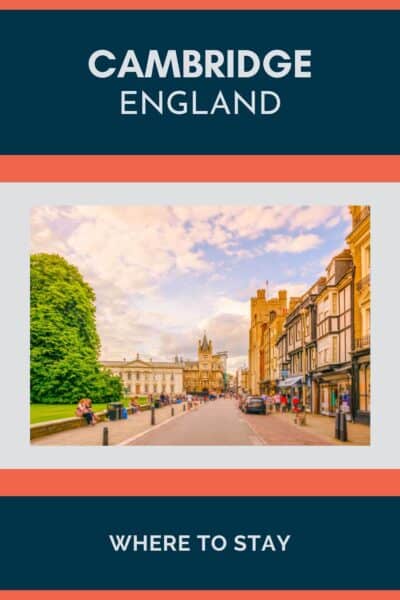 Boutique Hotels in Cambridge
Choosing a hotel means first deciding on the neighbourhood that suits your style and interests.
The city centre of Cambridge, often known as the Historic City Centre, is a hit with tourists, providing a window into the past with its venerable universities and architectural wonders.
On the other hand, Mill Road, nestled east of the centre, is a vibrant area filled with independent shops, diverse eateries and lively bars.
I'd recommend staying in the Historic City Centre for a blend of history and a vibrant local scene.
Top Pick
University Arms
Address: Regent Street, Cambridge
Location: Cambridge City Centre
The University Arms is a boutique hotel that places you at the heart of Cambridge's vibrant city centre. With beautifully appointed rooms offering unique views over Parker's Piece, historic Regent Street or the tranquil inner courtyard, your stay is bound to have a touch of charm. You'll appreciate the convenience of having the Museum of Archaeology and Anthropology just a stone's throw away, not to mention the joy of starting each day with a fresh breakfast – be it continental, buffet or à la carte. To top it all off, you can sip a cocktail at the chic Parker's Tavern bar and choose from a menu that caters to all dietary preferences, including vegetarian and vegan options.
Features:
Distinctive decor and design.
Stylish rooms with ample natural light.
Huge selection for breakfast.
Stunning lobby, lounge and bar areas.
Great location near Parker's Piece and Downing College.
Sustainability:
Energy-efficient lighting.
Measures in place for food waste reduction.
Vegetarian and vegan menus are available.
Local artists are offered a platform to display their talents.
Use of recycled and eco-friendly paper products.
Pros: Prime city centre location; views over Parker's Piece; diverse breakfast options; clean and comfortable rooms.
Cons: Can be busy during peak times.
Check Availability
While the University Arms is my top recommendation for your stay in Cambridge, having a few other options on your list is always great.
I've handpicked several other boutique hotels, each with its charm, distinct style and commitment to eco-friendliness.
Next Best
Turing Locke
Address: 47 Eddington Avenue, Cambridge, United Kingdom
Location: Eddington
Stepping into this apartment hotel, you're welcomed by a blend of comfort, design, and thoughtful amenities. It was recently renovated to accommodate families and guests with limited mobility and features an on-site coffee shop and a convenient bicycle rental service. Located in a neighbourhood with charming independent eateries and shops and only a 30-minute walk from the city centre, it's a great location to explore Cambridge. This hotel is excellent value for money.
Unique Hotel in Cambridge
You might find a unique boutique hotel to be a refreshing departure from traditional accommodation. These places often showcase a unique character, steeped in local culture or reflecting an imaginative theme.
It's this distinctiveness that can make your stay more interesting, injecting a little fun into your travel experience. If this is of interest, you might like this next Cambridge hotel.
Graduate Cambridge
Address: Granta Place Mill Lane, Cambridge, United Kingdom
Location: Cambridge City Centre
Imagine yourself nestled in the heart of Cambridge, enjoying the comfort and uniqueness of Graduate Cambridge. This chic unique boutique hotel stands out with its lively shared spaces, an inviting garden and rooms with stunning views over the canal. Start your day with an a la carte English or Irish breakfast before stepping out to explore nearby attractions such as the University of Cambridge, St Catharine's College and the Museum of Archaeology and Anthropology. After a day of cycling or sightseeing, retreat to your gorgeous, comfortable room or unwind with a drink at the friendly bar or riverside terrace. Beyond its aesthetics and service, Graduate Cambridge shows a commitment to the environment with energy-efficient lighting and efforts to reduce food wastage. An easy walk into town and a comfortable stay in a beautiful setting make this hotel a top choice for your Cambridge visit.
The Fellows House
Address: 33a Milton Road, Cambridge, England
Location: Cambridge City Centre
The Fellows House Cambridge is a unique boutique hotel where comfort and character intertwine. Located near the University of Cambridge, it's a place where your day begins with a fresh breakfast, choosing from a hearty buffet to an a la carte or continental spread. Savour the flavours of British and local cuisine at the hotel's restaurant, with vegetarian, vegan and dairy-free options readily available. Amid the hotel's features, the sun terrace stands out as a perfect spot for relaxation, while the inviting common spaces add to the hotel's boutique charm.
Eco-Friendly Hotel
When seeking an eco-friendly hotel, you're not just booking a room but making a positive choice for the environment.
Look for hotels that showcase sustainable practices, like waste reduction initiatives, the use of renewable energy, and local and organic food sourcing.
Staying in such a hotel reduces your travel footprint and supports a business that is making efforts towards a greener future.
Hyatt Centric Cambridge
Address: 37 Eddington Avenue, Cambridge
Location: Eddington
This hotel's commitment to the environment is evident in its practices. Much of the food provided is locally sourced, supporting the local economy and reducing carbon emissions associated with food transportation. The use of energy-efficient lighting and 100% renewable electricity throughout the property greatly reduces its energy footprint. Efforts to minimise food waste, motion-controlled electricity and a key card system contribute to resource conservation. Add an electric car charging station to the mix, and it's clear that this hotel walks the talk on sustainability. Light, comfortable rooms, an excellent location, and a warm, friendly staff only add to the charm of this sustainable hotel in the heart of Cambridge.
Luxury Boutique Hotel
These hotels are all about the fine details, from tastefully appointed interiors to personalised services tailored just for you.
Here, luxury isn't just about lavishness; it's about creating an experience that caters to your unique preferences and comfort.
Staying in a luxury boutique hotel adds a touch of sophistication and exclusivity to your travels.
Hotel du Vin & Bistro
Address: Trumpington Street, Cambridge
Location: Central Cambridge
Hotel du Vin & Bistro is a luxury boutique hotel located in a historic Grade II Listed building. You'll find yourself just a 5-minute walk from the vibrant Cambridge city centre. The hotel's rooms are not just for sleeping; they're luxurious retreats adorned with tasteful decor that reflects the charm of the property. The French bistro is at the heart of the hotel, where you can indulge in a modern menu of European cuisine prepared in an open-plan kitchen. The hotel's bar, set in cosy cellar rooms, invites you to unwind with a range of fine wines, champagne and cocktails. You'll appreciate the attention to detail, from the beautifully decorated rooms to the lovely bathroom stocked with L'Occitane products. The staff are efficient, friendly, and always ready to enhance your stay. The hotel's Level 3+ Green Tourism certification means your luxury stay is working towards sustainable practices.
Where to Stay in Cambridge
Cambridge, a city steeped in history and brimming with culture, has an array of enticing areas for you to call home during your visit. Each neighbourhood has its unique charm, making the question of where to stay in Cambridge an exciting part of your travel planning.
Cambridge City Centre is the heart of the action, with its cobblestone streets, historic buildings and close proximity to the University of Cambridge. This bustling area is home to several boutique hotels, where you can step out of your door right into the lively cafe culture, independent bookstores and world-renowned museums.
Just to the east of the city centre, Petersfield is an attractive neighbourhood known for its vibrant Mill Road, lined with independent shops, cafes and restaurants. It's a place where local culture thrives, with an eclectic mix of cuisines and a lively, friendly vibe.
Venture a little further out, and you'll find Chesterton, a charming area with a village feel. This neighbourhood is a green oasis, with several parks and open spaces, not to mention a lovely walk along the Cam River. Chesterton has an emerging nightlife scene with trendy bars and music venues, perfect for those seeking a quieter location that still offers plenty of entertainment.
Newnham is ideal for those seeking tranquillity without straying far from the city centre. This leafy neighbourhood has beautiful gardens, green spaces and easy access to the idyllic Grantchester Meadows. With its inviting atmosphere, Newnham offers a peaceful retreat from the city's hustle and bustle.
Explore the diversity of the region with my guide, which takes you on a curated tour of the best places to visit in UK.
For a deeper dive into Cambridge's rich offerings, Visit Cambridge is an excellent resource, with details on sightseeing, events, and unique things to do that will enrich your stay in this historic city.
Responsible Travel Tips
Many of us are increasingly concerned about climate change and sustainability. Here are a few ideas on how we can travel more responsibly in Cambridge.
Renewable Energy: Opt for accommodations prioritising renewable energy, such as solar panels or wind power. Cambridge is home to several eco-friendly hotels that put sustainability at the forefront.
Minimise Food Waste: Be mindful of portion sizes when dining out at Cambridge's eateries, and don't hesitate to ask for leftovers to be packed up. Consider visiting the city's markets, where vendors often reduce prices at the end of the day to avoid food waste.
Sustainable Diets: Cambridge is a haven for foodies with a conscience. The city has numerous vegetarian and vegan restaurants and eateries that source ingredients locally, thereby reducing carbon emissions from transportation.
Sustainable Transport: Cambridge is a compact city that is perfect for walking or cycling. Rent a bike or join a walking tour to explore the city's charming streets and scenic routes. Public transport is also green, with an excellent bus service linking the city centre and surrounding neighbourhoods.
Avoid Flying: If possible, consider other modes of transport to reach Cambridge. The city is well-served by rail connections, making it easily accessible from other parts of the UK without the need for air travel.
Support the Local Community: Shopping at local independent stores, visiting local museums and galleries, or dining at locally-owned restaurants immerses you in the local culture and directly benefits the Cambridge community. Take time to discover the city's unique neighbourhoods, each bursting with local charm and character.
FAQ
What is the best area to stay in Cambridge?
The best area for you depends on your interests. The Cambridge City Centre is great for first-time visitors, offering close proximity to major sights, shops and restaurants. However, Mill Road and the area around the Cambridge Railway Station is a vibrant neighbourhood known for its independent stores and cool bars.
What makes a boutique hotel unique in Cambridge?
Boutique hotels in Cambridge often have a distinct character with personalised services, unique decor inspired by local culture and history and a more intimate experience compared to larger hotel chains. They can often be found in beautifully renovated historic buildings, adding to their unique charm.
What are the top boutique hotels in Cambridge?
Some top picks include the University Arms, known for its historic charm and central location, the Turing Locke for its modern design and apartment-like amenities and the Graduate Cambridge for its beautiful river views and stylish rooms.
How can I get around Cambridge?
Cambridge is a compact city, perfect for exploring on foot or by bicycle. There are plenty of cycle hire services available. Public buses are also a great way to get around, particularly for reaching areas further out from the city centre.
Final Thoughts
As you plan your visit to Cambridge, remember that choosing the right hotel helps to shape your experience.
Each boutique hotel mentioned provides a distinct flavour of the city with its unique style and attention to detail.
In this guide, I've aimed to provide you with a selection of the finest boutique hotels Cambridge has to offer to enhance your experience in the city's unique atmosphere.
If you have questions or want to leave a hotel review, please do so in the comments.
—
Recommendations are independently chosen based on personal travel experiences and extensive research. This post contains affiliate links to hotels in Cambridge, UK. This means I get a small commission from any bookings at no extra cost to you.