Recommendations are based on personal travel experiences and research. If you book through links on our site, we may earn a commission at no extra cost to you.
—
Scotland's third-largest city has undergone rapid change in recent years and deserves its growing reputation as a great city break destination.
Aberdeen is a compact, walkable city famous for its granite architecture and, increasingly, for its beautiful green open spaces. A mix of historic and modern enticing districts will keep you entertained as you explore the city.
This guide focuses on where to stay and the best boutique hotels in Aberdeen and greater Aberdeenshire.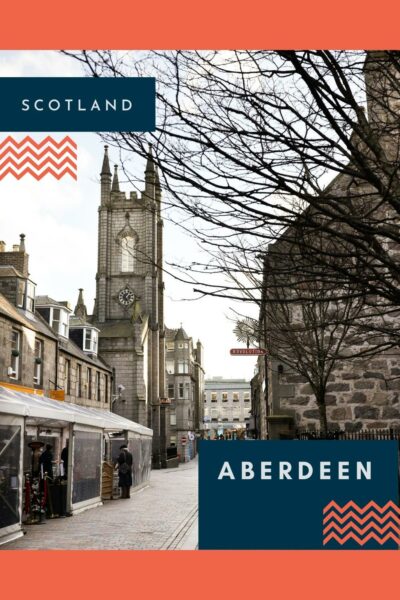 Best Boutique Hotels in Aberdeen
Many visitors to Aberdeen prefer to stay in the historic Old Aberdeen district of the city. This is a wonderful area of the city, known for its cobblestone streets and stunning granite architecture.
Alternatively, if you are interested in the dynamic foodie scene, you might prefer to stay in the heart of the city, where you'll find excellent pubs, cafes and restaurants that serve local specialties and innovative cuisine.
Top Pick
Malmaison Aberdeen
Address: 49-53 Queens Road, Aberdeen, Scotland, United Kingdom
The Malmaison is widely accepted as the best boutique hotel in Aberdeen thanks to its stylish interiors, quality finishes, excellent brasserie and quality service. Reviews of the hotel are excellent with the comfortable beds, made-to-order breakfast and attentive service being amongst the highlights. The decor in both the rooms and common areas is warm, plush and unique. The original historic facade of the building is beautiful.
Features:
Popular brasserie with highly-rated food.
Wine tasting cellar.
Small gym.
Free parking.
Pros: The rooms are extremely comfortable and the lounge areas are cosy. The Malmaison is ideal for a romantic break.
Cons: The hotel is located 2-3 km from Aberdeen city centre which may not be your preferred location.
Check Availability
Cool and Quirky Hotel
In a cool and unique boutique hotel, you can anticipate a personalised and memorable experience that sets it apart from larger establishments. My next Aberdeen hotel recommendation is appealing for its distinct character, intimate atmosphere and attention to detail.
BrewDog Kennels
Address: 5-9 Union Street, Aberdeen, Scotland
At the BrewDog Kennels, you'll surely be impressed by the exceptional cleanliness and well-equipped rooms, offering ample space for a comfortable stay. This boutique hotel has a prime location in Aberdeen's city centre, and despite being situated above a pub, you'll find a quiet atmosphere on a Sunday evening. The lovely, helpful staff, quirky yet tasteful decor, and pet-friendly environment make it even more inviting. Enjoy a beer in the shower, a coffee machine, a cosy bed, and a complimentary welcome drink at the bar. The cool decor, spacious suites with separate living and sleeping areas, and thoughtful touches like a tuned guitar in the room all contribute to an unforgettable experience at the BrewDog Kennels.
Eco-Friendly Hotel
At a sustainable or eco-friendly hotel in Aberdeen, you can expect environmentally conscious practices and a commitment to reducing the property's carbon footprint. The following hotel is a great choice if you'd like to lower your impact on this trip.
Sandman Signature Aberdeen Hotel
Address: St. Andrew Street, Aberdeen, UK
I highly recommend staying at the Sandman Signature for its excellent location, facilities, value for money, and sustainability initiatives. The Sandman is the most sustainable hotel in Aberdeen due to its water and energy efficiency measures, the elimination of single-use plastic, a focus on local community support and investment, as well as the use of locally sourced organic food. The guest rooms are spacious, clean, and bright, and some have kitchen facilities. The common areas include a lounge, gym and a luxury spa.
Budget Boutique Hotel
Without breaking the bank, you can expect a unique and stylish experience at a budget boutique hotel. You might like my next recommendation for offering an affordable yet charming stay that combines personalised service and creative design elements, ensuring a memorable visit.
Aloft Aberdeen
Address: Gough Burn Crescent, Aberdeen, United Kingdom
At the Aloft Aberdeen, you'll find exceptional value for money in a stylish budget boutique hotel that doesn't compromise on quality. Enjoy amazing rooms with air-conditioning, block-out blinds, extremely comfortable beds, and fluffy pillows. Take advantage of the free laundry room and relax in a comfy, clean space. The inviting bar area and satisfying breakfast make for a pleasant start to your day. With its new, stylish, and spotless design, the hotel offers a funky vibe and clever use of space in the rooms.
Next Best
It's difficult to recommend hotels that are better than the Malmaison, Sandman or BrewDog, as these are the best boutique hotels in Aberdeen. While the following hotels aren't quite on the same level, they are nice alternative places to stay if the top hotels aren't suitable.
Residence Inn
Address: Guestrow, Aberdeen, Scotland
The Residence Inn is owned by the Marriott hotel group, so this isn't an independent boutique hotel, but it's a very nice, highly-rated hotel located in the very heart of Aberdeen. The hotel is within walking distance of many of Aberdeen's popular sights and attractions, including Provost Skene's House, the Footdee (Fittie) fishing district, the Music Hall and St Mary's Cathedral. Further away is Old Aberdeen and the historic St Machar's Cathedral.
Affordable Hotel
My next suggestion features a reasonably priced boutique hotel in Aberdeen's heart. This simple accommodation option combines affordability with a prime central location, offering easy access to the city's main attractions while ensuring a unique and charming stay.
The City Rooms Aberdeen
Address: 37-39 Netherkirkgate, Aberdeen
An alternative to the boutique hotels mentioned above is the City Rooms. This affordable hotel is close to Union Street and Bon Accord shopping. Nearby sights include the Beach Ballroom, Marischal College and Aberdeen Art Gallery. The rooms are basic but modern and clean. Note the absence of a 24-hour reception here. I'm only suggesting this hotel as Aberdeen's best hotels tend to book out early, and this is the next best option.
Where to Stay in Aberdeen
When considering where to stay in Aberdeen for a boutique hotel experience, keep these vibrant neighbourhoods in mind:
City Centre: The heart of Aberdeen offers easy access to shops, galleries, museums, and a variety of dining options. Staying here puts you in close proximity to many attractions and landmarks, making it a convenient choice for first-time visitors.
West End: Known for its cafe culture, independent stores, and lovely green spaces, this charming area provides a perfect mix of urban amenities and tranquillity. You'll appreciate the calm atmosphere while still being close to the city centre.
Rosemount: A bustling neighbourhood with a thriving local arts scene, Rosemount is home to unique galleries and creative spaces. In addition to the cultural attractions, you'll find an array of independent shops and delightful cafes.
Old Aberdeen: Steeped in history and architectural beauty, Old Aberdeen is a picturesque area to stay in. With a mix of historical landmarks, museums, and green spaces, this neighbourhood offers a serene environment for a relaxing stay.
Castlegate: Situated at the eastern end of Union Street. It's a historic part of the city, featuring notable landmarks like the Mercat Cross and the Salvation Army Citadel. This area is also home to a variety of restaurants, bars, and shops, making it an attractive location for visitors seeking a unique and culturally rich experience in Aberdeen. Castlegate can be a great option for those looking to stay in a central area with a blend of historic charm and modern amenities.
Ferryhill: This residential area is known for its lovely green spaces, friendly atmosphere, and local charm. It's a great option for those looking to experience a more laid-back side of Aberdeen while still being within easy reach of the city centre.
Belmont Street: If you're looking for a lively nightlife scene, Belmont Street is the place to be. With cool bars, clubs, and live music venues, this vibrant area offers plenty of entertainment options after a day of sightseeing.
By staying in one of these neighbourhoods, you'll be well-positioned to enjoy the best of Aberdeen's culture, history, and natural beauty.
If you would like more information on visiting Aberdeen including things to do, sights, attractions and restaurants, Visit Aberdeenshire has plenty of useful information.
Responsible Travel Tips
To travel more responsibly in Aberdeen and reduce your environmental impact, consider these sustainable practices:
Use public transportation: Aberdeen's public transport system includes buses and trains that can help you get around the city efficiently while reducing your carbon footprint. Opt for these modes of transportation instead of renting a car or using taxis.
Cycle or walk: Exploring Aberdeen on foot or by bike is an eco-friendly way to experience the city. Enjoy the sights while minimizing your impact on the environment.
Support local businesses: When shopping or dining out, choose independent businesses that contribute to the city's economy and community. Visit the Aberdeen Farmers' Market to buy fresh, locally sourced produce and artisanal goods.
Choose sustainable hotels: If you're staying in hotel accommodation, try to find a property powered by renewable energy sources, such as wind or solar power.
Minimise food waste: Be mindful of portion sizes and avoid over-ordering at restaurants. If you have leftovers, ask for a takeaway container to enjoy your meal later.
Opt for sustainable diets: Choose plant-based or locally sourced meals to reduce your carbon footprint. Aberdeen has several vegetarian and vegan-friendly restaurants that offer delicious and sustainable options.
Avoid flying: If possible, choose alternative modes of transportation, such as trains or buses, when travelling to or from Aberdeen. This will help reduce your carbon emissions from air travel.
Engage in sustainable activities: Visit local parks and green spaces, such as Duthie Park or Seaton Park, to enjoy the outdoors responsibly. When exploring the natural beauty of Aberdeen, always follow the "leave no trace" principle.
By incorporating these practices into your visit, you can experience Aberdeen more sustainably and environmentally consciously.
Final Thoughts
When searching for the perfect boutique hotel in Aberdeen, consider your preferences in terms of location, atmosphere, and amenities.
Keep an eye out for accommodations that offer unique design elements and personalised service to enhance your stay. Take time to explore the different neighbourhoods, as each offers its own distinct charm and attractions.
During your visit, remember to embrace sustainable practices and support the local community to make your trip more environmentally friendly and enriching.
By immersing yourself in Aberdeen's rich history, culture, and natural beauty, you'll create lasting memories and have a great experience.
If you have questions or want to leave a hotel review, please do so in the comments.
—
Recommendations are independently chosen by our travel editors. This post contains affiliate links to hotels in Aberdeen, UK. This means we get a small commission from any bookings at no extra cost to you.