Recommendations are based on personal travel experiences and research. If you book through links on our site, we may earn a commission at no extra cost to you.
—
Step into the charming city of Zurich, where the picturesque blend of historical architecture meets modern innovation, creating a unique European atmosphere.
In this guide, I'll take you through the best boutique hotels in Zurich, ensuring a comfortable and stylish stay in the heart of this incredible city.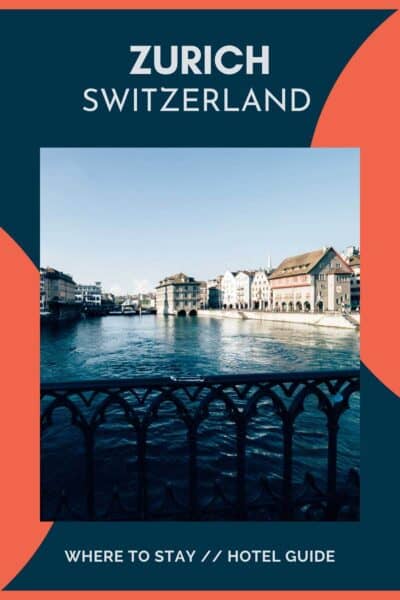 Zurich Boutique Hotels
When searching for a hotel in Zurich, the first step is to consider the area you'd like to stay in, and there are plenty of interesting areas outside of the historic Old Town.
The vibrant district of Niederdorf provides an interesting taste of Zurich's cafe culture, independent stores and historic charm, while the trendy Zurich West district is brimming with galleries, museums and a lively nightlife scene.
As you walk through these diverse neighbourhoods, you'll quickly discover what makes them so popular among visitors.
But if this is your first time in Zurich, I recommend staying in the Old Town, as it perfectly captures the essence of Zurich and places you right in the heart of the city's most picturesque streets.
Top Pick
Sorell Hotel St Peter
Address: In Gassen 10, City Centre, Zurich, Switzerland
Location: Zurich Old Town
At the Sorell Hotel St Peter, you'll find yourself directly in the heart of the historic Old Town, enjoying a cosy and serene location. This super-clean, modern and stylish hotel has excellent breakfasts and a friendly, welcoming staff eager to assist you. Nestled in a quiet area, it's just a stone's throw away from shops, restaurants and public transport, making it an ideal base for exploring the wonders of Zurich.
Features:
Unique decor and design.
Comfortable rooms with large beds and tea and coffee facilities.
Huge breakfast selection.
Stunning lobby, lounge and bar areas.
Great location near Fraumünster Church with its stained glass by Marc Chagall.
Sustainability:
Sorell Hotel St Peter uses 100% renewable electricity.
Energy conservation measures in place.
Most food is locally-sourced.
Vegetarian and vegan menu options offered.
Pros: Central location; modern design; friendly staff; outstanding breakfast; close to main sights and restaurants.
Cons: Limited parking.
Check Availability
Although I think the top pick mentioned above is a fantastic choice, I also wanted to recommend a couple of other boutique hotels that might appeal to you for various reasons.
These hotels stand out for their distinct locations, unique styles and eco-friendliness, providing alternative options to suit your individual preferences and needs.
Next Best
Boutique Hotel Seidenhof
Address: Sihlstrasse 9, City Centre, Zurich, Switzerland
Location: Zurich Old Town
At the Boutique Hotel Seidenhof, you'll find an inviting atmosphere that combines a bar, garden and picturesque city views. Located just steps from Bahnhofstrasse, this exceptionally clean hotel provides comfortable and cosy rooms that are well-equipped with modern facilities. The Seidenhof's prime location makes it an ideal choice for a city break, and its recent renovation has resulted in beautiful rooms and top-notch service. Don't forget to start your day with their terrific breakfast, ensuring a great beginning to your Zurich adventures.
Marktgasse Hotel
Address: Marktgasse 17, City Centre, Zurich, Switzerland
Location: Niederdorf
Discover the charm of the Marktgasse Hotel, nestled in Zurich's Old Town (on the opposite side of the Limmat river), just a short walk from iconic landmarks such as the Grossmünster and Lake Zurich. Indulge in a delicious buffet breakfast at the La Pinseria Restaurant and savour dinner at the renowned IGNIV Restaurant. The hotel's prime location places you mere steps from numerous shops, bars and cultural attractions, including Kunsthaus Zurich and the Bahnhofstrasse Shopping Street. With its quiet ambience, awesome design and well-equipped, comfortable rooms, the Marktgasse Hotel offers a great experience.
Cool and Unique Hotel
When seeking a cool, unique boutique hotel, focus on the elements that set it apart from conventional accommodations.
Consider the hotel's character, distinctive design, and the unique experiences it provides.
Staying in this kind of hotel can elevate your travel experience, adding an extra layer of excitement and discovery to your trip.
25hours Hotel Langstrasse
Address: Langstrasse 150, Aussersihl Zurich, Switzerland
Location: Aussersihl
Experience the distinctive flair of the 25hours Hotel Langstrasse, conveniently located just 1 km from the Swiss National Museum and 1.2 km from Bahnhofstrasse. You'll find well-decorated, comfortable rooms and the hotel is moving towards a strong commitment to environmental sustainability. Enjoy the stunning views and the complimentary mini-bar top-ups during your stay. The extended breakfast duration is perfect for those days when you prefer to sleep in, ensuring you can still savour a leisurely morning meal to fuel your Zurich adventures. This is one of the coolest hotels in Zurich.
Ruby Mimi Hotel Zurich
Address: Beatenplatz 4, City Centre, Zurich, Switzerland
Location: Zurich Old Town
Stay at the Ruby Mimi Hotel Zurich's a cool boutique hotel near Zurich Train Station. This hotel's superb location places you near popular attractions such as ETH Zurich, Kunsthaus Zurich and Bahnhofstrasse. Convenience abounds with a nearby supermarket and a variety of eclectic shops in the old part of the city. Enjoy a spotlessly clean room and experience the brilliant staff, who are always helpful and attentive, ensuring your stay at the Ruby Mimi Hotel Zurich is nothing short of exceptional. This is the best value small boutique hotel in the area.
Luxury Boutique Hotel
When searching for a luxury boutique hotel, pay attention to the finer details that elevate your stay to a truly indulgent experience.
These hotels often pride themselves on their personalised service, exquisite design and luxurious atmosphere.
Choosing a luxury boutique hotel can transform your travels into a more intimate and lavish adventure, where every moment is an opportunity to enjoy unparalleled comfort.
Widder Hotel
Address: Rennweg 7, City Centre, Zürich, Switzerland
Location: Zurich Old Town
Widder Hotel is peaceful within the city's Old Town, just 200 meters from the Bahnhofstrasse shopping street. This 5-star hotel comprises nine adjacent, beautifully renovated historic buildings adorned with artwork by renowned artists and iconic furniture pieces from design legends like Mies van der Rohe, Frank Lloyd Wright and Le Corbusier. Each spacious, luxuriously furnished room is individually decorated and features complimentary soft drinks, a state-of-the-art B&O entertainment system and an elegant bathroom. Savour gourmet Swiss and international cuisine at the Widder Restaurant, awarded 15 points by the Gault Millau guide, or enjoy traditional Swiss dishes at the Zur Schtund restaurant. You can even dine al fresco in the charming courtyard in summer.
Hotel Ambassador Zurich
Address: Falkenstrasse 6, Zurich, Switzerland
Location: Seefeld (near Lake Zurich)
Experience the refined elegance of the Hotel Ambassador Zurich, perfectly situated next to the city's opera house and Lake Zurich, placing you right in the heart of the city. Take advantage of the hotel's proximity to the famous Bahnhofstrasse, just a 10-minute walk away. After a night at the theatre, unwind with a nightcap at the intimate hotel bar before retiring to your beautifully furnished, spacious room. Indulge in the culinary delights of the Restaurant Opera, which serves seasonal dishes crafted from locally sourced ingredients. Following a recent renovation, the hotel exudes an air of sophistication, ensuring a comfortable and luxurious stay.
Eco-Friendly Hotel
As you search for a sustainable or eco-friendly hotel, keep an eye out for properties that prioritise environmental stewardship and incorporate green practices into their operations.
These hotels often focus on energy efficiency, waste reduction and supporting Zurich's local community.
By choosing to stay at an eco-friendly hotel, you contribute to a more sustainable travel experience, minimising your environmental footprint and promoting responsible tourism that benefits both the planet and the places you visit.
Hotel Felix
Address: Zähringerstrasse 25, City Centre, Zurich, Switzerland
Location: District 1 – Zurich Old Town
Embrace the sustainable ethos of the Hotel Felix, an eco-friendly hotel near Kunsthaus Zurich. Enjoy a refreshing breeze and a stunning view of the city from your lovely room through an open window. The hotel's prime location ensures an easy walk to the train station, sights and places to eat out. Committed to environmental responsibility, Hotel Felix uses 100% renewable electricity and has implemented energy conservation measures. The property also focuses on reducing food waste and supports the local community by sourcing the majority of its food from nearby suppliers.
B2 Hotel Zürich
Address: Brandschenkenstrasse 152, Zurich, Switzerland
Location: Enge
Experience the eco-conscious charm of the B2 Hotel Zürich, an environmentally friendly hotel located in the Enge district close to Zurich's centre. Housed in a former brewery, the hotel features stylish, air-conditioned rooms, and for an additional charge, you can indulge in the public thermal bath and spa, complete with swimming pools, a wellness area and a steam room. The hotel uses 100% renewable electricity throughout the property while making efforts to reduce food wastage. Catering to sustainable transport, they provide an electric car charging station on-site. Savour a range of vegetarian menu options and know that most food served at the property is locally sourced, helping to support local food security. The B2 Hotel Zürich also has a private library with 33,000 books, and you can enjoy Swiss cheese coupled with a wide selection of wines at the hotel's lounge.
Where to Stay in Zurich
When planning your trip and deciding where to stay in Zurich, consider the diverse neighbourhoods that cater to different tastes and preferences.
Zurich Old Town is steeped in history and offers an interesting mix of historic and modern architecture. Walking through its picturesque streets, you'll discover hidden gems, beautiful churches and an array of dining options.
For those who prioritise convenience, the area near Zurich Train Station provides easy access to public transportation and the city's main attractions. This bustling neighbourhood is home to various hotels, shops and restaurants, making it a practical option for travellers.
Niederdorf is an excellent choice for visitors who appreciate a charming, historic atmosphere with narrow, cobblestone streets filled with cafes, independent stores and galleries.
Seefeld is a perfect pick for those who prioritise green spaces and a more laid-back vibe. This district offers beautiful parks, lakeside promenades, and trendy bars and restaurants. This is the area on the shores of Lake Zurich.
Art enthusiasts should explore Zurich West, a former industrial area transformed into a thriving cultural hub with cutting-edge galleries, museums and an energetic nightlife scene. This is a fun area to stay in.
Lastly, Enge is another area worth considering, as it has a central location with easy access to the city's highlights, including Bahnhofstrasse, the lake promenade, and top-notch shopping and dining options. It's a quieter area just outside of the city centre and Old Town but still within walking distance to everything.
By evaluating the unique offerings of each neighbourhood, you'll be better equipped to choose the best area to stay in Zurich for your boutique hotel experience.
Discover the best places to visit in Switzerland with my latest guide to the country. Use this to generate ideas and help plan an itinerary for your trip.
For further information about visiting Zurich, the tourist office provides valuable insights, especially regarding things to do, sightseeing and upcoming events. By consulting their resources, you can ensure a well-rounded and engaging experience during your stay in Switzerland.
Responsible Travel Tips
Many of us are increasingly concerned about climate change and sustainability. Here are a few ideas on how we can travel more responsibly in Zurich.
Renewable energy: Look for hotels and services in Zurich that prioritise eco-friendly practices and renewable energy sources. Zurich is investing in a greener future, and your support will contribute to these efforts.
Minimising food waste: Be mindful of portion sizes and avoid over-ordering at restaurants. Many Zurich eateries are committed to reducing food waste, and you can contribute to this by eating responsibly. I know it can be tempting to order a lot when in a new country to try different things but think about how you can be responsible about food waste while still enjoying eating out.
Sustainable diets: Opt for locally sourced ingredients and vegetarian or vegan options when dining out. Zurich has a variety of eco-conscious restaurants that focus on sustainable cuisine.
Sustainable transport: Use Zurich's efficient public transportation system, including trams, buses and trains, to explore the city and its surrounds. Alternatively, rent a bike or walk to reduce your carbon footprint while discovering hidden corners of the city.
Avoid flying: Consider alternative methods of travel to and from Zurich, such as trains or buses, to minimise your carbon emissions. The region is well-connected to other European destinations via rail and road networks. The train is an affordable, convenient and efficient way to travel in Central Europe.
Supporting the local community: Choose to shop at local businesses, attend cultural events and engage with Zurich's residents to contribute to the local economy and gain a deeper understanding of the city's unique culture.
FAQ
What are the best areas to stay in Zurich for a visitor?
The Old Town, Niederdorf and Seefeld are both popular neighbourhoods for tourists. Niederdorf is known for its historic charm, while Seefeld offers a more modern atmosphere with lakeside views.

How can I find a cool or unique boutique hotel in Zurich?
Look for hotels that emphasise design, personalised service and a distinctive atmosphere. These boutique hotels often provide a more intimate and memorable experience compared to larger chain hotels.
What is the best way to get around Zurich during my visit?
Zurich has an excellent public transportation system, including trams, buses, and trains. Renting a bike or walking are also great ways to explore the city while reducing your carbon footprint.

Summary
In conclusion, finding the perfect Zurich boutique hotel is all about considering your personal preferences, from location to style and atmosphere.
By staying in one of the city's vibrant neighbourhoods, you'll be able to experience som of the local culture and easily access top attractions.
Whatever your choice, Zurich promises an amazing experience, blending historic charm with modern amenities, ensuring that your visit is both enjoyable and comfortable.
If you have questions or want to leave a hotel review, please do so in the comments.
—
Recommendations are independently chosen based on personal travel experiences and extensive research. This post contains affiliate links to hotels in Zurich, Switzerland. This means I get a small commission from any bookings at no extra cost to you.