Recommendations are based on personal travel experiences and research. If you book through links on our site, we may earn a commission at no extra cost to you.
—
Discover the unique charm of Geneva, a city that harmoniously combines history, culture and breathtaking natural beauty.
Nestled between the majestic Alps and the tranquil shores of Lake Geneva, this Swiss city caters to discerning travellers and outdoor enthusiasts alike.
In this guide, I'll take you through the best boutique hotels in Geneva, ensuring a stylish and comfortable stay in this stunning destination.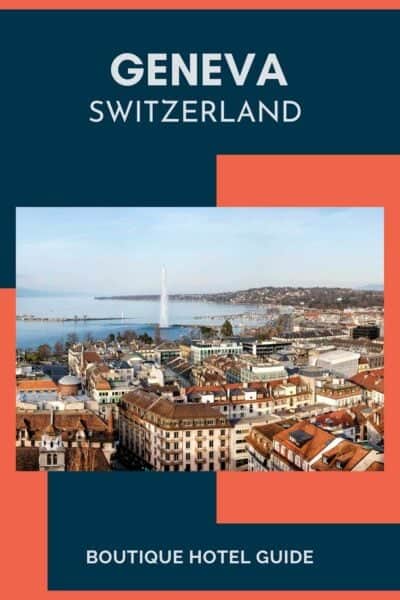 Boutique Hotels in Geneva
The first step when looking for a hotel in Geneva is to consider which area you'd like to stay in.
Eaux-Vives and Carouge are two of the most popular districts for tourists, each with its unique appeal.
In Eaux-Vives, you'll find a vibrant cafe culture, lush green spaces and an array of chic bars that come to life after sundown.
On the other hand, Carouge charms visitors with its bohemian vibe, independent stores and thriving art scene, including galleries and museums.
For a truly immersive experience, I recommend staying in Eaux-Vives, where you can truly appreciate the city's lively atmosphere.
Or of course, you could stay in the historic centre, the beautiful Geneva Old Town.
Top Pick
Ruby Claire Hotel Geneva
Address: Rue du Rhône 46, Geneva, Switzerland
Location: Old Town Geneva
At the Ruby Claire Hotel Geneva, you'll love its central location, just a stone's throw from the tranquil shores of Lake Geneva. Step into the bar, where the carefully curated design incorporates neutral tones, colourful elements from far-flung lands, cool marble and vintage furniture, all enhanced by an eclectic assortment of traditional lamps and lanterns. Treat yourself to the bar menu's diverse selection, featuring a tantalising mix of classic cocktails, signature originals, local beverages and delicious snacks.
Features:
Cool and unique design.
Stylish rooms with loads of natural light.
Huge breakfast selection.
Cool artwork by local artists.
Great location near St Pierre Cathedral and Place du Rhône.
Excellent value for money.
Sustainability:
Energy-efficient lighting and heating.
Most food is organic and locally sourced.
Recycled and eco-friendly paper products are used.
The hotel avoids single-use plastic.
Pros: Prime location near Lake Geneva, exquisite global-inspired design, diverse bar menu, cosy atmosphere.
Cons: Limited on-site parking.
Check Availability
While I believe the top pick mentioned above is an excellent choice for your stay in Geneva, it's important to consider other options.
In the following section, I'll recommend a couple of alternative boutique hotels that stand out for their distinctive locations, uniqueness, style, or eco-friendliness, catering to a variety of tastes and preferences.
Next Best
N'vY Manotel
Address: 18, rue Richemont, Paquis, Geneva, Switzerland
Location: Les Paquis
Staying at the 4-star superior Hotel N'vY Manotel, you'll enjoy the convenience of being a short walk away from Geneva's main train station and international organisations, making it an ideal choice for meetings, seminars, or banquets. Immerse yourself in the N'vY Bar's captivating atmosphere, featuring a Californian-inspired decor with colourful poufs and contemporary artworks that create a delightful ambience. Indulge in the extensive breakfast buffet at Tag's restaurant, which offers a wide array of pastries, cereals, gluten-free products, homemade cakes and many other breakfast specialties, as well as a "Grab and Go" option if you don't have time to eat in.
citizenM Geneva
Address: 31-33 Rue de la Rotisserie, Geneva, Switzerland.
Location: Old Town Geneva
At citizenM Geneva, you'll find yourself ideally situated in the heart of the city, a mere 250 meters from Lake Geneva and surrounded by main attractions such as St Pierre Cathedral, Jet d'Eau and Geneva Town Hall. This hotel has a convenient restaurant, bar and a cool lounge area to unwind in. Kickstart your day with a delicious breakfast buffet and enjoy the unbeatable location, close to the lake, old town and shopping areas. With efficient, clean and sustainable rooms, and a cool, digitally-focused lobby, you'll find citizenM Geneva to be a great value compared to other hotels in the area.
Cool and Unique Hotel
When searching for a cool and unique boutique hotel, you'll want to focus on properties that exude quirky character and distinctive charm.
These hotels often showcase inventive design elements, a creative atmosphere and a touch of whimsy that set them apart from more conventional hotels.
As a traveller with an appreciation for the unconventional, you'll relish the opportunity to stay in a place that tells a story and sparks your imagination.
Opting for a unique boutique hotel allows you to immerse yourself in a fun and inspiring environment, making your stay all the more memorable.
Design Hotel f6
Address: Ferrier 6, Geneva, Switzerland
Location: Les Paquis
Staying at the Design Hotel f6, you'll appreciate its ideal location near the centre of Geneva, just 600 meters from Lake Geneva and 800 meters from the Cornavin train station. Known for its pristine cleanliness, this lovely and modern hotel exudes a warm and friendly spirit, providing a contemporary boutique experience in the heart of the city. Make sure to spend some time on the leafy-walled terrace, perfect for enjoying breakfast on a summer morning or sipping a drink anytime as you unwind in this delightful outdoor haven.
Luxury Boutique Hotel
When seeking a luxury boutique hotel experience, you'll want to find accommodations that combine personalised service, intimate ambience and high-quality amenities.
These hotels are often distinctive, providing a unique atmosphere and attention to detail that sets them apart from larger chain establishments.
As a traveller, you'll appreciate the opportunity to indulge in a unique experience surrounded by sophisticated design tailored to your comfort and needs.
Luxury boutique hotels are perfect for those who value exceptional service, bespoke touches and a truly individualised stay.
The Woodward
Address: 37 Quai Wilson, Geneva, Switzerland
Location: Les Paquis
At The Woodward luxury boutique hotel, you'll immerse yourself in a high-end stay with a stunning lakefront location on Quai Wilson. This hotel features panoramic views of the water and the French Alps, including Mont Blanc, creating a serene backdrop for your visit. Delight your palate at the hotel restaurants, where the focus is on using local produce and suppliers such as Geneva-based Stettler chocolate and the renowned Castrischer pastry. Executive Chef Olivier Jean ensures your dining experience is exceptional with a selection of refined and creative dishes perfect for enhancing your business lunches at L'Atelier Robuchon and Le Jardinier.
Les Armures
Address: Rue Puits-St-Pierre, 1, Geneva, Switzerland
Location: Old Town Geneva
At Les Armures, a luxury boutique hotel nestled in a 17th-century building in the heart of Geneva's old town, you'll be enveloped by a unique historic atmosphere, charming rooms and delicious cuisine. Within a short 10-minute walk, you can access the shopping district, the lake-front promenade and Geneva's main museums. Don't miss the chance to visit Café Les Armures, the city's oldest coffee house and a local favourite, where you can savour classic French gourmet cuisine at the restaurant or indulge in cheese specialties like Raclette and Fondue in the Carnotzet cellar. The tasteful decor and furniture blend an 'old world' feel with modern touches, ensuring a luxurious stay steeped in history and elegance.
Eastwest Hôtel
Address: Rue des Pâquis 6, Geneva, Switzerland
Location: Les Paquis
Welcome to Eastwest Hotel, a luxury boutique hotel in the heart of Geneva. Enjoy the discreet luxury and exceptional service of a private home with stunning contemporary decor that combines tradition and modern technology. Indulge in inventive cuisine inspired by fresh market products at the hotel's restaurant, or unwind with original cocktails at the lobby bar. With a fabulous location near Geneva train station and the lake, you're just a few steps away from the shopping and business area and a five-minute walk to a taxi boat that drops you off at the foot of the old town. Experience the comfort of the hotel's beds, interesting decor and great breakfast buffet, and make the Eastwest Hotel your home away from home in Geneva.
Eco-Friendly Hotel
When seeking a sustainable or eco-friendly hotel, you'll want to focus on properties prioritising environmentally conscious practices and minimising their carbon footprint.
Look for hotels that use energy-efficient systems, source local and organic products, implement water-saving measures and use renewable energy.
By choosing an eco-friendly hotel, you can enjoy your stay while knowing that you're contributing to a greener future and supporting responsible tourism.
This type of hotel allows you to have a comfortable and enjoyable experience while reducing your environmental impact and promoting sustainability.
Hotel D Geneva
Address: 16 Rue de Fribourg, Geneva, Switzerland
Location: Les Paquis
At Hotel D Geneva, you'll experience an eco-friendly stay thanks to their commitment to sustainability. The hotel powers its facilities with 100% renewable electricity, ensuring a reduced carbon footprint. They make concerted efforts to minimise food wastage and most of the food provided is locally sourced. Enjoy a fantastic breakfast and appreciate the excellent location, all while staying in a renovated space that prioritises the environment and local economy.
Hotel Bristol
Address: 10, rue du Mont-Blanc, Geneva, Switzerland
Location: Quai du Mont-Blanc
Experience eco-friendly hospitality at the Hotel Bristol, where sustainability is a top priority. You'll appreciate the hotel's use of 100% renewable electricity throughout the property and its efforts to reduce food wastage. With most of the food locally sourced, you'll enjoy fresh, delicious meals that support the local community. In addition to the hotel's environmental initiatives, you'll be delighted by the staff's friendliness and politeness, the room cleanliness and the high aesthetic quality of the renovated lobby, bar and restaurant. The excellent location, just a short walk from Lake Geneva, the old town, and the shopping area along rue de Mont Blanc, makes the Hotel Bristol ideal for your eco-conscious stay.
Where to Stay in Geneva
When deciding where to stay in Geneva, consider these top areas known for their vibrant cafe culture, independent stores, galleries, museums, green spaces, cool bars and nightlife.
Old Town: Steeped in history, Geneva's Old Town offers a fascinating glimpse into the city's past. Wander the cobblestone streets, admire the stunning architecture and explore the numerous museums and historic sites this district offers.
Pâquis: If you're interested in vibrant nightlife, Pâquis is the place to be. This lively district offers a diverse selection of bars, clubs, restaurants and the famous Bains des Pâquis, a public bathhouse on Lake Geneva. You'll find many boutique hotels in this area of Geneva.
Eaux-Vives: This charming district is perfect for visitors who appreciate a laid-back atmosphere, with its lovely parks and proximity to Lake Geneva. Enjoy leisurely walks along the waterfront or indulge in the local cafe culture.
Plainpalais: A lively area that appeals to art enthusiasts and shoppers alike, Plainpalais is home to numerous galleries and museums and the bustling Plainpalais Flea Market. Take a break at one of the many trendy bars in the area after a day of exploration.
Carouge: A picturesque neighbourhood with a distinctly European flair, Carouge is known for its narrow streets lined with artisan shops, boutiques and charming cafes. It's an ideal spot for those looking to immerse themselves in Geneva's rich cultural scene.
Grottes Saint-Gervais: A dynamic and multicultural area, Grottes Saint-Gervais is known for its bohemian vibe, colourful street art and diverse range of shops and eateries. It's a great location for those who enjoy an eclectic atmosphere and want to experience a different side of Geneva.
By choosing one of these areas, you'll ensure a fantastic experience while staying at a boutique hotel in Geneva, with easy access to the city's best.
Discover the hidden gems and popular attractions in Switzerland with my comprehensive guide to where to go in Switzerland. Uncover the best places to visit, from charming villages to breathtaking landscapes, all expertly curated to help you make the most of your Swiss adventure.
The tourist office is an excellent resource to consult for more in-depth information about exploring Geneva. They provide valuable insights on things to do, sightseeing opportunities, and upcoming events to help you make the most of your stay in the city.
Responsible Travel Tips
Many of us are increasingly concerned about climate change and sustainability. Here are a few ideas on how we can travel more responsibly in Geneva.
Embrace renewable energy: Geneva is home to many eco-friendly hotels that use renewable energy sources. Opt for accommodations that prioritise sustainability and green initiatives.
Minimise food waste: Choose restaurants and eateries that emphasise locally sourced ingredients and practice waste reduction. You can also request smaller portions if you're not too hungry.
Sustainable diets: Geneva offers a variety of plant-based and vegetarian dining options. Support these establishments for a more sustainable dining experience.
Sustainable transport: Take advantage of Geneva's excellent public transportation system, including trams, buses and trains. Walk or rent a bike to explore the city and reduce your carbon footprint.
Avoid flying: If possible, consider alternative modes of transportation when travelling to or from Geneva, such as trains or buses. They produce fewer carbon emissions compared to air travel.
Support the local community: Shop at local markets, galleries and independent stores, and attend community events to contribute to the local economy and immerse yourself in the authentic Geneva experience.
FAQ
What is the best area to stay in Geneva?
The best areas to stay in Geneva are Eaux-Vives and the Old Town, both known for their vibrant cafe culture, independent stores, galleries, museums, and cool bars.
What should I consider when looking for a boutique hotel in Geneva?
When searching for a boutique hotel in Geneva, consider factors like location, style, uniqueness and any specific features, such as eco-friendliness, that are important to you.
What are some popular attractions in Geneva?
Popular attractions in Geneva include the Jet d'Eau, St Pierre Cathedral, the United Nations Office and the Patek Philippe Museum, among others.
How can I get around Geneva during my visit?
Geneva has an extensive public transportation network, including trams, buses, and trains. Walking and biking are also great ways to explore the city and reduce your carbon footprint.
Conclusions
In conclusion, discovering the perfect boutique hotel in Geneva is all about understanding your preferences and priorities.
By choosing an area that aligns with your interests, such as Eaux-Vives or Geneva Old Town, and focusing on the qualities that matter most to you, like style, uniqueness, or eco-friendliness, you're sure to find a hotel that enhances your experience in this beautiful city.
With its rich history, stunning architecture, and vibrant culture, Geneva is a destination that truly has something for everyone to enjoy.
If you have questions or want to leave a hotel review, please do so in the comments.
—
Recommendations are independently chosen based on personal travel experiences and extensive research. This post contains affiliate links to hotels in Geneva, Switzerland. This means I get a small commission from any bookings at no extra cost to you.