Recommendations are based on personal travel experiences and research. If you book through links on our site, we may earn a commission at no extra cost to you.
—
As you explore Madrid's vibrant streets, you'll immerse yourself in the rich culture and history of Spain's capital city. With its unique blend of grand architecture and thriving contemporary art scene, you'll see that Madrid truly has something for everyone.
In this guide, I'll share my top picks for the best boutique hotels in Madrid, helping you find the right hotel for a comfortable and stylish stay while you explore this fascinating city.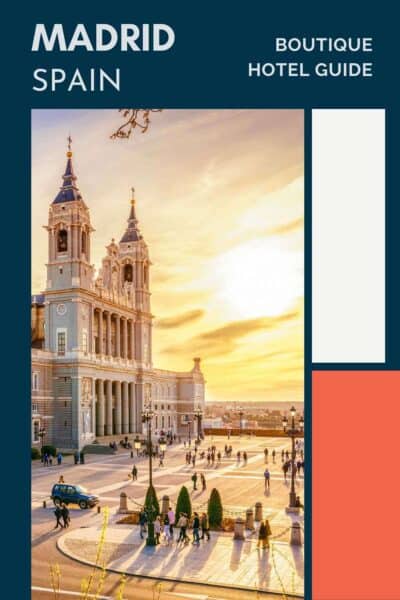 Boutique Hotels in Madrid
When searching for the perfect hotel in Madrid, the first step is to consider the area you'd like to stay in.
Two of the most popular districts that cater to the interests of visitors are Malasaña and Barrio de las Letras.
Malasaña is a lively neighbourhood brimming with vintage shops, trendy cafes, and bustling nightlife, making it a magnet for the young and cool crowd.
On the other hand, Barrio de las Letras (the Literary Quarter) is a historic district with a rich literary heritage, charming cobblestone streets, and an abundance of museums and galleries to satisfy your cultural cravings.
For a truly immersive Madrid experience, I recommend staying in Barrio de las Letras, as it effortlessly combines the city's history and modernity while keeping you close to some of the most iconic sights.
These areas are within Madrid Centro or the Old City. You might also like to stay in Madrid de los Austrias. This historic district near Palacio Real de Madrid is in the heart of the old historic centre.
Top Pick
Palacio de los Duques Gran Meliá
Address: Cuesta Santo Domingo, Centro, Madrid, Spain
Location: Madrid de los Austrias, between Plaza Mayor and Malasaña
At the Palacio de los Duques Gran Meliá, located just 300 meters from Madrid's Royal Palace, Royal Theatre, and Cathedral, you'll discover a world of luxury, friendliness, and warmth. Set within a 19th-century palace, this remarkable hotel offers an intimate yet spacious environment, exceptional staff, and a prime location in the heart of the city – making it one of the best unique boutique hotels in Madrid.
Features:
Quirky and cool design.
Huge breakfast selection.
Stunning lobby, lounge and bar areas.
Cool artwork by local artists.
Great location near the Roayl Palace, Sabatini Gardens and the Operan House.
Sustainability:
Most food provided at the property is locally sourced.
Lighting uses energy-efficient bulbs.
Vegetarian and vegan menu options are offered.
Local artists are offered a platform to display their talents.
Pros: Prime location near attractions, 19th-century palace setting, luxurious atmosphere, friendly staff, boutique style.
Cons: Occasionally busy during peak seasons, higher price point.
Check Availability
While I highly recommend staying in the Barrio de las Letras, I also understand that travellers have different preferences. That's why I've handpicked a couple of boutique hotels that may suit your tastes and needs based on location, style, and eco-friendliness.
Although these options don't quite match the charm of my top pick, I believe they offer an experience worth considering during your stay in Madrid.
Next Best
CoolRooms Palacio de Atocha
Address: 34 Calle de Atocha, Centro, Madrid, Spain
Location: Barrio de las Letras
At the CoolRooms Palacio de Atocha, you'll appreciate its prime location, just 800 meters from Puerta del Sol and within walking distance of numerous attractions, such as Mercado San Miguel and the Prado Museum. The hotel's elegant and tasteful decoration, combined with the historical essence of the well-preserved building, creates a unique and charming atmosphere. You'll also enjoy the beautiful internal courtyards in the lobby, making it a haven in the heart of Madrid, close to museums and Plaza Mayor.
Cool and Unique Hotel
If you're the type of traveler who craves something out of the ordinary, then a cool and unique boutique hotel might be the perfect fit for you.
These types of hotels often have quirky decor, unusual architectural features, or playful amenities, making for an interesting and fun stay.
When looking for a cool boutique hotel, keep an eye out for hotels that have a distinctive and authentic experience that stands out from the standard chain hotels, such as the following hotel in central Madrid.
The Madrid Edition
Address: Plaza de Celenque 2, Centro, Madrid, Spain
Location: Madrid de los Austrias
You'll likely love the hotel's exceptional design and vibrant atmosphere at The Madrid Edition. The stunning lobby instantly sets the tone for an extraordinary stay. Ideally situated in the heart of the city, you'll enjoy the perfect balance of convenience and tranquillity, as the area remains peaceful despite its central location. Enhance your experience by savouring excellent cuisine in the hotel's lounge, making your stay at this cool and unique boutique hotel truly special.
Luxury Boutique Hotel
For an opulent and personalised experience, consider staying in a luxury boutique hotel. These upscale hotels often exude charm and character, providing a unique and intimate atmosphere that distinguishes them from larger chain hotels.
As a guest, you'll enjoy exquisite boutique design, attentive service, and high-quality amenities tailored to your needs.
Luxury boutique hotels create a sense of exclusivity and refinement while still being relatively affordable with attentive service.
Only You Boutique Hotel Madrid
Address: Barquillo, 21, Centro, Madrid, Spain
Location: Chueca District
At the Only You Boutique Hotel Madrid, you'll be immersed in luxury within a 4-star boutique hotel housed in a beautifully restored 19th-century palace. The fusion of modern interior design, Colonial details, and uniquely decorated rooms creates an elegant yet cosy atmosphere. Relax in the hotel's lounge area, where you can enjoy a selection of cocktails and gourmet dishes while listening to soothing background music. Nestled in the trendy Chueca neighbourhood, you'll find an abundance of restaurants nearby and many attractions within walking distance. Indulge in this beautiful, modern hotel's superb service at this boutique design hotel in Madrid.
Eco-Friendly Hotel
As a conscious traveller, opting for a sustainable or eco-friendly hotel is a fantastic way to minimise your environmental footprint while enjoying your holiday.
By staying in a hotel prioritising green practices, you support businesses that care about the planet and the local community.
Look for hotels with eco-friendly certifications or those that implement energy-saving measures, water conservation and waste reduction programs.
Room Mate Alba
Address: 16 Calle de las Huertas, Centro, Madrid, Spain
Location: Barrio de las Letras
At the eco-conscious Room Mate Alba, you'll find a commitment to sustainability with a variety of eco-friendly features. The property uses energy-efficient LED bulbs for most of its lighting and 100% renewable electricity throughout. Additionally, they actively work to reduce food wastage, ensuring a more environmentally responsible stay. You'll love the hotel's prime location, as all the must-see attractions in Madrid are within walking distance, and you'll be surrounded by an array of bars and restaurants. Revel in the beauty of your room, situated in a lovely and secure neighbourhood, making your stay both comfortable and sustainable.
Where to Stay in Madrid
When planning where to stay in Madrid, consider these central neighbourhoods, each providing unique experiences and an array of boutique hotels:
Madrid de los Austrias: This historic district near Palacio Real de Madrid, also known as Habsburg Madrid, is a must-visit for history buffs and architecture lovers. The area is characterised by its elegant plazas and buildings, dating back to the Habsburg dynasty's rule in Spain. As you wander through the charming cobblestone streets, you'll find an abundance of cafes, tapas, bars, and restaurants serving up traditional Spanish dishes. With its rich cultural heritage and timeless beauty, Madrid de los Austrias is a top pick for those seeking to immerse themselves in the city's fascinating history.
Malasaña: As you wander through the colourful streets of Malasaña, you'll be swept away by its vibrant atmosphere and creative energy. This neighbourhood is brimming with life, and its buzzing nightlife makes it a great place for those seeking adventure and excitement. You'll also find an eclectic mix of cafes, bars, and independent shops that cater to all tastes and budgets, from vintage clothing to unique souvenirs.
Barrio de las Letras: Take a step back in time to the literary history of Barrio de las Letras. This neighbourhood was once home to some of Spain's greatest writers, including Cervantes and Lope de Vega, and is now a cultural haven for the discerning traveller. Art galleries, fascinating museums, and beautifully preserved architecture line the streets, immersing you in Madrid's past and present essence.
Chueca: This neighbourhood is known for its open-minded spirit and inclusive vibe, making it a great choice for those interested in diverse dining options, trendy boutiques, and vibrant nightlife. Chueca's bustling streets are filled with colourful street art, eclectic cafes, and friendly locals, making it an ideal spot for travellers who want to experience Madrid's more modern and progressive side.
La Latina: As you wander through La Latina's historic streets, you'll feel the buzz of authentic Spanish culture all around you. This charming district is known for its tapas bars, where you can sample some of the best traditional dishes in Madrid. With its friendly atmosphere and picturesque plazas, La Latina is the perfect spot to soak up the city's vibrant energy and friendly local spirit.
Salamanca: For a more upscale experience, Salamanca is the place to be. This neighbourhood is filled with designer stores, fine dining restaurants, and elegant architecture, making it perfect for a luxurious stay. You'll find upscale boutiques, gourmet food markets, and high-end art galleries lining the streets, catering to those who enjoy the finer things in life.
Chamberí: If you're looking for a more local, laid-back experience, Chamberí is the perfect neighbourhood to explore. This quiet district is filled with charming cafes, small galleries, and green spaces, giving you a chance to experience Madrid's everyday life at a slower pace. You'll also find a variety of small shops and local markets, offering an authentic taste of the city's culture and lifestyle.
As you decide on the best area to stay in Madrid, these neighbourhoods offer unique experiences and cater to a wide range of preferences, ensuring a truly engaging visit.
Discover the hidden gems and iconic landmarks of Spain with my comprehensive guide the best places to visit in Spain. With this guide, you'll embark on a captivating journey through Spain's rich history, vibrant culture, and diverse landscapes, ensuring a unique travel experience.
Consider checking out the tourist office for in-depth information about Madrid, including things to do, sightseeing, and upcoming events. Their resources will help you plan the perfect itinerary, making the most of your time in this historic city.
Responsible Travel Tips
Many of us are increasingly concerned about climate change and sustainability. Here are a few ideas on how we can travel more responsibly in Madrid.
To travel more responsibly in Madrid, consider these sustainable practices:
Renewable energy: Choose accommodations prioritising renewable energy, such as hotels powered by solar panels or those using 100% renewable electricity.
Minimising food waste: Opt for restaurants participating in food waste reduction programs, or order smaller portions to avoid leftovers.
Sustainable diets: Sample Madrid's plant-based cuisine, which has a lower environmental impact, by visiting vegetarian or vegan tapas bars and restaurants. As a big city, you'll find countless options for lower impact restaurants in Madrid.
Sustainable transport: Make use of Madrid's extensive public transportation system, including buses and metro lines, or rent a bike to explore the city while reducing your carbon footprint.
Avoid flying: If possible, choose alternative means of transportation, like trains or buses, for short-distance trips within Spain, reducing your overall travel emissions.
Supporting the local community: Shop at independent stores, attend local cultural events, and dine at family-owned restaurants to contribute to the local economy and experience Madrid's authentic charm.
Adopting these responsible travel practices will positively impact Madrid's environment and community while enjoying your visit to the city.
FAQ
What should I look for in a boutique hotel in Madrid?
Consider factors such as location, unique design, personalised service, and the hotel's commitment to providing an exceptional guest experience.
Which neighbourhoods are best for staying in Madrid?
Some popular neighbourhoods include Malasaña, Barrio de las Letras, Chueca and La Latina, each offering distinct atmospheres, attractions, and amenities.
How can I make my visit to Madrid more responsible and eco-friendly?
Travel more sustainably by using public transportation or biking, choosing hotels that prioritise renewable energy, supporting local businesses and minimising food waste.
Final Thoughts
Embarking on your journey to Madrid, take the time to find a boutique hotel that truly resonates with your personal tastes and preferences.
Whether you're drawn to eco-friendly options, luxury stays, or unique properties, this vibrant city has a wealth of remarkable hotels.
Immerse yourself in Madrid's rich history, diverse neighbourhoods, and captivating culture to create a travel experience that is truly your own, leaving you with lasting impressions of this remarkable destination.
If you have questions or want to leave a boutique hotel review, please do so in the comments.
—
Recommendations are independently chosen based on personal travel experiences and extensive research. This post contains affiliate links to hotels in Madrid, Spain. This means I get a small commission from any bookings at no extra cost to you.