Recommendations are based on personal travel experiences and research. If you book through links on our site, we may earn a commission at no extra cost to you.
—
Back in the day when I lived in Europe, I took every opportunity to spend a few days in Rome. As one of the world's most incredible cities, with its fascinating history and amazing food and culture, I could never resist.
In this guide, I share my favourite areas to stay and my recommendations for the best boutique hotels in Rome, each with its own unique style, covering a range of budgets.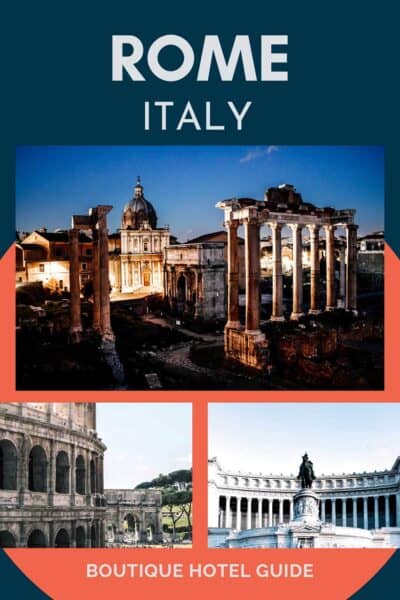 Best Boutique Hotels in Rome
Rome has a compact, walkable city centre with several interesting neighbourhoods where you might like to stay as a visitor.
As the city's historical heart, the Centro Storico is the most popular area, known for ancient ruins and iconic landmarks. Most visitors stay in this area, particularly first-time visitors.
On the other hand, you might like to stay in the bohemian district of Trastevere, a slightly less touristy area filled to the brim with independent boutiques, cool bars, fantastic eateries and beautiful cobblestone streets. It's located along the River Tiber.
My top boutique hotel pick is located in Trevi, a district within the Centro Storico. It's where you'll find the famous Trevi Fountain, and it's not far from the Pantheon as well. This is an amazingly central area close to all of Rome's main sights. I highly recommend staying in this area if you can.
Top Pick
Umiltà 36
Address: Address: 36 Via dell'Umiltà 36, Rome
Location: Centro Storico – Trevi
Umiltà 36 is brilliantly situated in Rome's historic city centre, placing you smack-bang in the middle of famed landmarks like Piazza Venezia and Trevi Fountain. The property is a sophisticated stylish sanctuary, with exceptionally well-appointed rooms, tastefully muted decor and large comfy beds. You'll be spoilt for food with a huge array of breakfast options, nearby Italian eateries and the hotel's own restaurant. Honestly though, if you're unsure, check out the reviews that speak for themselves.
Features:
Cool and unique design.
Stylish rooms with ample natural light.
Huge selection for breakfast.
Stunning lobby, lounge and bar areas.
Great location near Trevi Fountain, Pantheon, Piazza Navona.
Some roomas have a terrace and there is a gym in the hotel.
Sustainability:
Energy-efficient lighting.
Most food is locally-sourced.
Sustainable food practices in place.
The restaurant prioritises sustainable and locally-sourced food.
Vegetarian and vegan menus are available.
A recycling program is in place, diverting waste from landfills.
Pros: Prime location; well-appointed rooms; exceptional staff; varied breakfast options; on-site steak restaurant; eco-friendly initiatives; vegan and vegetarian menu options.
Cons: Limited parking; potential street noise; no pool or spa facilities.
Check Availability
While Umiltà 36 is a truly incredible hotel with outstanding reviews, Rome has a bevy of boutique hotels worth considering.
Each has its unique charm, defined by location, stylistic flair or eco-friendly practices. In the following section, I'll recommend a couple more hotels near the Trevi Fountain, in the cool Monti district, near Piazza di Spagna and one very cool boutique hotel in Trastevere.
Next Best
Chapter Roma
Address: Via Santa Maria Dè Calderari 47, Rome, Italy
Location: Pantheon
Situated in a charming 19th-century building, Chapter Roma places you in the heart of Rome, with a quick jaunt to Campo de Fiori and just a stone's throw from the vibrant Trastevere district. This unique hotel stands out with its stylish rooms and bathrooms, while the mini-bar and comfortable bed provide a cosy stay. They serve a continental buffet breakfast complete with Italian pastries and fine coffee, although it's worth noting that there are even more elaborate breakfast options in the area. It's a beautifully decorated property with a great vibe, excellent hospitality and a convenient location. Add to this their vegetarian and vegan menu options, and you have a solid choice for your stay in Rome.
Nerva Boutique Hotel
Address: Via Tor Dè Conti 3, Rome, Italy
Location: Centro Storico – Monti
Located a very short walk from the Roman Forum and the Colosseum, Nerva Boutique Hotel holds a prime spot in Rome's city centre. This charming property is small in size but big on personality, with around 20 quiet rooms and an in-house restaurant serving a generous breakfast range from traditional croissants and cakes to fresh fruit, cold cuts and cheese. Add in their bar, open till late and serving local liqueurs and classic cocktails, and you're in for a relaxing stay. Just a five-minute stroll will take you to Piazza Venezia and the popular shopping street Via Del Corso. And with the major sights and a variety of restaurants nearby, it's an excellent base for exploring Rome.
Cool and Unique Hotel
When you're scouting for a cool boutique hotel, the key is to look for a hotel with a unique personality. This could be a design theme inspired by the locale or a quirky take on architecture.
The following three hotels definitely give a cool boutique hotel vibe.
Unahotels Trastevere Roma
Address: 27 Via Emilio Morosini, Rome
Location: Trastevere
This cool 4-star hotel is located in the centre of the Trastevere district near Porta Portese and Janiculum Hill, a great spot for views over Rome. If you stay here, you'll also be not far from Circo Massimo and the Vatican. This is a very new, beautifully designed hotel with loads of natural light. You might like the rooftop terrace where you can enjoy breakfast and dinner. There are many excellent places to eat out in this area. Last time I was here, I had an excellent pizza at Pizzeria Dar Poeta, and if you need to eat gluten-free, Mama Eat Roma is completely senza glutine.
Rhinoceros Roma
Address: Via Del Velabro 9, Rome, Italy
Location: Centro Storico – Ripa
Residing in Palazzo Rhinoceros and showcasing 24 unique apartments designed by French architect Jean Nouvel, Rhinoceros gives you a slice of ancient Rome with a modern twist. Located between Circo Massimo and the Roman Forum, it's an easy walk to Piazza Venezia and the Colosseum, placing the city's history at your fingertips. Each apartment blends the original features of the historic building with cutting-edge amenities, and the rooftop bar and restaurant are the cherries on top. Apart from the stunning views, you can enjoy locally sourced food and cocktails, all while making a nod to sustainability with their energy-efficient lighting and efforts to reduce food waste. The staff exceed expectations in their friendliness and service, taking care of every need right down to welcoming your pets.
Leon's Place Hotel
Address: Via XX Settembre 90-94, Via Veneto, Rome, Italy
Location: Centro Storico – Sallustiano / Castro Pretorio
Before I share anything about this hotel, it's important to note that it's located directly across from Gelateria La Romana, the absolute best ice cream shop in Rome. There is also a massive queue here; it's that popular. Don't miss it, even if you don't stay at this hotel. As for the hotel itself, Leon's Place is an exclusive design hotel that serves as a luxurious retreat, just a short stroll from Villa Borghese Park and Via Veneto. With each spacious room featuring air conditioning, plush furnishings and marble bathrooms, comfort is a guarantee. Many rooms even treat you to a stunning view of the historic centre. Their commitment to luxury extends to a free spa and a highly-rated varied daily breakfast. The hotel finds its home in a historic building in Rome's business district, making it accessible to the city's major embassies and government buildings. Getting around is a breeze, with public buses in nearby Porta Pia linking you to Termini Train Station in about 10 minutes. This beautiful boutique hotel, complete with a relaxing spa, offers a taste of the sweet life in Rome, quite literally!
Eco-Friendly Hotel
Opting for an eco-friendly hotel can be a tangible step towards reducing your environmental footprint while travelling. These hotels take significant strides in resource management, favouring energy-efficient lighting, waste reduction strategies and locally-sourced food options.
So when booking, consider staying at one of these sustainable hotels in Rome for a lower-impact stay.
H10 Palazzo Galla
Address: Via Quattro Novembre 102, Rome, Italy
Location: Centro Storic – Trevi
The H10 Palazzo Galla is just a short stroll from Quirinal Hill near the Trevi Fountain. It nails the eco-friendly brief while providing excellent hospitality. Here, the staff goes above and beyond, greeting you with snacks and drinks at check-in and maintaining spotless, well-appointed rooms that assure a comfy stay. Savour a highly-rated breakfast to start your day before you head off to explore nearby Piazza Venezia or hop on the Cavour Metro. Their commitment to the environment shines through, with 100% renewable electricity, an energy-efficient lighting system, locally sourced food and an electric car charging station on the premises. To top it off, a quality rooftop terrace, bar and dining room provide the perfect spots to unwind.
Luxury Boutique Hotel
When seeking a luxury hotel in Rome, you'll want to book a boutique stay with bespoke design and attentive service that outshines larger chains.
These accommodations prioritise personalisation and quality over quantity, often with unique themes or historical significance, giving your stay an added touch of exclusivity. If you want a luxury stay, the next two hotels are outstanding, located near the Spanish Steps.
Hotel Vilòn
Address: Via Dell' Arancio 69, Rome, Italy
Location: Centro Storico – Spagna
In the heart of Rome, the Hotel Vilòn is an indulgent retreat that encapsulates the charm of this ancient city. Mere steps away from Via Condotti (the street that leads to the Spanish Steps), the hotel makes it easy for you to explore while offering an oasis of tranquillity to return to. Each room is exquisitely equipped, showcasing an elegant design that reflects the luxury you'd expect. Every morning, you can enjoy a huge variety of breakfast options, setting the tone for the day. But the real delight is the delicious Italian cuisine served at the hotel's restaurant. The staff are known for their exceptional service, always ready to assist and ensure a comfortable experience. For anyone seeking a luxury boutique experience in Rome, Hotel Vilòn is a stellar choice.
J.K. Place Roma
Address: Via di Monte d'Oro 30, Rome, Italy
Location: Centro Storico – Spagna
JK Place is an incredible luxury retreat in the centre of historic Rome. The hotel is placed brilliantly within a 10-minute walk to both the Spanish Steps and the Pantheon. The style of the rooms is nothing short of chic, with plush handmade fabric beds under a rosewood canopy adding to the charm. The marble bathrooms with a large glass walk-in shower add an extra layer of luxury. The hotel radiates a welcoming ambience, achieved through a harmonious mix of elegant decor, excellent location, and above all, the staff, who are professional, friendly, and wonderfully adept at providing impeccable service. It's one of the best boutique hotels in Rome, a place that really makes you feel valued.
Where to Stay in Rome
1. Historic City Centre – Centro Storico: This central area has everything as the first place on your mind when considering where to stay in Rome. You're in the heart of Rome, within a quick walk of many popular attractions like the Colosseum, Roman Forum and Piazza Venezia. Cafes, restaurants, and shops are plentiful, and the vibe is authentically Roman.
2. Trastevere: This neighbourhood is well-known for its vibrant nightlife and offers a plethora of cool bars and eateries. A wander through its narrow cobblestone streets showcases Rome's historic charm and leads to numerous indie stores and cafes. This used to be a quieter area of Rome, but it's increasingly popular.
3. Piazza di Spagna: Situated at the base of the Spanish Steps, this area is perfect for fashion aficionados, offering a range of high-end boutiques and shops along Via Condotti. You'll also find several lovely green spaces here for a tranquil escape.
4. Villa Borghese: If you're a fan of museums, this district has you sorted. Home to the Villa Borghese Gallery, it's a cultural hotspot. Its expansive park also makes it a great choice for green space enthusiasts.
5. Piazza del Popolo: A charming spot with a good mix of shops, cafes and a healthy dose of history. It's central location and cultural offerings make it an excellent option for your Roman sojourn.
6. Testaccio: Renowned for its food markets, this is the place for food lovers. It's a bit quieter than other areas but still maintains a distinctive Roman feel, and the local restaurants are top-notch.
7. Prati: Close to the Vatican, it's perfect for those who prefer a quieter locale with great access to museums. It's home to Via Cola di Rienzo, one of Rome's best shopping streets, and there's a wealth of dining options.
8. Monti: This trendy area is filled with eclectic boutiques and a range of unique eateries and bars. Known for its bohemian feel, it's also a stone's throw from the Colosseum. I highly recommend this area!
For more trip planning, read my guide to the best places to visit in Italy.
For additional insights into sightseeing, events, and a host of things to do around the city, visit Turismo Roma. They have lots of info, helping you make the most of your trip to this stunning city.
Responsible Travel in Rome
Here are a few ideas on how we can travel more responsibly in Rome.
Support Renewable Energy: Look for hotels that run on renewable energy. In Rome, a number of hotels and bed and breakfasts use solar power and other renewable energy sources.
Minimise Food Waste: Italians are known for their zero-waste approach to food. Embrace this culture by consuming all your ordered food at restaurants. If you can't finish, take leftovers home for your next meal.
Sustainable Diets: When dining out, opt for restaurants that source their ingredients locally or choose a plant-based meal. The Mediterranean diet, prevalent in Rome, is tasty and low-impact.
Sustainable Transport: Rome's city centre is compact and walkable. To reduce your carbon footprint, explore the city on foot, by bike, or by using the extensive public transport network.
Avoid Flying: If you can, travel to Rome by train instead of a plane. Italy's rail network is well-developed and connects Rome with other major cities in Europe.
Support Local Communities: When you buy souvenirs, choose local artisans and small businesses. Not only does this support Rome's local economy, but it also promotes traditional crafts and skills.
FAQ
What's the best area to stay in Rome for first-time visitors?
The historic city centre is typically the best area for first-time visitors due to its proximity to iconic sights like the Colosseum, Pantheon, and Roman Forum.
Are there luxury boutique hotels in Rome?
Absolutely. Rome has plenty of luxury boutique hotels, such as Hotel Vilòn and J.K. Place Roma Hotel, that provide stylish rooms and personalised service and are situated in the heart of the city.

What's the best way to travel around Rome?
The city centre of Rome is compact and easy to navigate on foot. Additionally, Rome has a well-connected public transport system, which includes buses, trams and the Metro.
Is it easy to find local food in Rome?
Yes, Rome is well-known for its culinary scene. Plenty of restaurants serve traditional Italian cuisine, often sourced from local ingredients. Trastevere and Monti are some great areas to visit for local specialties.

Final Thoughts
All things considered, the Eternal City has a unique allure that's hard to resist. Opting for a boutique hotel in Rome allows you to soak in the city's charm in an intimate and personal setting.
As you plan your trip, keep in mind that every neighbourhood in Rome has a distinct personality, and it's all about finding the one that resonates with you.
If you have questions or want to leave a hotel review, please do so in the comments.
—
Recommendations are independently chosen based on personal travel experiences and extensive research. This post contains affiliate links to hotels in Rome, Italy. This means I get a small commission from any bookings at no extra cost to you.