Recommendations are based on personal travel experiences and research. If you book through links on our site, we may earn a commission at no extra cost to you.
—
Florence is the heart of Tuscan and the heart of Italy. It's a city steeped in rich history and renowned for its art, cuisine and architecture.
This guide will help you find where to stay, listing the best boutique hotels in Florence and providing an overview of the city's distinct neighbourhoods.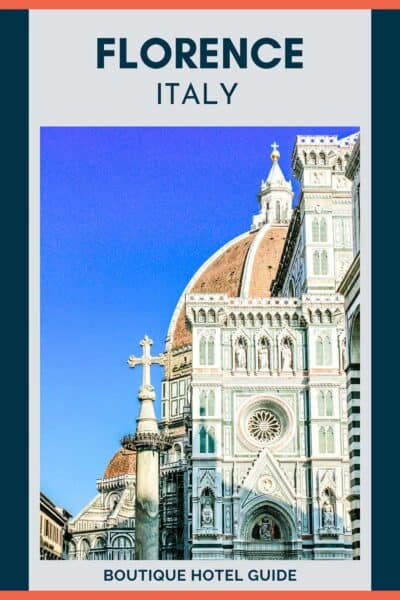 Best Boutique Hotels in Florence
Deciding which area to stay in is the first step in planning your trip to Florence.
You'll find the city centre, particularly the Duomo district, brimming with history and the essence of the Renaissance, where every turn brings forth awe-inspiring cathedrals and world-class museums like the Uffizi Gallery.
Meanwhile, the Oltrarno neighbourhood, just across the Arno River, resonates with a vibrant buzz, loved for its lively bar scene, indie shops and artisan studios.
My top hotel pick is located in the city centre near Piazza della Signoria, Uffizi Gallery and the famous Ponte Vecchio.
Top Pick
Hotel Calimala
Address: 2 Via Calimala, Florence
Location: City Centre – Uffizi
Hotel Calimala sits right at the heart of Florence, a stone's throw away from prime attractions such as the Pitti Palace and the Accademia Gallery. The interior is a perfect mix of style and comfort, with beautifully decorated rooms, stunning artwork and thoughtfully chosen design elements. In addition to its excellent location and service, the hotel shows a commendable commitment to sustainability, utilising energy-efficient lighting, renewable electricity, and locally sourced food while actively reducing food waste. The onsite restaurant presents a diverse menu catering to a range of dietary preferences, including vegetarian, vegan and gluten-free options.
Features:
Minimalist design features.
Cosy rooms with large beds and tea and coffee-making facilities.
Huge selection for breakfast.
Stunning lobby, lounge and bar areas.
Brilliant location.
Sustainability:
Hotel Calimala uses 100% renewable electricity.
Energy-efficient heating and cooling system.
Most food is organic and locally sourced.
Vegetarian and vegan menus are available.
A recycling program is in place, diverting waste from landfills.
Pros: Prime central location near Florence's major attractions. Beautifully decorated rooms with stunning artwork and lovely design. Exceptional staff providing friendly and accommodating service.
Cons: Limited fitness facilities. Occasional noise from the bustling city surroundings.
Check Availability
I would also like to recommend a couple of other boutique hotels in Florence that you might find appealing for different reasons.
One hotel stands out for its prime location near the iconic Ponte Vecchio, offering convenience and breathtaking views, while another captures attention with its stylish and eco-friendly design, showcasing a commitment to sustainability.
Next Best
Soprarno Suites
Address: Via Maggio 35, Florence, Italy
Location: Santo Spirito, Oltrarno
The charm of Soprarno Suites lies not only in its prime location but also in its unique character. Centrally positioned in Oltrarno, this boutique hotel is a brisk five-minute walk from the iconic Ponte Vecchio bridge. Not much further away, the grand Pitti Palace stands a mere hundred metres off. Even Piazza della Signoria is just a leisurely ten-minute walk. Inside the property, the rooms are spacious and well-appointed, filled with an intriguing variety of collectables and works of art, each room donning its own distinctive theme. Cleanliness is held to the highest standard, and comfort is guaranteed. The local area teems with trendy energy and is easily navigable by foot. The staff radiates friendliness and is eager to ensure your stay is pleasant. The included breakfast – is seriously delicious. The tall ceilings and the carefully curated interiors are simply magnificent.
Cool and Unique Hotel
In my experience, a hotel with its own distinctive style and ambience creates a more engaging, fun stay.
A truly cool and unique hotel has a way of immersing you in a one-of-a-kind atmosphere, making your stay not just about a room and a bed but an intriguing, enjoyable experience all on its own.
25hours Hotel Florence Piazza San Paolino
Address: Piazza Di San Paolino 1, Florence, Italy
Location: City Centre – Near Basilica of Santa Maria Novella
This cool boutique hotel in the bustling city centre places you around the corner from renowned attractions like Strozzi Palace, Santa Maria Novella and Pitti Palace. Each room is designed with a unique twist and different themes, as well as being spacious. The beds are plush and comfy, just what you need after a long day of exploring. They've got a fantastic on-site restaurant serving Italian cuisine with vegetarian, vegan, and gluten-free options upon request, sourced mostly from local suppliers. For early birds, the breakfast spread ranges from a wholesome buffet to an Italian feast. The common areas are beautifully designed, and if you're eco-conscious, you'll appreciate their use of energy-efficient lighting throughout the property and an electric car charging station. Staff at the 24-hour front desk are ready to lend a hand, proficient in German, English, French and Italian, and if you fancy a ride, bike hire is available.
Oltrarno Splendid
Address: 7 Via dei Serragli, Florence, Italy
Location: Oltrarno
Picture yourself staying in a modern Tuscan design hotel at the Oltrarno Splendid. Located in the Oltrarno district, it's a short walk to many of Florence's sights. Every element of this boutique hotel is finely tuned to ensure your comfort, right down to the soundproof, allergy-free rooms. You're spoiled for choice, with attractions like the Pitti Palace, Santa Maria Novella and Accademia Gallery all just a stone's throw away. The building exudes a quintessential Florentine charm, a testament to the city's historic elegance. Staff at the property go out of their way to make your stay smooth sailing. In the mornings, expect an excellent Italian breakfast served in calm surroundings. Besides being spacious, your room is a haven of artistic decor that adds a unique touch to your stay. The property enjoys a fab spot in Oltrarno, only a quick wander from Piazza Santo Spirito's morning market, bars, restaurants and majestic church. Venture out a bit more, and you'll find yourself in Piazza del Carmine or even Bellosguardo's enchanting fields.
Eco-Friendly Hotel
Choosing an eco-friendly or sustainable hotel for your stay can make a real difference to your travels and our planet.
You should consider how the hotel handles waste, energy and water consumption and whether they source their supplies locally.
Sustainability in hospitality doesn't mean compromising comfort or luxury but embracing a more mindful way of travelling.
Hotel Garibaldi Blu
Address: Piazza Santa Maria Novella 21, Florence, Italy.
Location: City Centre, opposite Basilica of Santa Maria Novella.
Located right in the heart of Florence, in the bustling Santa Maria Novella Square, the Hotel Garibaldi Blu is one of the best eco-friendly hotels in Florence. This boutique hotel blends modern design with frescoed ceilings to create a design that's as unique as it is inviting. Key landmarks such as Piazza della Signoria, Uffizi Gallery and Florence Duomo are all within a short walk, making the hotel a perfect base for exploring the city. Even the Santa Maria Novella Train Station is conveniently located just 400 metres away. The rooms are spotless and comfy, just the haven you need after a day of sightseeing. With energy-efficient lighting used throughout the property and a dedication to reducing food wastage, you can feel good about your choice to stay here. Most importantly, the hotel runs on 100% renewable electricity, further cementing its commitment to sustainability.
Luxury Boutique Hotel
Staying at a luxury boutique hotel is less about having a place to sleep and more about immersing yourself in a curated experience that reflects the hotel's unique personality and locale.
In my view, the allure of such accommodations is the combination of personalised service, unique aesthetics, and attention to detail that often exceeds what larger chains can provide.
Portrait Firenze
Address: Lungarno Acciaiuoli, 4, Florence, Italy
Location: City Centre – Uffizi
Take a step into Portrait Firenze, and you're immediately immersed in a world of luxury. This luxury boutique hotel features panoramic vistas of Florence and the Arno River, while the rooms are adorned with handcrafted furniture for that touch of exclusivity. It's situated directly across from the iconic Ponte Vecchio bridge, placing you in the heart of this historic city. You'll have a Carrara marble bathroom stocked with Ferragamo toiletries in the room. The in-house Caffè dell'Oro bistrot restaurant, led by a Michelin-starred chef, is open from early to late, offering an impressive range of dining options. With an exclusive Lifestyle Assistant at your disposal throughout your stay, your needs will be well-catered for. For a spot of pampering, take advantage of access to the White Iris Beauty Spa at the sister hotel, the Continentale, located just 20 metres away. This hotel's comfort, style and cosy atmosphere are top-notch, and the views are nothing short of amazing. What stands out is the exceptional staff who go above and beyond, making your stay absolutely wonderful. The hotel is making progress towards sustainability with energy-efficient lighting throughout and initiatives to reduce food waste. Vegetarian and vegan menu options are also on offer.
Hotel La Gemma
Address: Via Dei Cavalieri, 6R, Florence, Italy
Location: City Centre – Uffizi
Hotel La Gemma is a luxury boutique accommodation that offers an exquisite blend of convenience, elegance and exceptional service. Waking up each morning to a delicious and diverse breakfast sets the tone for the day. You're invited to unwind in their 5-star sauna, a welcome retreat after exploring the nearby points of interest, including Santa Maria Novella, Strozzi Palace and Pitti Palace. The hotel is tucked away off the main road but remains right in the thick of it all, making it a peaceful yet perfectly located base for your Florentine adventures. The decor, with its pleasing colour scheme and quality furniture, gives the rooms a touch of elegance, while the comfortable beds and high-quality linens ensure a restful night's sleep.
Where to Stay in Florence
Historic City Centre is the heart of the city and undoubtedly a top choice when considering where to stay in Florence. Here, you'll find yourself immersed in history with major attractions such as the Santa Maria Novella and the Florence Duomo. Not to mention the wealth of restaurants, cafes and boutiques lining the streets, offering a mix of both local and international brands.
Santa Maria Novella is another great option for accommodation. Besides its rich historical significance, it's known for its charming Italian eateries and cafe culture. The district also plays host to the main train station, which means you'll be well-connected for any day trips you might want to plan.
Next up is the Strozzi Palace neighbourhood, which serves as a vibrant cultural hub. You're spoilt for choice with numerous museums, galleries and historical sites, making it perfect for those keen to dive into Florence's art scene.
Pitti Palace is located in the Oltrarno area, a part of the city known for its artisan workshops and unique boutique stores. Oltrarno is a neighbourhood that beautifully maintains the traditional spirit of Florence.
Santa Maria del Fiore is another area that's worth considering. Located in the city centre, it's famous for the iconic cathedral bearing the same name. The surrounding area is filled with bustling piazzas, cool bars, and noteworthy historical sites.
When it comes to nightlife, the Piazza della Signoria district stands out. As the day winds down, the area transforms into a lively spot with its vibrant bars and restaurants.
Last but not least, the Accademia Gallery district, in the northern part of the city centre, could be your choice if you have a keen interest in art and history. Besides the gallery, this area offers easy access to various other cultural and historical landmarks.
Each neighbourhood has its unique charm, making them great choices depending on your preferences and itinerary. No matter which you choose, you'll find yourself charmed by Florence's beauty and rich history.
Read my guide to the best places to visit in Italy to continue planning your Italian itinerary.
For comprehensive and detailed insights into sightseeing, local events and other activities in the city, Visit Florence is a useful resource. They've got heaps of useful tips and info to help you get the most out of your visit.
Responsible Travel in Florence
Here are a few ideas on how we can travel more responsibly in Florence.
Renewable Energy: In Florence, you can actively participate in reducing your carbon footprint by choosing a hotel that uses renewable energy sources.
Minimising Food Waste: Consider dining in restaurants that make efforts to reduce food waste, perhaps by portion control or composting organic waste.
Sustainable Diets: Italian cuisine is rich in plant-based dishes. Relish the opportunity to indulge in these traditional, sustainable meals that are often seasonal and locally sourced.
Sustainable Transport: Florence is a compact city, perfect for walking or cycling. Taking advantage of the city's bike hire schemes and extensive pedestrian zones is a good idea.
Avoiding Flying: Opt for train travel over flights when travelling to or from Florence. The Italian rail network is well-connected and offers beautiful views of the countryside.
Supporting the Local Community: Shopping locally helps support the Florentine community. Look for local artisans, traditional crafts, and local markets where you can purchase directly from producers.
FAQ
What's the best area to stay in Florence?
The Historic Centre of Florence is considered one of the best areas to stay because it's close to major attractions like the Uffizi Gallery and the Duomo. However, Oltrarno and Santa Maria Novella also have unique charms and are well-located for sightseeing.
What should I look for when choosing a hotel in Florence?
Consider the location relative to the sights you wish to see and the amenities offered. If you're looking for luxury, look for boutique hotels that provide a personalised experience. Hotels in historic buildings offer a unique perspective for those interested in history.
What are some must-visit attractions in Florence?
The Historical Centre of Florence is packed with stunning architecture and museums. Key attractions include the Florence Cathedral (Il Duomo), the Uffizi Gallery, Ponte Vecchio and Pitti Palace. Also, strolling along the Arno River or through the Boboli Gardens can be a relaxing way to spend an afternoon.
What are the best ways to get around Florence?
Florence is a compact city, and many of the major attractions are within walking distance of each other. For longer distances, the city has a reliable public transit system. Alternatively, you can rent a bicycle or hire a taxi.
Final Thoughts
When you're deciding where to stay in Florence, consider a boutique hotel.
These hotels, particularly those in the Historical Centre, Oltrarno, or Santa Maria Novella, add a distinct touch to your holiday with their personalised service and unique atmospheres.
But remember, no matter where you rest your head, the beauty of Florence is always just around the corner.
If you have questions or want to leave a hotel review, please do so in the comments.
—
Recommendations are independently chosen based on personal travel experiences and extensive research. This post contains affiliate links to hotels in Florence, Italy. This means I get a small commission from any bookings at no extra cost to you.