Recommendations are based on personal travel experiences and research. If you book through links on our site, we may earn a commission at no extra cost to you.
—
Strasbourg is one of France's most beautifully historic cities known for the half-timbered houses that line the pretty canals and the unique Alsatian culture, history and culinary delights.
In this guide, we recommend several boutique hotels in Strasbourg's Old Town (Altstadt) that include the Grande Île area and near the pretty Petite France historic district.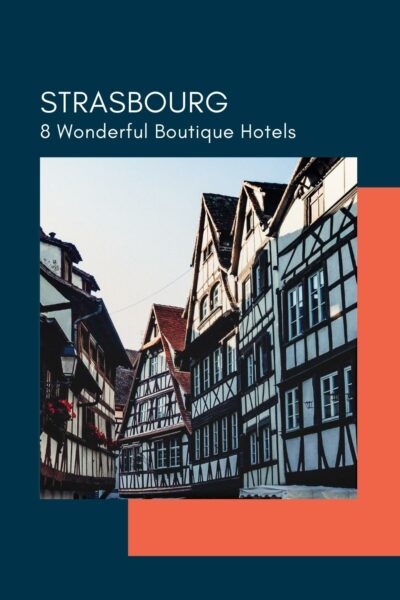 As the capital of the Alsace region, Strasbourg has much to offer the visitor whether this is your first trip or if you're a regular to the region.
Boutique Hotels in Strasbourg
Strasbourg is a popular tourist destination in France, welcoming more than 4,000,000 tourists in a typical year.
It's also one of the most travel friendly with its comprehensive tram network and more than 670 km of bike paths.
This means it's easy to get around the city no matter where you stay. Most hotels are located on the Grande Île, the city's central, mostly pedestrianised area that is home to many of Strasbourg's sights and attractions.
La Petite France is a picturesque area beside the Grande Île that is surrounded by water, but you won't find much in the way of boutique hotels there.
Top Pick
Hannong Hotel & Wine Bar
Address: 15, rue du 22 Novembre, Strasbourg, France
Located in the heart of historic Strasbourg, Hannong Hotel is only 2 minutes to Place Kleber, the central square, and 4 minutes to the La Petite France district. The hotel is contemporary in design, built on the site of an earthenware factory dating from the 18th century. The rooms are light and bright with a mix of contemporary and classic furniture. There is an in-house wine bar providing the perfect opportunity to try some Alsatian regional wines.
Features:
Large, comfortable rooms.
Soundproofed rooms.
Breakfast that includes regional specialties.
In-house wine bar with a terrace.
Pros: Ideal central location, friendly staff, delicious breakfast and quiet rooms.
Cons: There is no parking at the hotel but honestly, I wouldn't recommend driving around the Grande Île. Call the hotel to arrange parking elsewhere if you need it.
Check Availability
Charming Hotels in Strasbourg
Strasbourg has several charming hotels that exude the city's unique blend of Alsatian and French culture.
Hotel Les Haras
Address: 23 Rue des Glacières, Strasbourg, France
Situated in a historic 18th-century building, Hotel Les Haras is uniquely designed with light colours and cool timbers. The beds are huge and comfortable and the rest of the furniture is minimalist with clean lines. Although the hotel is located in a quiet neighbourhood, it's only a 5-minute walk to La Petite France historic area. This is a very stylish, charming and exceptionally clean hotel.
Hôtel Graffalgar
Address: 17 rue Déserte, Strasbourg
The simple white and pale timber furnishings at Hôtel Graffalgar and complemented by wonderful, unique graffiti artwork on the walls that have been painted by local artists. The location is near Strasbourg train station and within walking distance to many excellent restaurants and the Petite France district.
Strasbourg Hotels in the Old Town
If you're planning a trip to Strasbourg, consider staying in a hotel located in the Old Town.
The benefits are numerous: you'll be within walking distance of some of the city's most popular attractions, such as the iconic Strasbourg Cathedral and the picturesque Petite France neighbourhood.
You'll also have easy access to a wide variety of restaurants, cafes, and shops, many of which offer traditional Alsatian cuisine and handicrafts.
Additionally, staying in the Old Town allows you to immerse yourself in the city's history and culture, as the area is home to numerous museums, galleries, and historic landmarks.
Here are some of the best hotels in Strasbourg Old Town.
Hotel Rohan
Address: 17-19, rue du Maroquin, Strasbourg, Alsace, France
There are some lovely boutique hotels in Strasbourg and I don't think you'll find one in a better location than Hotel Rohan. This 4-star hotel is located directly on Place de la Cathedral, the square surrounding Strasbourg Cathedral and the Strasbourg Christmas Market (if you're visiting during Advent). Hotel Rohan is located in a historic Alsatian building that has been renovated with stylish feature walls, bright colour schemes, warm timber floorboards and furnished with large, comfortable beds.
Hôtel Gutenberg
Address: 31 Rue Des Serruriers, Strasbourg, France
A nice hotel with simple furnishings in a historic building in the centre of Strasbourg Altstadt. The attic rooms have an incredible view of Strasbourg Cathedral. You'll find bathrobes and a coffee machine in the room.
Maison Rouge
Address: 4, Rue des Francs Bourgeois, Strasbourg, Alsace
In the peaceful pedestrian zone near Place Kléber, Maison Rouge is known for its comfortable rooms, Clarins bathroom products and excellent breakfast showcasing local products. The rooms are simple yet stylish with luxury finishes and you'll find a quality, spotlessly clean spa and gym that is free to use. Additionally, this hotel has a sustainability initiative where they avoid the use of single-use plastics.
BOMA Easy Living Hotel
Address: 7 Rue du Vingt-Deux Novembre, Strasbourg
BOMA is a trendy hotel located not far from La Petite France. The staff, cleanliness and facilities are highly rated and this is one of the best value boutique hotels in Strasbourg. The hotel decor is vibrant and cool and you'll find some unique, fun design pieces in the common areas.
Luxury Boutique Hotel
When you stay in a luxury boutique hotel in Strasbourg, you can expect a truly unique and indulgent experience.
These hotels typically offer personalised service and attention to detail, ensuring that every aspect of your stay is tailored to your individual needs and preferences.
You'll enjoy luxurious amenities such as plush bedding, high-end toiletries, and top-of-the-line technology.
Additionally, you can expect to be surrounded by stylish and thoughtfully designed decor, which often incorporates local culture and history elements.
Here is the best luxury hotel in Strasbourg:
Boutique Hotel Des XV
Address: 46 Rue du Conseil des Quinze, Strasbourg, Alsace, France
If you don't mind staying a little out of the centre, Boutique Hotel Des XV is located a 20-minute walk from the old town. The location is still nice as the hotel is across from the beautiful Parc de l'Orangerie, a lovely open green space perfect for walking or jogging. The rooms are decorated in a minimalist style with black, white and yellow decor. You'll find the rooms extremely clean and comfortable and there is on-site parking.
This article is part of our guide to the wonderful Alsace region of France and where to stay in Alsace.
Where to Stay in Strasbourg
When deciding on the best area to stay in, Strasbourg, it depends on your preferences and what you want to do during your visit.
Old Town
When staying in Strasbourg, the Old Town district is one of the best areas to consider. The Old Town is the heart and soul of Strasbourg and is known for its rich history, charming architecture, and lively atmosphere.
This district is situated on an island in the River Ill and is easily recognizable by its half-timbered buildings, cobbled streets, and iconic landmarks such as the Strasbourg Cathedral, which is one of the most impressive Gothic buildings in Europe.
Staying in the Old Town district allows you to immerse yourself in the city's history and culture, as many of Strasbourg's top attractions are located in this area.
For example, the famous La Petite France neighbourhood, filled with picturesque canals, charming houses, and various restaurants and cafes, is within easy walking distance.
You can also explore the museums, galleries, and cultural institutions that are located throughout the Old Town, such as the Museum of Modern and Contemporary Art, the Alsatian Museum, and the Historical Museum of Strasbourg.
In addition to its cultural attractions, the Old Town district is a great place to go shopping, with a variety of boutiques, artisanal shops, and food markets that offer a taste of the local cuisine.
There are also plenty of bars, cafes, and restaurants where you can relax and enjoy the ambience, whether you're looking for a quick coffee or a leisurely meal.
Krutenau District
Another great area to consider is the Krutenau district. It's a vibrant and trendy neighbourhood located just outside of Strasbourg's historic Old Town.
It's known for its lively atmosphere, picturesque streets, and an array of hip bars, cafes, and restaurants that cater to a diverse clientele, from students to professionals to travellers.
The area is particularly popular in the evenings when locals and visitors alike come to enjoy the nightlife and socialise with friends over a drink or a meal.
In addition to its lively social scene, the Krutenau district is also a great place to explore on foot, with its charming streets and historic buildings dating back to the 19th century.
It's located on the banks of the River Ill, which provides stunning views of Strasbourg's skyline and is a great place to go for a walk or a jog.
The district also has several parks and green spaces, such as the Parc de l'Orangerie, which is home to a small zoo, a lake, and beautiful gardens.
Neustadt District
If you're looking for a more upscale experience, the Neustadt district offers beautiful tree-lined streets, grand buildings, and high-end shopping.
The Neustadt district, also known as the "New Town," is an elegant and affluent neighbourhood located to the east of Strasbourg's historic Old Town.
It was developed in the late 19th and early 20th centuries as part of an ambitious urban renewal project aimed to modernise the city and create a grand new district that would reflect Strasbourg's status as a major cultural and economic centre.
Today, the Neustadt district is characterised by its spacious tree-lined avenues, grand buildings, and ornate architecture, which showcase a variety of styles ranging from Art Nouveau to Neo-Renaissance.
Many of these buildings house high-end shops, boutiques, restaurants, upscale hotels, and apartment buildings.
One of the highlights of the Neustadt district is the Place de la République, one of Strasbourg's largest and most impressive squares.
It features a beautiful fountain, stunning architecture, and several important institutions, such as the Strasbourg National Theater and the National and University Library.
Another notable attraction in the Neustadt district is the Palais de l'Europe, which is the headquarters of the Council of Europe and features impressive modernist architecture.
European Quarter
Finally, if you're visiting Strasbourg for business, the European Quarter may be a good choice, as it is home to many of the city's business and governmental institutions, as well as several modern hotels and conference centres.
Best Area for Boutique Hotels
Regarding boutique hotels, all three of the neighbourhoods in Strasbourg – the Old Town, the Krutenau, and the Neustadt – have a great selection.
Each area offers unique charm and ambience, so it depends on what you're looking for in a hotel.
If you're interested in staying in a historic building with plenty of character, the Old Town district has several boutique hotels that are housed in beautifully restored 16th and 17th-century buildings.
These hotels often offer charming rooms and suites that feature original details such as exposed beams, antique furnishings, and period decor.
The Krutenau district, on the other hand, tends to offer more contemporary and trendy boutique hotels, which are often housed in modernised industrial buildings.
These hotels often feature sleek designs, trendy decor, and high-end amenities that cater to a younger and more stylish crowd.
The Neustadt district, being the most upscale neighbourhood, has several boutique hotels that offer luxurious accommodations with elegant decor, high-end furnishings, and personalised service.
These hotels are often housed in grand mansions or palaces that have been converted into boutique hotels, giving them a unique and opulent ambience.
Ultimately, the best boutique hotel for you will depend on your personal taste and preferences. Each of these neighbourhoods has something special to offer, so it's worth exploring each area to see which one appeals to you the most.
The Visit Alsace tourism website has a comprehensive list of things to do in Strasbourg and the surrounding region.
Final Thoughts
Strasbourg is a charming city with a rich history, beautiful architecture, and a vibrant cultural scene.
Whether you're interested in exploring the city's historic landmarks, trying local cuisine, or simply soaking up the ambience, there is something for everyone in this beautiful city.
If you're looking for a memorable and luxurious experience, staying in a boutique or luxury hotel in Strasbourg is a great option.
Many of these hotels are also located in historic buildings, adding charm and character to your stay.
If you would like to leave a hotel review, please do so in the comments.
—
Recommendations are independently chosen by our travel editors. This post contains affiliate links to hotels in Strasbourg, France. This means I get a small commission from any bookings at no extra cost to you.