Recommendations are based on personal travel experiences and research. If you book through links on our site, we may earn a commission at no extra cost to you.
—
As you walk through the charming streets of Salzburg, you won't help but notice its rich history, baroque architecture and the musical legacy of Mozart.
In this guide, I'll share my recommendations for the best boutique hotels in Salzburg that mirror Salzburg's unique charm, each a perfect base to explore this beautiful city.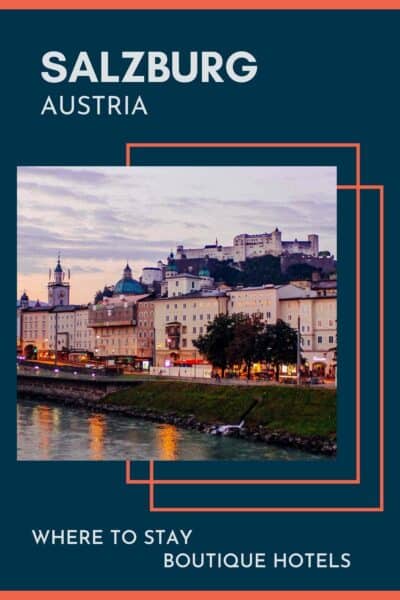 Best Boutique Hotels in Salzburg
When choosing a hotel, it's key to consider the area you'd prefer to stay in. The Altstadt, or Old Town, is a renowned district in Salzburg, home to the city's historic heart with its impressive Hohensalzburg Fortress and Mozart's birthplace.
On the other hand, you might be drawn to the vibrant Leopoldskron-Moos, teeming with trendy cafes, unique shops and thriving nightlife, all nestled alongside serene green spaces.
I recommend Altstadt for first-time visitors – its rich history and bustling cafe culture are what make Salzburg so special.
Top Pick
Arthotel Blaue Gans
Address: Getreidegasse 41-43, Salzburg
Location: Altstadt
Imagine staying in thise designer boutique hotel nestled in a 14th-century building at the foot of Hohensalzburg Fortress. It's not just a place to rest your head but an immersion into a world of creativity, with over 100 original works of art sprinkled throughout the hotel and a location that places you directly opposite the Festival Hall. The hotel's restaurant, surrounded by medieval stone walls, is a haven of traditional Austrian cuisine and Salzburg specialities, while their stylish bar, complete with leather armchairs and a fine selection of wines, promises a relaxing end to your day.
Features:
Unique decor and design.
Stylish rooms with loads of natural light.
Huge breakfast selection.
Stunning lobby, lounge and bar areas.
Cool artwork by local artists.
Great location near Hohensalzburg Fortress.
Sustainability:
Energy-efficient lighting.
Food waste is minimised.
Vegetarian menu options are offered.
Local artists are promoted in the hotel.
Green spaces are within the hotel.
Pros: Prime location in Salzburg's Old Town, historic ambience fused with modern design, impressive art collection on-site, excellent traditional Austrian cuisine, comfortable rooms.
Cons: It might be busy during peak season.
Check Availability
Beyond this hotel, there are other boutique hotels in Salzburg that might be of interest due to their exceptional locations, unique style or commitment to eco-friendliness.
I'll dive into a few more cool hotels, each presenting a distinct charm or ethos that could make your stay in Salzburg even more special.
Next Best
Small Luxury Hotel Goldgasse
Address: Goldgasse 10, Salzburg, Austria
Location: Altstadt
The Small Luxury Hotel Goldgasse finds its home in a 14th-century building right in the heart of Salzburg's historic Old Town. This hotel not only enchants with its perfect location – a stone's throw away from iconic landmarks like the cathedral, Mozart's birthplace and the festival halls – but also impresses with its dedication to sustainability. They've integrated energy-efficient lighting throughout the property and make a conscious effort to minimise food waste. The cherry on top is the in-house Gasthof Goldgasse restaurant, where you can indulge in local specialities paired with a selection of Austrian wines.
Cool and Unique Hotel
Choosing a unique boutique hotel can elevate your travel experience, adding a dash of flair to your stay. These hotels often showcase an individual style, shunning the cookie-cutter approach of larger chains.
The mix of distinctive design, personalised service and a locally inspired vibe makes them stand out. Opting for such a cool hotel design can inject extra fun and excitement into your Salzburg trip.
Mayburg Salzburg
Address: Haunspergstraße 41 Salzburg, Austria
Location: Elisabeth-Vorstadt
This entirely non-smoking boutique hotel is just a short walk away from Salzburg Central Station and within easy reach of the old town and the scenic river. The hotel's decor steals the show, with its unique style giving a nod to the artistic spirit of Salzburg. Start your day with a buffet, continental, or vegetarian breakfast before exploring nearby attractions like Mirabell Palace and Mozart's Birthplace. From the fitness centre to the inviting terrace, restaurant, and bar, Mayburg Salzburg ensures your stay is comfortable and delightful.
Hotel Stein
Address: Giselakai 3-5, Salzburg, Austria.
Location: Altstadt
At Hotel Stein, an adults-only boutique hotel nestled on the banks of the Salzach River, you're in for an interesting blend of history, design, and lifestyle. Renovated and reopened in 2018, the hotel welcomes you with a rich mixture of modern and classical styles, including unique furnishing and handcrafted glass decorations that hint at Austrian and Venetian influences. Start your day with breakfast or brunch on their panoramic rooftop terrace, which offers a breathtaking view of Salzburg's old town, before you explore nearby cultural landmarks like Mozart's Birthplace and Salzburg Cathedral. Return to unwind in their spa area, complete with a relaxation zone, sauna and gym, or tantalize your taste buds with fine dining on the rooftop terrace. With its commitment to sustainability, locally sourced food, and energy-efficient lighting, Hotel Stein is a quality experience and a lower-impact choice.
Eco-Friendly Hotel
When you're hunting for an eco-friendly hotel, it's all about the establishment's commitment to sustainability. Such hotels typically incorporate green practices into their operations, from energy efficiency to waste reduction and even supporting local communities.
Choosing to stay in an eco-friendly or sustainable hotel not only aligns with your values but also contributes to making travel more sustainable, allowing you to enjoy your holiday while knowing you're travelling with lower impact.
Numa l Mozart
Address: Franz-Josef-Straße 27, Salzburg, Austria
Location: Neustadt
The Numa l Mozart Hotel is situated only a 10-minute walk from Salzburg's Old Town and stands out as a shining example of eco-conscious hospitality. It's not just the convenient location near major sights or the impressive views of Salzburg's roofs and mountains from the upper floors that make it special. This hotel powers its entire operation with 100% renewable electricity, a testament to its commitment to sustainability. Vegetarian and vegan options are prominently featured on their menu, further reducing the hotel's carbon footprint. So when you choose to stay at the Numa l Mozart, you're not only opting for a high-quality, cosy experience near all the major attractions, but you're also making a choice that aligns with your eco-friendly values.
Luxury Boutique Hotel
Opting for a luxury boutique hotel can bring an extra layer of indulgence to your travels. These hotels pride themselves on providing high-end services with a personal touch.
What sets luxury boutique hotels apart is their fusion of opulence with an intimate, cosy setting, making your stay feel both lavish and homely. Consider one of the following luxury stays in Salzburg.
Hyperion Hotel Salzburg
Address: Rainerstraße 4, Salzburg, Austria
Location: Neustadt
Hyperion Hotel opens its doors to a world of luxury right in the heart of Salzburg. This boutique hotel is within easy reach of notable attractions, including the Mirabell Palace, Mozarteum and Mozart's Birthplace. Your stay begins with a choice of a buffet, continental, or vegetarian breakfast, setting the right tone for a day of exploration. The hotel's commitment to cleanliness and comfort shines through in the immaculate rooms and the thoughtful touch of underfloor heating in the bathrooms. Enjoy a phenomenal breakfast with an impressive range of food and drinks, knowing that the property is also committed to reducing food wastage. The provision of vegetarian and vegan menu options further enhances the inclusive and considerate atmosphere.
Hotel Sacher Salzburg
Address: Schwarzstraße 5-7, Salzburg, Austria
Location: Altstadt
Hotel Sacher is the most famous hotel in Salzburg. Staying here, you'll immersing yourself in a world of timeless elegance. This historic hotel on the Salzach River delivers unparalleled views of Salzburg's old town and the majestic Hohensalzburg Fortress. Each room is individually decorated by the owner, featuring state-of-the-art amenities and unique furnishings. Culinary specialties await at their restaurants and bars, including the famed Cafe Sacher Salzburg, known for its original Sacher cake. From its exceptional service to its vegetarian and vegan offerings, Hotel Sacher Salzburg exudes luxury in every detail.
Boutique Hotel Auersperg
Address: Auerspergstraße 61, Salzburg
Location: Neustadt
Nestled in the heart of Salzburg, the Boutique Hotel Auersperg has a unique design and ambience, cosy terrace and deluxe rooms. The hotel merges tradition and modern design across its 55 rooms, featuring extra comforts like a cafe and tea bar, Tivoli audio systems and selected books. Start your day with a breakfast buffet offering organic, homemade and regional specialties. The hotel's commitment to sustainability shines through its efforts to reduce food wastage and the availability of an electric car charging station. With vegetarian and vegan menu options, the Boutique Hotel Auersperg is a luxury boutique hotel that caters to all.
Where to Stay in Salzburg
Each neighbourhood in Salzburg has its own unique charm and highlights, perfect for those seeking boutique hotels and cultural experiences.
Altstadt (Old Town) is the city's historical heart. This UNESCO World Heritage site is packed with medieval and baroque architecture. Here, you'll find a wealth of independent shops, galleries and museums, all within the winding cobblestone streets.
Neustadt (New Town) provides a contrast to Altstadt. It's home to the beautiful Mirabell Palace and Gardens, trendy bars and vibrant nightlife. Neustadt is also teeming with boutique hotels, making it an ideal base for exploring the city's attractions.
Leopoldskron-Moos is a serene district that has vast green spaces and enchanting views of the Hohensalzburg Fortress. It's close to the Old Town yet offers a peaceful retreat away from the city bustle.
Nonntal is a quaint area south of the Old Town, known for its lively cafe culture. Its relaxed ambience and artistic vibe make it an attractive choice for those who prefer a quieter yet culturally rich experience.
Maxglan brings you closer to Salzburg's natural beauty. It's near the Salzach River and offers an array of outdoor activities.
Elisabeth-Vorstadt is conveniently located near Salzburg's central train station. It's a bustling district filled with a variety of eateries and shops. It's a practical choice for those who plan to take day trips outside the city.
Each area presents a distinct side of Salzburg, so choosing where to stay truly depends on the experience you desire.
For a comprehensive exploration of the country's stunning landscapes, vibrant cities and quaint villages, you won't want to miss my guide to the best places to visit in Austria, designed to help you uncover the nation's best experiences.
For more detailed insights into Salzburg, especially regarding exciting things to do, fascinating sightseeing spots, and upcoming events, Visit Salzburg provides information.
Responsible Travel Tips
Travelling responsibly is all about conscious choices that respect the environment and the local communities. Here are some ways to make your Salzburg experience eco-friendlier and more sustainable:
Opt for Renewable Energy: Many hotels in Salzburg are now switching to renewable energy sources. When booking your accommodation, look out for those that mention their commitment to renewable energy, like solar power or wind energy.
Minimise Food Waste: Be mindful of portion sizes when ordering in local restaurants. Austrian dishes can be quite hearty, so consider sharing a meal or ordering smaller portions if you're not a big eater.
Sustainable Diets: Salzburg is known for its farm-to-table eateries, where the food served is locally sourced, reducing carbon emissions from transport. Avoid meat and dairy when you can to avoid emissions. Opt for these restaurants to support local agriculture and enjoy fresh, seasonal produce.
Sustainable Transport: Salzburg has an excellent public transportation network, including buses and trains, which helps reduce carbon emissions. Plus, the city is wonderfully walkable, particularly in the Old Town, so embrace the chance to stretch your legs and take in the sights on foot or by bicycle.
Avoid Flying: If possible, consider train travel to Salzburg. The city is well-connected to many major European cities via rail, making it an easier and more sustainable travel choice than flying.
Support the Local Community: Buy from local artisans and small businesses. Whether it's a piece of traditional Austrian clothing, handmade jewellery, or local foods like Salzburger Mozartkugeln, your purchases directly benefit the local community.
FAQ
What is the best area to stay in Salzburg?
The best area to stay in Salzburg largely depends on your interests. The Altstadt (Old Town) is ideal for history buffs, with its close proximity to iconic landmarks like Hohensalzburg Fortress and Mozart's Birthplace. The lively neighbourhood of Neustadt is a haven for shopping enthusiasts, while Nonntal and Lehen offer a more local experience.
What should I look for in a boutique hotel in Salzburg?
When seeking a boutique hotel in Salzburg, consider factors like location, unique features and guest reviews. Many boutique hotels in Salzburg provide unique decor, personalised service and a central location. Additionally, consider the hotel's amenities, such as fitness centres, restaurants, or special dietary options.
What are the must-visit attractions in Salzburg?
Salzburg is filled with attractions worth visiting. Don't miss Hohensalzburg Fortress, Mozart's Birthplace and the Mirabell Palace and Gardens. For Sound of Music fans, a tour that includes locations from the film is a must.
How can I get around Salzburg?
Salzburg is a compact city and is easy to navigate on foot, especially in the Old Town. The city has an efficient public transportation network for farther distances, including buses and trains. Additionally, bicycles are available for rent for those looking for an active way to explore the city.
Final Thoughts
Finding the perfect boutique hotel in Salzburg is like discovering a hidden gem in this charming Austrian city. Whether it's an eco-friendly stay or a luxury retreat, the choice is yours.
Explore the city's rich history, dine on delightful local cuisine, or simply soak in the stunning views of the Alps from the comfort of your chosen hotel.
If you have questions or want to leave a hotel review, please do so in the comments.
—
Recommendations are independently chosen based on personal travel experiences and extensive research. This post contains affiliate links to hotels in Salzburg, Austria. This means I get a small commission from any bookings at no extra cost to you.