Recommendations are based on personal travel experiences and research. If you book through links on our site, we may earn a commission at no extra cost to you.
—
You'll often hear Saranda is an upcoming beach destination on the Mediterranean but in fact, Saranda has been bustling with tourists for decades.
It's the most popular holiday destination in Albania thanks to its coastal location, warm summer days and affordable hotels and restaurants.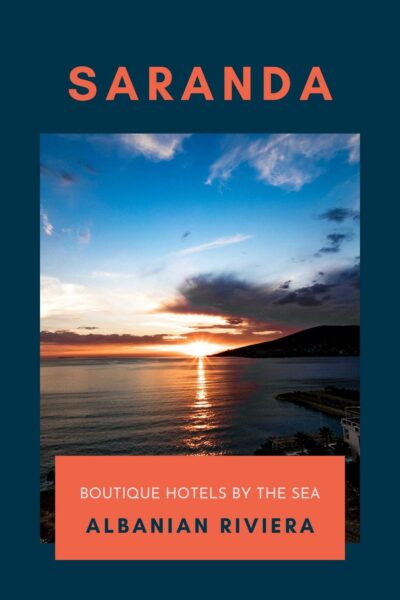 However, finding a good boutique hotel in Saranda isn't easy. Saranda hotels and resorts have developed in a haphazard way over the years.
There hasn't been much in the way of government regulation, so hotels (and residential buildings) have kind of popped up wherever someone could find some land.
The result hasn't been great, but things have gotten better in recent years.
Some of the worst offending, illegally constructed buildings have been demolished, especially in Ksamil, just south of Saranda.
Things are looking up and you'll now find plenty of nice seaside hotels in Saranda and the surrounding beach towns.
This includes a growing number of luxury and boutique hotels, all independently owned and run by locals.
Standards are slowly improving and if you're open to trying somewhere different, Saranda and the Albanian Riviera is a great option.
Boutique Hotels in Saranda

The best boutique hotels in Saranda are:
They're both in a similar area of Saranda, which you go for will come down to price and your preferred location. You can't go wrong with either of these hotels.
Top Pick
Demi Hotel
Address: Rruga Butrinti, Sarandë, Albania
The Demi Hotel is a modern boutique hotel located directly on the sea and within walking distance to Saranda Old Town. You can eat at the hotel's waterfront restaurant or have a drink or coffee and the City Lounge that's next door. The rooms are stylish minimalist and larger than most in Saranda. The Demi is a long-time favourite area of mine.
Check Availability
Next Best
Buzë Boutique Hotel
Address: Rruga Butrinti, Sarandë, Albania
The quality, design, service and location of Buza are exceptional. With the seaside location, you have direct access to a private beach as well as the hotel pool. You have an in-house bar and restaurant and great service all round. The beachside rooms have incredible views over the water towards Corfu and the city plus unbeatable evening sunsets. This hotel is similar to Demi Hotel but it's a little further out of the centre.
Saranda Hotels
If neither of the top three hotels takes your fancy or if they're not in your budget, you should be able to find a good deal at one of these hotels.
Glow Boutique Hotel & Suites
Address: Ruga Butrinti, Saranda
You'll find incredible views and a modern style at this hotel, set back a couple of hundred metres from Mango Beach. The hotel is new and very clean. There's a pool and beautiful, spacious rooms. I stayed several times in the area of Saranda. It's an excellent choice if you have your own car.
Hotel Magllara
Address: Rruga Naim Frasheri, Sarandë, Albania
This is the best place to stay in Saranda city centre as it's located directly on the main street at the start of the waterside promenade. You'll have restaurants and cafes at your doorstep, easy access to the main city beach and historical sites such as Saranda Castle. Hotel Magllara is especially good if you're travelling by bus in Albania and don't want to be too far from the walkable city sights.
Onira Luxury Rooms
Address: Rruga Butrinti, Sarandë, Albania
Also well located near the city centre, Onira is a relatively new and modern hotel, kept exceptionally clean by the small team. As the street name suggests, this hotel is located on the street that takes you to Butrinti, the archeological site and national park. This place is great value and highly reviewed.
Rustemi
Address: Rruga Adem Sheme Lugu Dardhes, Sarandë
For something a little different and off the beaten path, Rustemi is a small family hotel, high on the hill above Saranda. It's not the best choice if you're looking for a beach holiday, but to see the cultural sights of Saranda and visit the surrounding attractions, this apartment hotel is great value for money.
Hotel Sole
Address: Rruga Butrinti, Sarandë, Albania
It is a highly reviewed hotel with its own pool and within walking distance of three popular beaches.
Luxury Apartments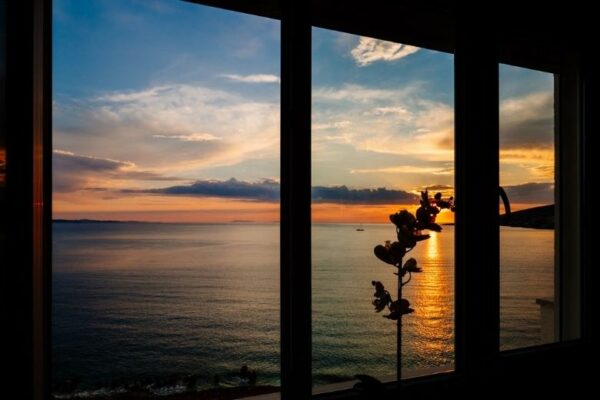 While I understand you're probably looking to stay in a boutique hotel, you might want to consider staying in a luxury apartment in Saranda.
Vela Apartaments 4
Address: Rruga Jonianet, Sarandë
Right on the waterfront in the city centre, Vela is perfect if you want to be close to the port for access to or from Corfu. It's beautiful, modern and clean. Check out the reviews; you can't go wrong here.
White Residence Luxury Apartment
Address: Rruga Kryesore Sarande-Butrint, Sarande
Last time I was in Saranda, I stayed at White Residence. It's one of Saranda's best apartments, located directly on the waterfront, away from the high-rises of the city centre.
Its position means you have unobstructed sunset views from the living room and balcony. It really can't be beaten.
The apartment is very modern and the small kitchen will allow you to prepare meals in between jaunts to the beach.
Click here to book the White Residence.
Apartment stays are the most common way to holiday in Saranda and are worth considering for your next trip.
Plan Your Stay
As a resort city, many of Saranda's hotels are simply designed, with distance to the beach being the most sought-after feature.
The boutique hotels in Saranda mentioned above are well above average, with at least some thought going into the design and fixtures.
While in Saranda, be sure to visit nearby beach towns Ksamil, Himara and Dhermi, take the short trip to Blue Eye natural spring and a day trip to Gjirokastra is well worth it.
Butrint National Park and the archeological site is one of the highlights of a visit to Albania. Don't miss it.
Also, make time to head up to Saranda's castle at sunset for incredible views reaching the Greek island of Corfu.
If you're looking for an exciting and unique travel destination, then my guide to the best places to visit in Albania is a must-read, it offers a comprehensive list of the most beautiful and interesting places in the country, from the stunning beaches on the Adriatic Sea to the historic cities and mountainous regions, it will help you plan an unforgettable trip.
Rearview Mirror is my travel blog, where I've published a comprehensive guide to things to do in Albania. Whether you're looking for information on the must-see attractions, best beaches, day trips, or recommendations for local restaurants and hotels, my guide has you covered. It's designed to make your trip as enjoyable and stress-free as possible.
Responsible Travel Tips
Many of us are increasingly concerned about climate change and sustainability. It's worth spending a little time thinking about how you can limit your environmental impact when in Albania and support the local community.
Here are a few ideas to get you started:
Use public transportation or rent a bike to get around instead of driving a car, as this reduces carbon emissions and helps to limit air pollution. Albania has an extensive bus network and furgons (minivans) to get you around. They are safe and affordable. Cycling is not always safe but is perfectly fine as a way to get around within the centre of Saranda.
Look for accommodations that use renewable energy sources like solar or wind power. This is a challenge right now, but I expect more options to be available in the near future.
Avoid single-use plastics and bring your own reusable water bottle, shopping bags and utensils. I always used to get strange looks when using my own shopping bags in Albania, but this is finally changing. Albanians are increasingly aware of how damaging single-use plastics are.
Support local businesses and buy locally-sourced products to help the local community. This is very easy to do in Albania!
Reduce food waste by only ordering what you can eat. It can be tempting to overorder to try different foods, but try to resist!
Choose plant-based meals or meals that are locally sourced and in season.
Be mindful of your consumption and limit buying unnecessary items and souvenirs. Maybe spend your money on a local guide instead.
Get involved with volunteer programs that focus on conservation and sustainable development in Saranda.
Share your sustainability tips in the comments.
If you have questions or want to leave a hotel review, please do so in the comments.
—
Recommendations are independently chosen based on personal travel experiences and extensive research. This post contains affiliate links to hotels in Saranda, Albania. This means I get a small commission from any bookings at no extra cost to you.