Recommendations are based on personal travel experiences and research. If you book through links on our site, we may earn a commission at no extra cost to you.
—
Stepping into Ksamil, Albania, you'll be greeted by pristine turquoise waters and picture-perfect beaches.
This enchanting coastal town also features the nearby Butrint National Park, an archaeological wonder that is one of the highlights of a visit to the region.
In this post, I share my recommendations for the best hotels in Ksamil based on several visits to the city.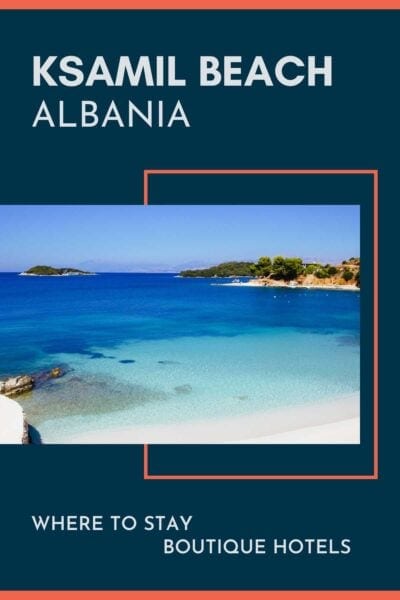 Best Ksamil Hotels
When deciding where to stay in Ksamil, it's worth thinking about which area best aligns with your interests and preferences.
One option is to stay in the charming Ksamil town centre, where you can immerse yourself in local life, bustling cafes, and a laid-back atmosphere.
A popular choice is staying directly across from Ksamil Beach, known for its crystal-clear waters and tranquil ambience, while still having easy access to the nearby Butrint National Park.
Either location works as Ksamil is very small and walkable, so even if you stay in the town centre, you'll be within walking distance of the various beaches.
Top Pick
Hotel Sunway
Address: Rruga Butrinti Lagjia 2, Ksamil, Albania
Location: Town Centre
Experience the comfort and convenience of Hotel Sunway, nestled in Ksamil and only a short stroll away from stunning beaches like Sunset Beach and Ksamil Beach. Experience traditional Albanian hospitality and immaculate facilities. Indulge in the mouthwatering buffet breakfast, showcasing a diverse array of fresh, local specialties that will make your stay in Albania unforgettable.
Features:
Classic beachside hotel.
Modern, clean rooms with large beds and sitting areas.
Huge breakfast selection.
Exceptional service.
Ideal central location.
Pros: Prime location, pristine facilities, exceptional staff, amazing breakfast, walking distance to beaches, shops and restaurants.
Cons: You have to cross the main road to get to the beach.
Check Availability
While I think my top hotel pick is an excellent choice in Ksamil, I've also selected a few other hotels for you to consider.
These highly rated alternatives showcase diverse charms in terms of location, uniqueness, style, or eco-friendliness, allowing you to find the perfect match for your vacation needs. Keep reading as I share the best places to stay.
Next Best
Area Hotel
Address: Rruga Butrinti SH81, Ksamil, Albania
Location: Town Centre
Discover the stunning Area Hotel, just a stone's throw away from Ksamil Beach and a short walk to other popular beaches. Wake up to a traditional Albanian or continental breakfast, and let the helpful staff make your stay even more enjoyable. Plus, with the city centre location, you'll have easy access to all the attractions and amenities Ksamil has to offer. Given the incredible hotel reviews, I don't think you could go wrong here.
Luxury Boutique Hotel
As you explore options for a luxury boutique hotel, focus on finding a property that exudes elegance and sophistication.
Keep an eye out for exceptional service, upscale amenities, and a refined atmosphere that elevates your stay, allowing you to indulge in the finer aspects of your travel experience.
Poda Boutique Hotel Ksamil
Address: Poda Bay, Ksamil, Albania
Location: Ksamil Beach
At the exquisite Poda Boutique Hotel, you'll find yourself enveloped in luxury just steps away from the breathtaking Ksamil Beach. Dive into relaxation with the inviting outdoor swimming pool or unwind in the beautifully landscaped garden and terrace. You'll appreciate the convenience of free private parking and the hotel's proximity to local shops.
The Poda Boutique Hotel prides itself on its warm and attentive staff, always eager to ensure your stay is nothing short of exceptional. Indulge your taste buds with delicious cuisine and marvel at the stunning views from your spacious, clean room. Plus, you'll love the hotel's beach bar, complete with sun beds and a deck for an unparalleled seaside experience.
Cool and Unique Hotel
In your search for a cool and unique boutique hotel, look for hotels that reflect the local culture and charm.
Prioritise those that provide personalised service, attention to detail, and an ambience that sets them apart from the ordinary, ensuring a distinct and refreshing experience during your stay. The following hotel is a great example of this.
Hotel Four Islands
Address: Rruga Baba Sherifi, Ksamil, Albania
Location: Town Centre
Immerse yourself in the tranquillity and prime location of Hotel Four Islands, where you'll find yourself conveniently close to both the beach and local amenities. Delight in the personalised breakfast experience, selecting from one of five menus each evening for a tailored morning meal to start your day off right. The rooms are exceptionally clean and comfortable. This is an excellent budget stay.
Family-Friendly Hotel
Hotel Meta Ksamil
Address: Rruga Riviera, Ksamil, Albania
Location: Ksamil Beach
At Hotel Meta, you'll discover a family-friendly haven nestled in the heart of Ksamil. This modern, newly-renovated hotel provides an ideal setting for a delightful getaway, complete with breathtaking views from the sea view rooms. Start your mornings with a delicious breakfast served on the sunny terrace and admire the sea vistas.
You'll appreciate the warm hospitality of the host family, making you feel right at home in this cosy retreat. The hotel's prime location affords easy access to the beach and a range of nearby restaurants. Enjoy the comforts of a pristine, well-maintained room equipped with excellent air conditioning and a comfortable bed. The balcony and beach views are sure to leave you in awe, while the high-quality shower adds a touch of luxury to your stay.
Budget Hotel in Ksamil
Hotel Luxury
Address: Rruga. Jul Cezari, Ksamil, Albania
Location: South of the City Centre
Experience the lavish comfort of Hotel Luxury, situated a mere 150 meters from the idyllic Paradise Beach and a short drive to the UNESCO-listed Butrint National Park. Relish the pristine cleanliness and modern facilities while savouring the delicious Mediterranean and local specialities at the hotel's restaurant. Enjoy a top breakfast with variety, and appreciate the swift, delicious service during dinner.
Eco-Friendly Hotel
As a conscientious traveller, you might be eager to find an eco-friendly hotel for your Ksamil adventure.
Keep an eye out for hotels that prioritise sustainable practices, as this can help reduce their environmental footprint.
By choosing such a hotel, you'll enjoy a comfortable stay and contribute to preserving Ksamil's natural beauty for future generations.
Vila Mihasi
Address: Rruga: Ali Pashe Tepelena, Ksamil, Albania
Location: Outside of the Town Centre
Embrace the environmentally conscious spirit of Vila Mihasi, where the majority of the food is locally sourced, supporting the community and reducing the carbon footprint. The hotel actively works to minimise food wastage by installing sustainable measures, such as energy-efficient lighting, double-glazed windows, and 100% renewable electricity. The rooms are basic but comfortable.
Where to Stay in Ksamil
While planning your trip to Ksamil, you might wonder where to stay in Ksamil. To help make your decision easier, here's a comprehensive list of the best areas for visitors:
Beachfront Properties: Soak up the sun and enjoy the convenience of staying just steps away from the pristine shores of Ksamil Beach. From luxury boutique hotels to eco-friendly options, you'll find a variety of accommodations to suit your preferences.
Town Centre: Immerse yourself in the vibrant atmosphere of Ksamil's town centre, where you'll find an array of charming hotels, shops, and restaurants. Staying in this area provides easy access to local attractions and amenities.
Family-Friendly Hotels: For those travelling with children, consider staying in a family-oriented hotel that caters to the needs of guests of all ages. These establishments often provide additional amenities and services to ensure a comfortable and enjoyable stay for the whole family.
Boutique Hotels: Indulge in a unique experience by choosing a boutique hotel with a distinct style, personalised service, and intimate atmosphere. These properties often showcase local art, culture, and design elements, making your stay even more special.
Eco-Friendly Accommodations: If you're passionate about sustainability and environmental preservation, opt for a hotel that prioritises eco-friendly practices. By choosing such a hotel, you can enjoy a comfortable stay while also contributing to the preservation of Ksamil's natural beauty.
By considering these options, you'll be well-equipped to find the perfect place to stay during your visit to Ksamil, whether you prefer the beach or the bustling town centre.
Explore the hidden gems and must-see attractions of Albania with confidence using this comprehensive guide, designed to help you craft the perfect itinerary for your journey.
Take advantage of the invaluable insights and local knowledge the tourist office provides, ensuring you make the most of your time in Ksamil. Or briefly read up on the town's history.
Responsible Travel Tips
Many of us are increasingly concerned about climate change and sustainability. Here are a few ideas on how we can travel more responsibly in Ksamil.
Choose accommodations that utilize renewable energy sources or prioritize eco-friendly practices, such as Vila Mihasi, which uses 100% renewable electricity.
Be mindful of your food consumption and minimise waste by opting for hotels that actively reduce food wastage or by eating at establishments with similar policies.
Embrace a sustainable diet by seeking local, seasonal produce and dining at restaurants supporting the farm-to-table movement.
Use sustainable transport options like walking, biking, or taking public transportation to explore Ksamil, reducing your carbon footprint while experiencing the area more intimately.
If possible, avoid flying to Ksamil by opting for more eco-friendly travel methods like trains or buses, especially if your origin is within a reasonable distance.
Support the local community by shopping at independent stores, engaging with local artisans, and participating in community-led tours or experiences.
FAQ
What is the best area to stay in Ksamil for a boutique hotel experience?
Consider staying in the beachfront district for easy access to stunning beaches or the town centre for bustling cafe culture and nightlife.
How can I find a hotel that offers a great breakfast experience?
Look for hotels that specifically mention their breakfast offerings in their descriptions, such as Hotel Sunway with its buffet breakfast or Hotel Four Islands with its personalised menu selection.
What are some must-visit attractions in Ksamil and its surroundings?
Some must-visit attractions include the beautiful beaches like Ksamil Beach, Ksamil Islands and the nearby UNESCO-listed Butrint National Park, which is rich in history and natural beauty.
Final Thoughts
As you plan your trip to the enchanting town of Ksamil, remember that finding the best hotel can truly elevate your experience.
Each hotel mentioned showcases its own unique charm, allowing you to immerse yourself in the local culture while enjoying a comfortable and stylish stay.
So, as you explore the beauty of Ksamil, whether it's the pristine beaches or the vibrant town centre, know that a well-chosen hotel can serve as the perfect home away from home.
Take your time to research and compare the various options available, keeping in mind the aspects that matter most to you, such as location, design, or eco-friendliness.
If you have questions or want to leave a hotel review, please do so in the comments.
—
Recommendations are independently chosen based on personal travel experiences and extensive research. This post contains affiliate links to hotels in Ksamil, Albania. This means I get a small commission from any bookings at no extra cost to you.